Watch David Duchovny & Gillian Anderson Explain Why Mulder & Scully Still Give You Feels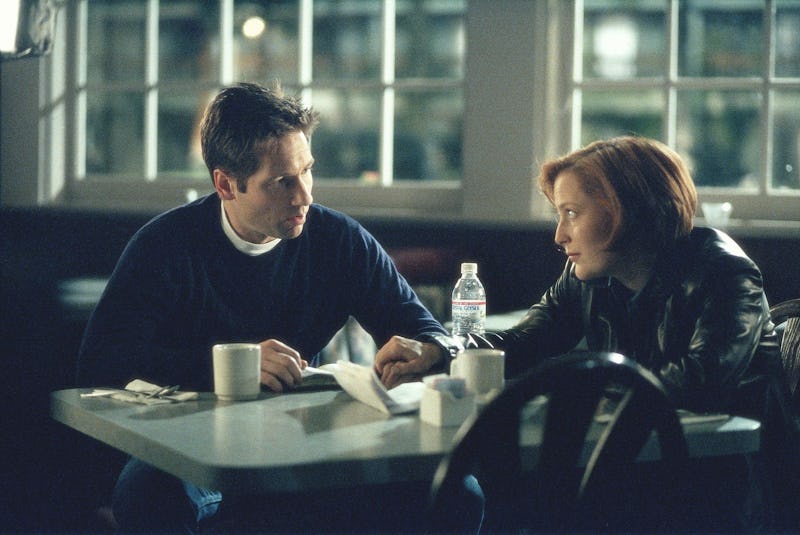 FOX/FOX Image Collection/Getty Images
You may want to believe that The X-Files is about more than Mulder & Scully, but the dynamic duo (and that's putting it lightly) has kept fans hanging on every twist and turn for more than a decade. Even if you've never watched the long-running series, you're aware of this partnership. They are the stuff of modern myths and legends, and it's worth celebrating especially as the 25th anniversary of the pilot airing is today, Sept. 10. And in an exclusive behind-the-scenes clip from The X-Files Season 11 Blu-Ray, out on Sept. 18, the cast and crew talks about how the simplest and most elusive thing — chemistry — has enabled this series to stand the test of time
"There's many things you can say are responsible for the success of The X-Files," says writer, producer, and occasional director Frank Spotnitz in the clip. Spotnitz joined the series in 1995, according to IMDb. "The thing that made it great is the thing you couldn't have planned on. What you couldn't have known is that you were casting these two actors who had this incredible chemistry. David [Duchovny] and Gillian [Anderson] had that — still have that."
The clip highlights a certain moment from Season 5, in the episode called "The Post-Modern Prometheus," that Duchovny cites as a favorite. It's a notable episode thanks to the use of Cher, the Frankenstein of it all, and Jerry Springer's guest appearance. In the moment, Mulder and Scully are dancing and the scene freezes into a graphic novel image. "It was like us passing into mythology in a way," Duchovny says. "It was like the real characters passing into the past. Passing into fiction. That, to me, was always a pointed moment."
Check out the full video, including that immortalizing moment, below:
Anderson, looking back in retrospective, talks about the casting process in the clip as well. "There's something there and I would hazard to say that it was there from the beginning," Anderson says. "Perhaps that was why the people at FOX, specially actually [X-Files creator Chris Carter] and Randy Stone, our casting director, had fought so strongly for us to be the two. Because it exists just when we're in the room together."
Isn't that lovely? All you have to do is put the two of them together. Something that palpable and memorable to fans just exists in a room. You can't write it. You can't direct it. That chemistry is just there. With a show that can sometimes get super complicated with science fiction twists and various conspiracies, it's nice that something so simple as two people who sparkle in a room together is behind the plot. Spotnitz is right, no one could have known that the chemistry between Anderson and Duchovny as Scully and Mulder would be that incredible, and it really is that incredible.
Whether or not you 'ship the characters romantically, this onscreen pairing is legendary. That said, if you don't 'ship them, what's wrong with you? Do you hate teamwork, banter for days, and mutual respect? And if you do 'ship them, whether it's been 15 years or five minutes, the emotional support group is meeting later today.