'The X-Files' Could Be Moving Forward Without Half Of Its Central Duo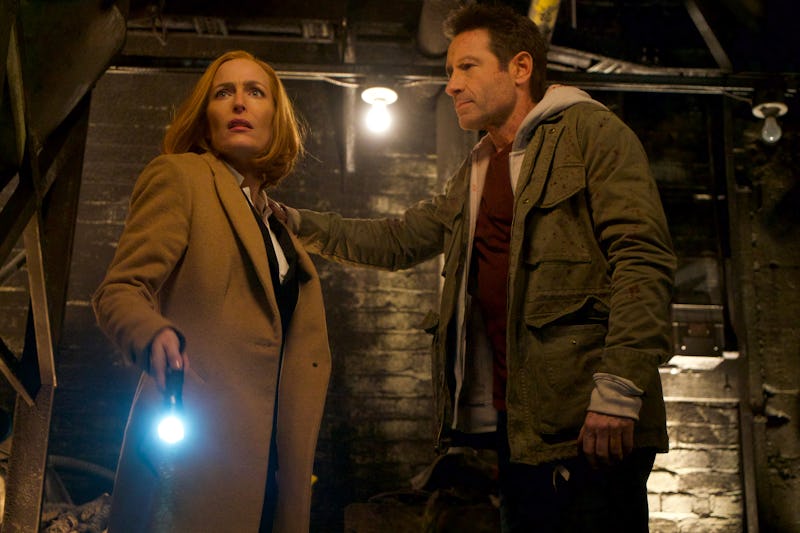 Shane Harvey/FOX
The future of The X-Files has been fraught with uncertainty in recent months. The 11th season wraps up March 21 at 8 p.m. ET on Fox, and details of any potential future installments have been scarce and a little conflicting. So, will The X-Files return for Season 12?
UPDATE: Fox told reporters during a May 2018 conference call, per TV Line, that the network has "no plans" to move forward with new seasons of The X-Files.
EARLIER: Well, uh, no one seems to know. At the time of this article, there's no official word from Fox or the show's creator on if any plans have been set into motion for a Season 12 — whether the silence is due to lack of a network green light or uncertain plans between cast and crew remains to be seen. But there does seem to be some confusion among the show's biggest players. Gillian Anderson, one of the two main stars of the show, said she won't reprise the role of Dana Scully following this season, according to The Hollywood Reporter.
Anderson, who has played Scully in all seasons of the show since The X-Files debuted in 1993, told THR that she's ready to move on from the show, and in doing so, appeared to reveal confusion going on behind the scenes. "It's time for me to hang up Scully's hat. It just is," she said, according to The Hollywood Reporter. "I'm finished, and that's the end of that."
That's not necessarily surprising on its own — she's been with The X-Files for a long time. But the show's creator seems to be wavering on whether he'd continue making new episodes without her. Chris Carter told Collider in January that future seasons were possible while also maintaining that there was no X-Files without Scully, suggesting that perhaps he and Anderson weren't necessarily on the same page as far as if she'd stay with the show. "For me, The X-Files is Mulder and Scully," he said. "I think if it were without Scully, I wouldn't do it. That's not my X-Files."
His opinion on the matter appeared to quickly change. "I don't know," Carter told DigitalSpy.com in February when asked if this was officially the end of The X-Files, addressing Anderson's statements once more. "I think that certainly The X-Files has more life in it, there are more stories to tell, with Gillian or without," he said. "I'm sorry to see her go, I've never actually considered doing this show without her, so is this the end?" He stated that the team as a whole is apparently still figuring out what direction The X-Files will take, or if it'll proceed at all. "It's the end of something, I don't know if it's the beginning of something new," he said in the same interview. "But certainly we will have to all put our heads together and figure out where to go from here."
So, essentially, there are plenty of cryptic comments to go around, but no real answers about The X-Files' future. Anderson herself seems to have been unclear about the plans from the beginning — she's told TVInsider.com that she was only aware of the show returning for one more round, and didn't seem to think there was even the expectation among fans or crew of a Season 12. "I've said from the beginning this is it for me," she told the website. "I was a bit surprised by people's [shocked] reaction to my announcement [about leaving the show] … because my understanding was that this was a single season."
Meanwhile, her longtime co-star David Duchovny said that he would be "good either way," according to the same Hollywood Reporter piece, regardless of if The X-Files returned without Anderson or called it quits for good. All there is for fans to do now, it seems, is wait and see — The X-Files has withstood the test of time, and is already in its second or third life, depending on how you're counting.
The show originally wrapped up with a finale in 2002 after nine seasons and one feature film. In 2008, a second feature made it to theaters, then a six-episode revival series aired on Fox in 2016. Fans were left in limbo in 2017 as the show took another break before ultimately returning for this season, so it's been a tumultuous road for die-hard fans. The possibility appears to remain for more X-Files content, as Anderson is the only seemingly essential piece of the puzzle who is giving a hard "no" to more seasons. But, on the other hand, continuing a fan favorite just for the sake of doing so isn't always a good idea — there have to be real stories waiting to be told. The truth about the show's future is out there somewhere, it just seems like nobody's fully figured it out yet.