Why 'Nailed It' Star Nicole Byer Is Always So Thirsty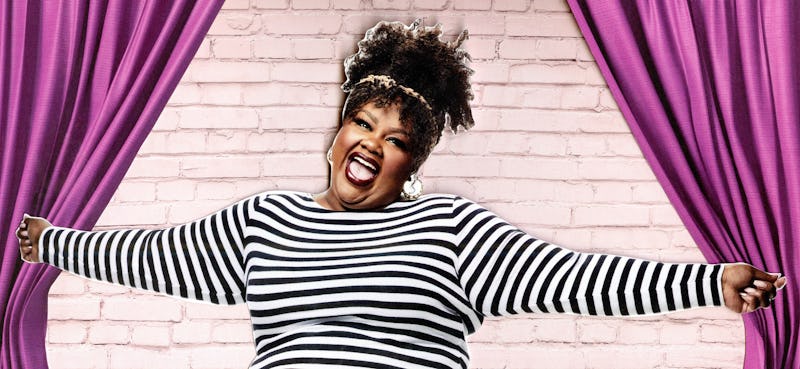 Photos: Tommy Garcia, Design: Cindy Hernandez
Nicole Byer is thirsty as f*ck. In fact, it's the literal first thing she tells me about herself when we speak on a sunny Sunday afternoon in June, a week before the second season of her hit Netflix series Nailed It premiered on June 29 ("I am thirsty as f*ck" were her exact words, in case you doubted me.) We're not talking about her kid-friendly streaming series, however, where her particularly strong brand of thirst gets the family-friendly edit (fans of the series might recall her sing-song sound bite from a Season 1 episode in which she distracted a contestant with "Michael, Michael, will you be my boyfriend?"). We're talking about the fact that when she was recently on an episode of Conan and was asked what she's looking for in a boyfriend, she replied, as matter-of-factly as humanly possible: "A big dick."
"A lot of men commented like, 'Oh my god how dare you. What if I went on there and talked about a woman like that?' And my whole thing is, men been talking about women's bodies. Like, have you ever watched Mad Men?" she says with her signature tone — the vocal equivalent of a mic drop. "It's a thing that men have done and my thing is like, me too. I wanna say it. I wanna talk about dudes." Of course, the problem, she notes, is that some people think she's serious, and that she's only looking for whatever is happening, um, down under. "Of course you want that but you also want someone to treat you right. I just chose not to say that," she quips.
When I do anything I try to be very truthful and my truth is I am single and desperate and want a boyfriend.
The woman's got a point. There's a reason that the old men vs. women joke ("well, men do it this way, while women do it like this [insert something mockingly picky, flamboyant, overly sexual, or selfish]") is such a trope — because men still use it. And, surprisingly, Byer is cool with it — with one big caveat.
"I mean a lot of people have a lot of antiquated views and I think a lot of men feel like, 'Well why can't I talk about a woman's pussy? I see 'em all the time, why can't I?' And it's like, well, I guess you can, but don't get mad when a woman talks about a micro dick. Don't get mad when a woman talks about a dude not being able to please her sexually," she says. "You can't have it all the ways."
And as if there were any doubt to just how willing Byer is to double down on her brand, look no further than her popular podcast, titled Why Won't You Date Me? The premise, according to a recent episode is this: "A podcast where I try to figure out how. I'm. still. single," she croons like Oprah giving away free cars to 200 people on a given Tuesday. (Byer also added a few NSFW promises to her future boyfriends in the audience, but I'll let you go listen to that for yourself because it doesn't have quite the same ring without her singing as the delivery method.)
"When I do anything I try to be very truthful, and my truth is I am single and desperate and want a boyfriend, so that's what comes through," she says. Byer came up through the Upright Citizens Brigade in New York, and says that their advice to stick to what she knows in comedy has stuck with her throughout her career and given her this very thirsty brand.
Of course, mainstream audiences might not know just how much she talks about dudes and what they're packing because they know her as the host of Netflix's cooking fail reality series, Nailed It, which capitalizes on the meme of the same name that originated from real people trying and failing spectacularly at re-creating masterpieces from Pinterest. (Enjoy.) Byer hosts (and delightfully derails) the reality competition in which completely untrained bakers try and generally fail to re-create professionally crafted cakes and other intricate baked goods. While the show's format is very much the same as any schlocky cooking competition you'd find on The Food Network or Gordon Ramsay's dominion (aka FOX), it stands apart because of Byer's wacky walks, loopy gestures, and bombastic (though jarringly SFW) commentary.
But before families started watching her Netflix series and her fan art became portraits drawn by little kids, Byer made a name for herself on MTV's Girl Code, a series that had comedians help dissect every issue young women deal with on the daily, from period stuff to dating, to weird friendship dynamics and sex questions. On the now-classic series, Byer was known for being one of the most honest, forthcoming members of a group of female comedians whose claim to fame was being, well, super honest and forthcoming. (See: A recurring segment called #IsThatWeird in which the comedians admitted their "weird" behaviors in an attempt to normalize all the weird little things we do as humans. Byer's? "Sometimes I touch my boobs in conversations. Is that weird?")
But leaning all the way into honesty — about dating, single life, and her own body image — doesn't happen without some struggle.
"It took six months for me to make some fat jokes work because when you talk about being fat, people go, 'Oh no she's gonna go home and kill herself, she's so sad,' but I'm like, 'Nah, I live in this body and I'm OK with this body and I understand that I could change this body if I want to, but don't want to at the moment and I want to talk about it. And I want to talk about how you, as a non-fat person, takes in this body,'" Byer says. But it's not just those jokes. She says, in general, it's getting harder to tell jokes that take on sensitive angles like body image or race. "Comedy is very hard right now because people don't understand sarcasm — a lot of sh*t going on in the news is wild enough to seem like a joke but it's not," she says. "Sometimes you're battling with the audience like, guys, it's funny, it works somewhere, it's funny, come on."
Of course, part of that sensitivity is due to the elephant in every room in America: the current battle of ideals, morals, and ethics prompted by a certain American president who famously lost the popular vote. "People like PC culture to be the culprit, but I don't think we're being PC, I think we're trying to understand other people's experiences," Byer says. "And I think when you're trying to understand an experience you're like, 'I can't laugh at that, it's not my experience, I can't do that.'"
I live in this body and I'm OK with this body and I understand that I could change this body if I want to, but don't want to at the moment and I want to talk about it.
So how does one, especially someone whose entire career is built on making jokes, speak truth without losing the funny? Well, staying in your lane is always a good first step. Byer says she wants people to understand that "jokes are jokes" but there is a line, too. "I've seen comics cross the line where I'm like, 'Ahem, OK that black joke you just told as a straight white man, I didn't love it because where's the truth in that? Where's your experience in that? I don't buy it."
Which leads us to the other tenant of truthful comedy: Just don't be a jerk. Though, that's not always as easy as it seems, especially when your job is to make fun of downright hideous confections (at one point a woman literally uses Flaming Hot Cheetos to mimic a smile on a sugar cookie) made by people who have absolutely no idea what they're doing… on a reality show created to highlight just how bad they are at doing what they're doing. Byer's approach is to (you guessed it) find the truth in the people she's joking with.
"I like to look into their eyes," she says, suggesting that she can tell if someone's down to be ribbed for their "insane" creation or if they're feeling a bit sensitive in the moment. "So you kinda like read the room," Byer says. If a contestant is clearly aware that they did not, in fact, nail it, then it's time to go all in. But if you caught an episode in which Byer exclaims, "Well, you did it! You made something!" that's likely because she could tell the baker on screen with her wasn't ready to feel the full heat of a comedic smackdown. "But it is hard, some days you wanna be like, 'You look insane, this is stupid,' and you just have to kinda reset and then go this is someone's, someone made this and took the time to make it, let's not totally sh*t on it. Unless they go like, 'Nailed it, this looks like trash.' And you can go, 'It does!'"
But now that she's dominated this kinder, gentler world of comedy ("Children now like me and never once did I think in my mind that children would be my fans," she says with a knowing laugh), don't expect her to chill any time soon.
"The more things I am allowed to do and get to do, it just kind of feeds this hunger, like I don't know if I'll get anything that would be enough," she says, leaning fully into her thirst, this time for her career. She looks to other comedy greats, like Mo'Nique, Cheryl Underwood, and Adele Givens (all of whom lead with their sexual desires as well, naturally) as well as Hannah Gatsby (whose Netflix special Nanette makes Byer, and everyone who's seen it, cry) for inspiration and cherishes the spectrum of comedy, from straight giggling to the kind of routines that have the power to make you straight up emotional. She loves it all, but as the future unfurls before her, she's knows there's only one comedy lane that makes sense for her.
"Comedy can do so much more than make you laugh, but for me, personally, I'm in it for the laughs and the chuckles."