This Royal Wedding Update DEFINITELY Explains Why You Didn't Get Your Invite...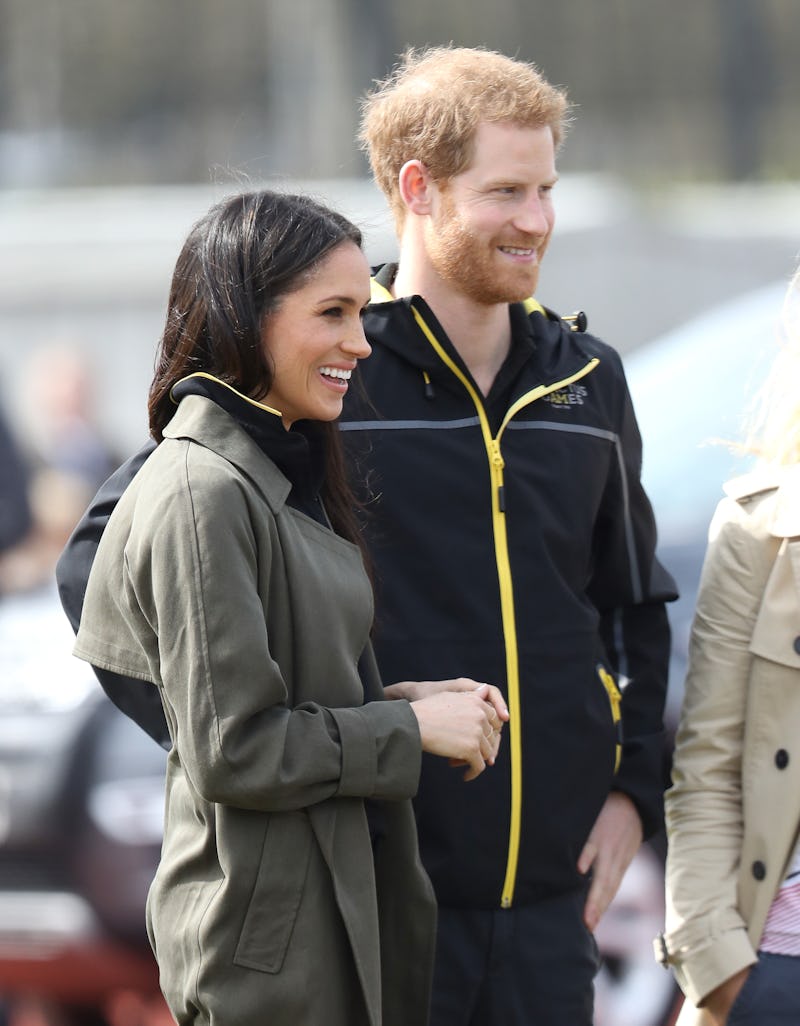 Chris Jackson/Getty Images Entertainment/Getty Images
It goes without saying that the royal wedding is going to be a massive event, but now, it sounds like it's going to be a bit smaller than anticipated. Reportedly, Prince Harry and Meghan Markle's wedding guest list is down to just 600 attendees, even though their wedding venue, St. George's Chapel, holds 800. So why did they decide to go with a smaller crowd? Regardless of the reason, it makes sense that they'd want to keep the guest list to a minimum (if you can call 600 guests a minimum).
According to what a source close to the wedding told E!, Harry and Markle decided on a different seating arrangement for the ceremony that limits the amount of people the chapel will be able to hold. They reportedly wanted to arrange the seats diagonally so that it looks best for the live broadcasts of the wedding, which are shot from above, and so that the guests who do attend in person are able to see the altar more clearly.
So far, the palace has yet to confirm the number of people who have been invited to the wedding ceremony, but if this is the plan they've decided to go with, it makes a lot of sense.
Considering that a wedding day is one of the biggest days of someone's life, there's already a lot of pressure there. Add in the fact that it's a royal wedding, marking the day that Prince Harry is officially married — and Markle, an American, is joining the family — and it's hard to imagine the stress that must come with it. Between press, onlookers, and the actual invited guests, it's practically guaranteed to be a very hectic day. If Markle and Harry are able to cut a couple of hundred people out of the mix, it might be in their best interest to do so.
And even though the jump from the venue's 800 person capacity to 600 guests doesn't seem like that big of a deal, it's a huge difference from the mile-long guest list that came with Prince William's wedding to Kate Middleton in 2011. More than 1,900 guests went to Westminster Abbey to see them tie the knot, with 650 joining them at their lunch reception at Buckingham Palace and 300 at their private evening reception. That's a lot of people to have to see on your wedding day, and even though Markle and Harry will have 1,300 fewer people at their ceremony than William and Middleton did, 600 still sounds like a lot.
Besides, Markle and Harry have already announced that members of the public will also be invited to their big day. In March, Kensington Palace announced that 2,640 people would be invited to see the wedding from the grounds of Windsor Castle, which means they'll get to see the happy couple and their guests enter the church, which is pretty exciting, considering that the rest of the public will have to watch from outside of Windsor Castle's gates or on TV.
If a smaller guest list will make their day flow more smoothly — even if it just means it simplifies the process of the wedding broadcast or makes their guests' experience better — it's definitely a positive for Markle and Harry. The only thing necessary for a wedding is making the commitment to the person you want to spend the rest of your life with, and no matter who is or isn't there, that's happening on May 19. Now, the rest of us just have to wait (impatiently) for that day to arrive.