Why Roe v. Wade Alone Isn't Mobilizing Young Women Against Trump's SCOTUS Nominee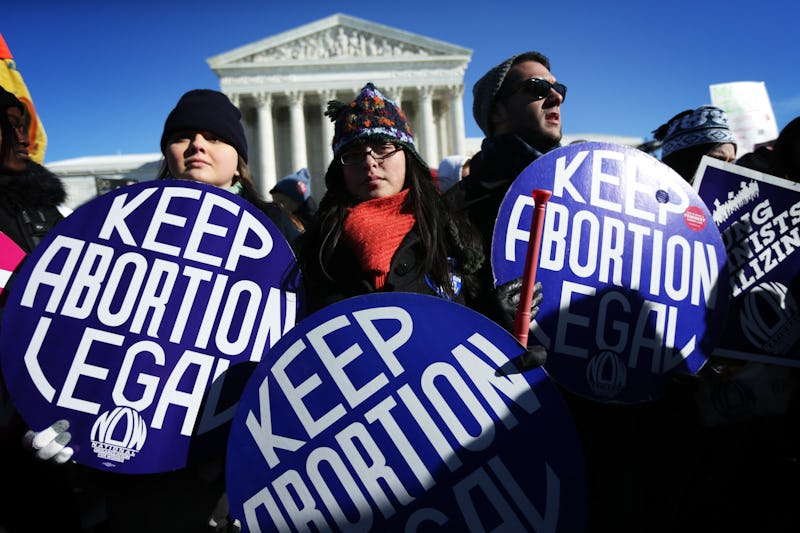 Alex Wong/Getty Images News/Getty Images
As the confirmation hearings draw nearer for Trump's Supreme Court nominee Brett Kavanaugh, (who, if confirmed, would likely tip the court to the right), abortion rights activists argue that Roe v. Wade — and with it, the constitutional right to abortion — hang in the balance. At the same time, they stress that motivating young voters and communities of color against Kavanaugh's nomination requires making a case against Kavanaugh that transcends Roe.
"For a long time, there was a disconnect between the message, the framing, and the rising American electorate," Destiny Lopez, co-director of All*Above All, a reproductive justice campaign, tells Bustle. "We're low-income, we're gay, we're immigrants. We don't lead single-issue lives. The movement, if it was going to engage in a meaningful way with women and people of color, needed to be bigger than Roe and bigger than privacy."
Recent polling reveals a generational shift in attitudes toward abortion. A national poll of more than 2,000 adults from the Public Religion Research Institute, a nonprofit, nonpartisan organization, released in April showed that one-third of Americans ages 18 to 29 say their views on abortion have changed in recent years: 25 percent said they had become more supportive of legal abortion, while 9 percent reported becoming less supportive.
"The Kennedy retirement was the shot heard around the world. Young women know what's at stake." -Nita Chaudhary
When it comes to Roe specifically, a December 2017 poll of more than 1,000 voters by PerryUndem Research, a nonpartisan research firm, found that younger millennials are more supportive of Roe than any other age cohort. Specifically, 82 percent of 18- to 29-year-olds said they did not want to see Roe overturned, compared with 72 percent of all voters surveyed.
"There is an assumption that young women aren't concerned, or that because we grew up in a world where abortion was legal that we don't care, or that we're not motivated by the issue," Nita Chaudhary, an adviser to Demand Justice and a co-founder of UltraViolet, a women's rights group, tells Bustle. "The Kennedy retirement was the shot heard around the world. Young women know what's at stake."
Hoping to harness that enthusiasm and mobilize voters, for instance, Demand Justice, Planned Parenthood, and NARAL Pro-Choice America recently wrapped up a 10-city Rise Up for Roe tour to draw attention to the battle over the Supreme Court nominee.
At the same time, to fully engage a broad swath of voters in the fight to block Kavanaugh, activists know they must utilize a larger, more accessible message.
"We're not abandoning Roe. It's still an important milestone," says Lopez. "But the conversation needs to be more nuanced. Wealthy, primarily white women will always be able to access abortion regardless of what happens in the court and the legislature. It's poor people and people of color who won't."
Additionally, advocates contend that one of the major limitations of Roe as a rallying cry is that for many living in the United States, the idea of a constitutional right to an abortion does not resonate. "If your experience isn't one of having protected rights, or if you come from a country where abortion is illegal, then the whole concept of abortion being a legally protected right doesn't mean much to you," Lucy Stein, a Texas reproductive rights advocate focused on communication and political advocacy, tells Bustle.
Ofelia Alonso, who is now a regional field coordinator for the nonprofit Texas Freedom Network, saw firsthand what happens when abortion rights are rolled back. When she was a senior in high school, she stayed up all night watching Texas state Senator Wendy Davis' 13 hour filibuster of HB-2, legislation that effectively restricted abortion access.
After the legislation passed, the remaining two abortion clinics in the Rio Grande Valley were forced to shut down, and reports surfaced of women seeking dangerous alternatives to abortion. It was a turning point for Alonso: "We saw the immediate effects," she tells Bustle. The legislation was later overturned by the Supreme Court, but it revealed some of the ways that abortion access can be threatened, even with Roe in place.
"We understand that Roe is essential," Alonso says, "but it doesn't assure that we all have access to our choices. There are still so many obstacles."
Jessica González-Rojas, the executive director of the National Latina Institute for Reproductive Health, agrees that these attacks on choice feel much more tangible than a Supreme Court decision, even though they are connected. "It's about waiting periods. Parental consent. Having to get to a clinic that's 200 miles away," González-Rojas says. "When you're a young person or an undocumented person without a vehicle, you feel that. Those laws often serve as a de facto ban on abortion for those communities."
"We're not abandoning Roe. It's still an important milestone. But the conversation needs to be more nuanced." -Destiny Lopez
In their organizing against Kavanaugh's confirmation, abortion rights advocates are making a case that is bigger than the threat to Roe. They point to Kavanaugh's dissent in an appellate court case, in which other judges upheld the constitutionality of the Affordable Care Act, and his vote to uphold a South Carolina voter ID law that the Obama administration claimed would disenfranchise minority voters. They also point to the one abortion ruling Kavanaugh has ever made: his dissent in the case of Jane Doe, a 17 year-old unaccompanied Central American migrant seeking an abortion. Doe was ultimately able to access abortion services, but advocates say that Kavanaugh's dissent presented a delay that would have effectively forced Doe to carry the pregnancy to term.
"This is a young person who was detained, she had a health need, and she was denied that health need," González-Rojas says of Doe. "That case proves that reproductive justice is actually an immigration issue, a racial justice issue and an economic justice issue. These parts of our identity don't live in isolation."
Looking forward, should Kavanaugh be appointed, and should Roe be dismantled, either in full or in part, advocates know they will have to continue to rethink how they communicate around the issue. "How do we seize on this moment where Roe is in the spotlight, and at the same time, shift a framework that might not be a thing anymore?" Stein says. After all, she points out, it is hard to "re-envision what the future looks like without Roe."