Why 'Southern Charm's Kathryn & Thomas Should Never Get Back Together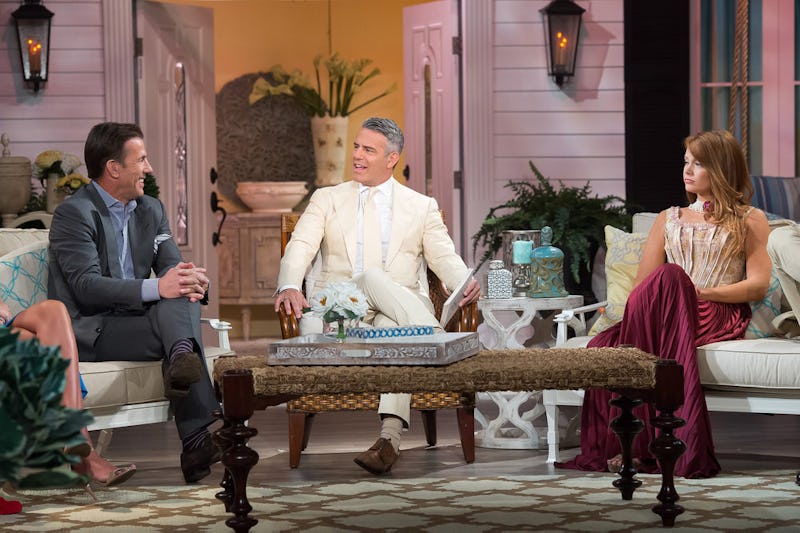 Charles Sykes/Bravo
Every reality show has its dysfunctional couple: Flavor Flav and New York, Kourtney Kardashian and Scott Disick, Vicki Gunvalson and Brooks Ayers — the list goes on and on. As cringeworthy, frustrating, and annoying as it is to watch them break up, make up, and fight all over again, these couples keep us utterly entertained. However, there is one problematic pair who just needs to call it quits for good: Kathryn Calhoun Dennis and Thomas Ravenel from Bravo's Southern Charm.
The two are insufferable and Charmers knew that immediately. From the moment the then 21-year-old, ginger-haired Southern belle caught the eye of the 51-year-old politician, cameras captured 24/7 drama that the city of Charleston just couldn't contain. Three years and two babies later, the two claim to be officially broken up, and so far this season, that's been the case. But at this point, for fans, it's hard to think that it isn't only a matter of time before the on-again-off-again couple starts playing house again.
In hopes that they spare viewers and their Southern Charm castmates even more drama, check out nine reasons why Kathryn and T-Rav need to stay apart.
They Don't Trust Each Other
These two had numerous trust issues from the start and one of the most recent involves their costar Landon Clements. Trust is the foundation of any relationship. Without it, you just have reality TV gold.
They Don't Have Much In Common
OK, they both come from well-known South Carolina families and enjoy an occasional public appearance or two. But other than that, I wonder what they talk about?
Their History Is Complicated
Charmers had a field day when Craig Conover revealed his conspiracy theory about Whitney harboring old feelings for Kathryn after they hooked up years ago. The mama's boy is T-Rav's bestie, so this puts a further wedge between him and Kathryn. Plus, now they also have drama because of Kathryn thinking he has a thing for Landon. Basically, their friend group being so complicated isn't helping matters.
T-Rav Doesn't Seem Ready To Settle Down
If you thought Shepard Rose was the biggest perpetual bachelor of the Southern Charm crew, think again. Although Thomas opines about wanting to find his Mrs. and live a quaint life together, the Bravo cameras often catch him out of the town looking for ladies with Shep, Craig, and Whitney.
Kathryn Doesn't Seem Ready To Settle Down, Either
Charmers have watched Kathryn stay in and take care of her children and isolate herself from the group after pointing fingers at every girl but Cameran Eubanks for allegedly cavorting with Thomas. Rather than going back to the same guy who she can't seem to make it work with, she is in need of some me time — and she has been shown having plenty of it and trying to better herself during the current season.
They Have Hot Tempers
Remember when Kathryn chased Thomas down a dock while wearing a floor-length fur coat at the Founder's Ball? Or when Thomas accused Kathryn of not being there for him during his run for senate? Yeah. Not fun times.
Their Co-Parenting Might Be Stronger With Them Apart
As shown in recent episode, Thomas was taking care of their children, Kensie and Julien, on his own and things seemed to be going fairly smoothy. And, as shown on the latest episode, Kathryn penned Thomas a heartfelt note about her hopes of co-parenting amicably, and it seems like they're on the same page about trying to make that work.
After four seasons, fans can't help but stay hooked on the Dennis-Ravenel debacle. Only time will tell if the two will get it together or give it a rest once and for all.