You Don't Have To Be A Spider-Man Superfan To Love This New Animated Adventure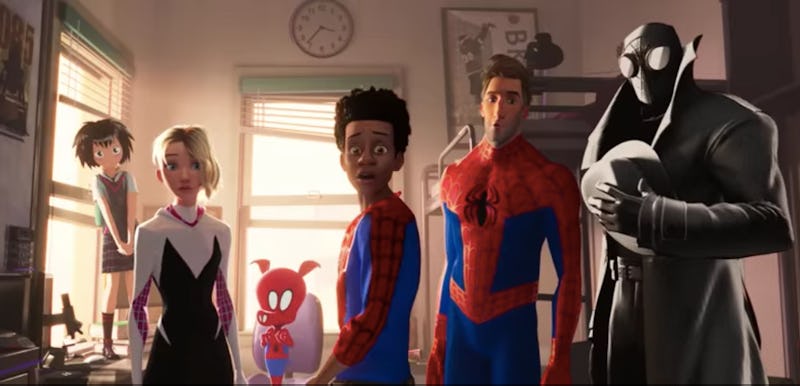 Sony Pictures Releasing
Over in the Marvel Cinematic Universe, there's one current Spider-Man: Peter Parker, the Queens teen version you probably know best, played by Tom Holland. But he's about to have some serious competition. In December, the animated feature Spider-Man: Into The Spider-Verse will hit theaters, its multiverse plotline bringing several iterations of the masked hero onto the same plane. The trailers have given comics fans plenty of Easter eggs referencing different Spideys and their arcs to dissect, but what about the potential audience that's not as immersed in the source material? Backstage after the movie's New York Comic-Con panel, the cast and directors tell me that this movie won't be gatekeeping new fans.
"I think that's the biggest challenge that we had," co-director Bob Persichetti says, adding that it was an easier task to stack the film with references that appealed to long-term fans. "How do we get a general audience to want to see something that looks and feels different than what they're used to?"
Visually, the movie is designed to look like a comic book come to life. And though the 35 minutes the NYCC audience was able to preview feels aimed at kids and adults, it's still a tall order to get grown-ups with only a cursory knowledge to get excited about an animated superhero. The in, as far as the creative team is concerned, is Afro-Puerto Rican teen Miles Morales and his family. While many other Spideys — including Hailee Steinfeld's Spider-Gwen and John Mulaney's Spider-Ham — show up, Into The Spider-Verse is the origin story of one in particular. Watching him take up the mask is going to mean a lot, they're expecting, for those who see themselves in him.
"The representation that this movie is gonna give is going to go far and wide beyond what we even think," says Atlanta star Brian Tyree Henry, who plays Miles' dad Jefferson. "I'm just really happy to be a part of that, to be a part of something so revolutionary, dare I say." Henry also spoke on the panel about how pleased he was to play a black father in a loving, dedicated family, at the same time, marveling at the rarity of that kind of character.
The actor playing Miles' mother Rio, Luna Lauren Velez, was no Spider-Man geek when she took on the role. She, too, was struck by the larger themes of the movie, including the universality of heroic potential. Into The Spider-Verse says that we're all capable of stepping up, and "it's really an important thing that will resonate with young, old, across ethnic lines," she says.
For Jake Johnson, who voices a past-his-prime Peter Parker, it's the act of honoring the past while looking to the future that make the movie accessible to everyone. "I think if you just went new school and you just went Miles Morales and Spider-Gwen ... you'd be missing a key ingredient," he says. "A lot of us did grow up with Peter and a lot of us do love Peter. So while it's welcoming in the new, it's paying tribute to the old."
So while it may be intimidating to read through lists of all the obscure Spider-Man references you didn't even know were in the movie's trailer, the idea wasn't for this movie to only cater to the people who can pick them out. There's a lot of heart in first half hour that we at NYCC were shown, and a strong focus on character, not just mythology.
"I think we'll touch the whole audience," says Shameik Moore, who plays Miles. "Everybody should be able to watch this movie, basically."
Still, superhero fatigue is an obstacle for this and any comic book movie or series. We're flooded with this type of content, even though Into The Spider-Verse sets itself apart in format and in story. Henry has an idea of why we just can't quit these stories of regular people becoming extraordinary, however.
"We need to feel like there's someone championing for us, for the ones that aren't heard. That feel like we're overlooked or the ones who feel like we're from places where nobody is repping us," he says. "We need a win. I think everybody needs a f*cking win right now, and I think Spider-Man is giving us that."