Experts Explain Why Squalane Oil Is The Best Oil For Your Skin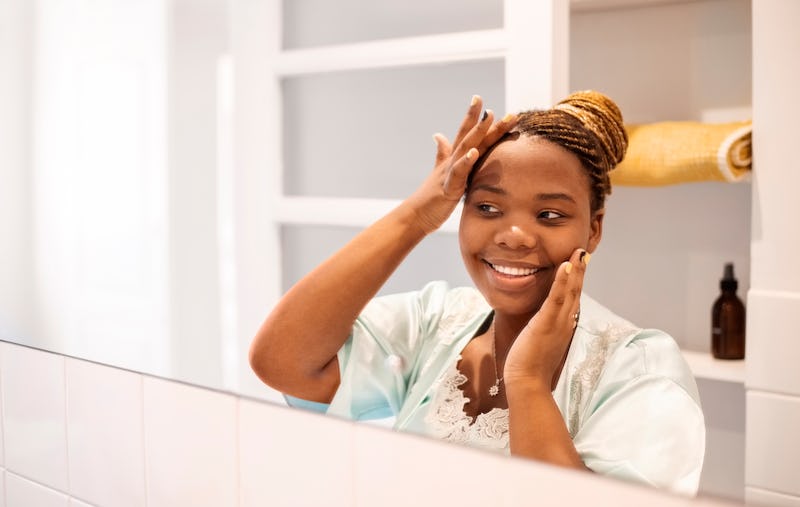 NickyLloyd/E+/Getty Images
When it comes to beauty oils, there are, like, a ton to try. And while there are a number of fantastic options for every skin type, if you want to take the guesswork out of picking the perfect oil, squalane oil should be your new go-to. Because even though it hasn't quite gained the recognition that more popular oils like jojoba, coconut, and argan have, it deserves it. So to find out some more about why you need this oil in your beauty routine, I emailed with Dr. Clarissa Shetler and Christine Falsetti, PhD, founders of C2 California Clean, and Sonia Deasy, founder of Pestle & Mortar.
According to Deasy, squalane is naturally produced by the body, but its production slows as we age, leading to drier skin. So by incorporating squalane into your skin care, you can help "restore the proper balance of the skin's oils," she says. But not only does it moisturize, Drs. Shetler and Falsetti add that squalane oil is a natural antioxidant that heals the skin and treats wounds and can also protect against UV rays, prevent irritation, and even fight bacteria on the skin. Plus, it's good for all skin types from sensitive, to dehydrated, to oily, to acne-prone.
Seriously, what's not to love about that? Just keep in mind when you search for skin care containing this oil to look for squalane, not squalene. All three experts explain that squalene is unsaturated and therefore more unstable and likely to go rancid, whereas squalane is the saturated form of the oil that is more stable and can't be attacked by free radicals as easily. Ready to add this lightweight and non-greasy yet totally moisturizing oil to your regimen? Here are seven ways to do it:
C2 California Clean Ultra Replenishing Oil Squalane + Vitamin E, $88, C2 California Clean
Together, squalane and vitamin E provide excellent antioxidant properties to protect against environmental pollutants while improving skin health and moisture retention.
Pestle & Mortar Hydrate Lightweight Moisturizer, $74, Pestle & Mortar
If you prefer your squalane in the form of a cream, try this lightweight moisturizer that contains a number of hydrating and free-radical fighting ingredients like jojoba, pomegranate, and green tea.
Indie Lee Squalane Facial Oil, $32, Amazon
Yep, you can use squalane all by itself. This 100-percent pure squalane oil is plant-derived and will improve skin tone, texture, and overall health.
Biossance Squalane + Vitamin C Rose Oil, $72, Sephora
For some extra oomph, this squalane oil packs the power of vitamin C and rose extract in addition to its own benefits.
Peter Thomas Roth Oilless Oil 100% Purified Squalane, $23, Amazon
Derived from sugarcane, this purified form of squalane looks like an oil and behaves like an oil, but isn't actually oil.
Herbivore Botanicals Lapis Facial Oil, $72, Amazon
Squalane is mixed with jojoba, coconut, blue tansy, kukui nut, and jasmine sambac oils to provide clarifying and anti-inflammatory benefits to all skin types.
Tatcha Luminous Dewy Skin Mist, $48, Sephora
Give yourself a shot of squalane whenever with this skin mist that refreshes the skin and leaves it with a radiant glow.
No matter in what form you use it though, adding squalane to your beauty regimen is sure to improve your skin.
Images: Getty Images (2); Courtesy of Brands