Here's How You Should Actually Use A Face Oil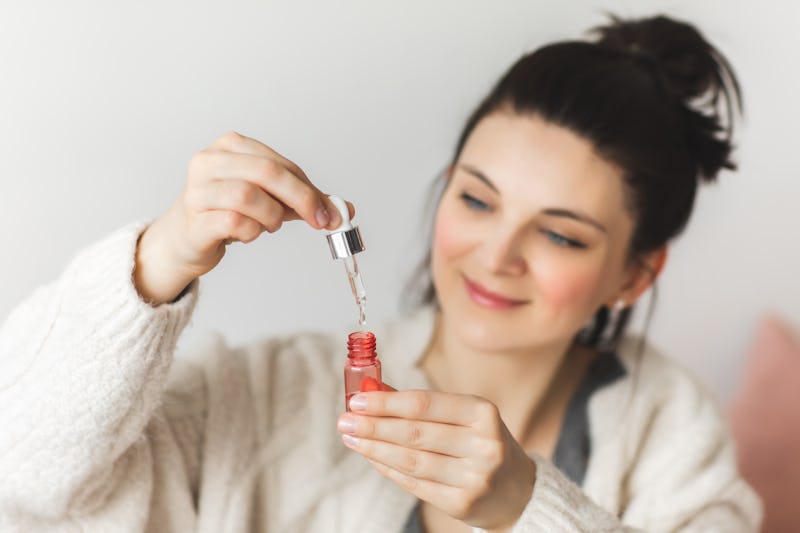 Anastasiia Krivenok/Moment/Getty Images
Face oil is one of those skincare ingredients that can be a little more intimidating to use, but is a total game-changer once you add it to your routine. But even if you already swear by one, are you really getting the most out of your face oil? Because as it turns out, there are actually a bunch of different ways to use one (and a bunch of different types to try) to optimize your benefits. So to find out why exactly you need a face oil in your beauty regimen and how you should be using it, I emailed with Mary Delgado, Operations Manager for artnaturals, and Beth Bialko, Global Education Developer for Dermalogica.
According to Bialko, face oils work for every skin type because they "can dramatically strengthen, hydrate, and shield the skin while promoting a healthy, smooth, dewy finish." And if you're worried that adding an oil to routine might cause you to have clogged pores, breakouts, or appear overly greasy, fear not. Bialko explains that as long as you use plant-based oils instead of synthetic or petroleum based ones, you can actually treat skin concerns such as dryness, aging, uneven tone, and sensitivity without causing new concerns. That is, if you know how to use your oils. So you can get the most out of your face oil and skincare routine, here are nine things you should know:
1. Apply Oil After Water-Based Products
Try: Dermalogica Phyto Replenish Oil, $75, Dermalogica
Ever wondered if your face oil should be applied before or after moisturizer? According to Delgado, "You can either use a face oil in place of a night-cream or following a water-based moisturizer." If you prefer a heavier moisturizer though, Bialko says to apply your oil before going in with your moisturizer. This way, you'll be able to reap the benefits of all your skincare.
2. Mix It With Moisturizer For A Dewy Finish
Of course, you can also mix a face oil in with your moisturizer to increase its potency or give your skin a dewier finish. And if you like that dewiness and extra hydration, Bialko even suggests mixing an oil with your makeup primer or foundation before applying.
3. Don't Rub It In
"It's always best to avoid rubbing products onto your face, as it pulls the skin and can prevent the product from sinking in and being fully absorbed," says Delgado. She therefore recommends warming oil between your hands before gently pressing it onto your face for optimal absorption.
4. You Only Need A Few Drops
Depending on your skin type, both experts agree you can use anywhere between three and six drops of oil, once or twice per day. Naturally, the drier your skin is, the more oil you can use and the more frequently you can use it.
5. Choose The Right Oil For Your Skin Type
Try: SheaMoisture 100% Pure Shea Oil, $9, Target
If you have oilier or acne-prone skin, Delgado recommends using a lighter oil like jojoba, apricot, hazelnut, or sesame. For normal to dry skin types, she suggests using a more hydrating oil like coconut, almond, or shea.
6. Try Mixing In Essential Oils
Try: artnaturals Tea Tree Essential Oil, $4, Art Naturals
Delgado also reveals that you can mix essential oils into your face oils for added benefits. For example, she says tea tree essential oil is great to help treat acne, and lavender essential oil helps reduce puffiness.
7. Use Oil In Place Of Eye Cream
Try: Kopari Coconut Melt, $36, Sephora
One of the great things about face oil though, is that it can be used on even the more delicate areas of the face. According to Delgado, one of those areas is the under-eyes. In lieu of under-eye cream, or if you just need extra moisture, she recommends dabbing on coconut oil as it provides deep hydration.
8. You Can Hydrate Lips With Oil
Try: artnaturals Jojoba Oil, $13, Art Naturals
And if your lips need some extra nourishment, Delgado suggests patting coconut or jojoba oil on your lips along with the rest of your face.
9. You Can Even Use It On Brows & Lashes
Try: Josie Maran 100 Percent Pure Argan Oil, $48, Sephora
While you're at it, don't forget your lashes and brows. According to Delgado, "Argan oil works great on brows and lashes to moisturize and stimulate growth."
Because face oil really is a miracle product if you know how to use it.
Images: Getty Images (3); Courtesy of Brands; Miki Hayes (1)