Why Sutton's Handling Of Slut Shaming On 'The Bold Type' Was So Unique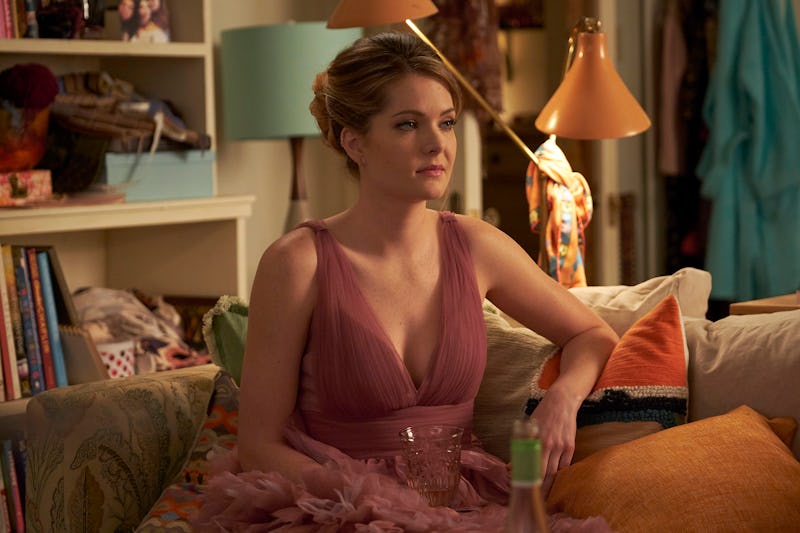 Phillippe Bosse/Freeform
Spoilers ahead for The Bold Type Season 2, Episodes 1 & 2. There are plenty of shows on television that feature a group of women trying to find themselves while living and working in a big city. But Freeform's The Bold Type stands out for its dedication to avoiding the all-too-common tropes that often pit women against each other in pop culture. According to Meghann Fahy, who plays Sutton on The Bold Type, Season 2 doubles down on the idea that success for women isn't a zero-sum game. "We really want to rewrite the narrative and just say, 'Look, you don't have to tear someone down to win,'" she says. "You can support other people and you can wish them success and succeed yourself."
That whole "path to success" thing isn't always easy, though. On the show, we've seen Sutton, Jane, and Kat change jobs, battle bosses, ask for a raise, and date within the office — all with varying results. Sometimes it works out, but sometimes it doesn't. That, according to Fahy, is what makes the show so great. "We do see them fail, and we see how they choose to pick themselves up from those failures," she says. "That's what's super important to show because that's the most important part of failing: How are you going to move forward?"
One thing that doesn't seem to be going forward following the Season 2 premiere is Sutton's relationship with Richard, her beau from the first season. They're great together, but he's a board member at her company and she's a lowly assistant. Not a great optics situation. The two split in the premiere, and while Fahy doesn't say if Richard and Sutton will get back together later in the season, she does say that Richard and Sutton's relationship was why she wanted to book The Bold Type in the first place.
"I was interested in that because I think that it played against stereotypical power dynamic male/female relationships in the workplace that we've seen portrayed in a lot of different ways on TV before, and I thought this was a fresh take on it," Fahy says. "These were two people who really respected and loved each other, and the only thing that was keeping them from being together was that they worked at the same place."
It's Sutton's relationship with another coworker, though, that ultimately lands her in trouble in the premiere — she hooked up with Alex a few times, and Mitzi another assistant, gets wind of it and insists that the only reason Sutton is getting the good assignments is because Alex saw her naked. It's not a good look for Mitzi, but according to Fahy, it's not a surprise that Mitzi acted that way.
"That's the tragedy of the situation is that's not surprising. It's what [Sutton has] been afraid of the whole time… And that sucks. And on our show, what we really want to say is, 'Your body, your choice,' and no decision or experience that you have sexually or otherwise is a representation of your worth," Fahy says.
Though Mitzi's comments throw Sutton off her game, she eventually comes to her senses and tells Mitzi to cut the nonsense — something that Fahy says is important for viewers to see on screen. "How often do we see scenes like that between women? She's not being mean to Mitzi. She's being firm," she says. "She's being honest. She's calling her out, but she doesn't have it out for Mitzi after that… It would have been so easy to do something to get even with Mitzi or sort of take Mitzi down the way she thinks Mitzi took her down, but I'm really proud of our show for telling a different story."
Sutton will continue to fight her way to the top of the fashion closet in Season 2, but hopefully, Mitzi won't be standing in her way. Another thing that's coming in Season 2? A social life! "The thing that's really exciting about this season is we will see the girls outside of the office more," Fahy says. "We were all hoping that would be the case, because like being that age and living in a city like New York, half the magic is like, 'What are they doing on Friday night?'"
Fahy says that the new season tackles the serious subject matter the show is known for, but with that signature The Bold Type smile. When asked to sum up the new season in three words, she thinks a bit and settles on "totally empowering fun." And we're looking forward to it.