What Women In Publishing Really Think About 'The Bold Type'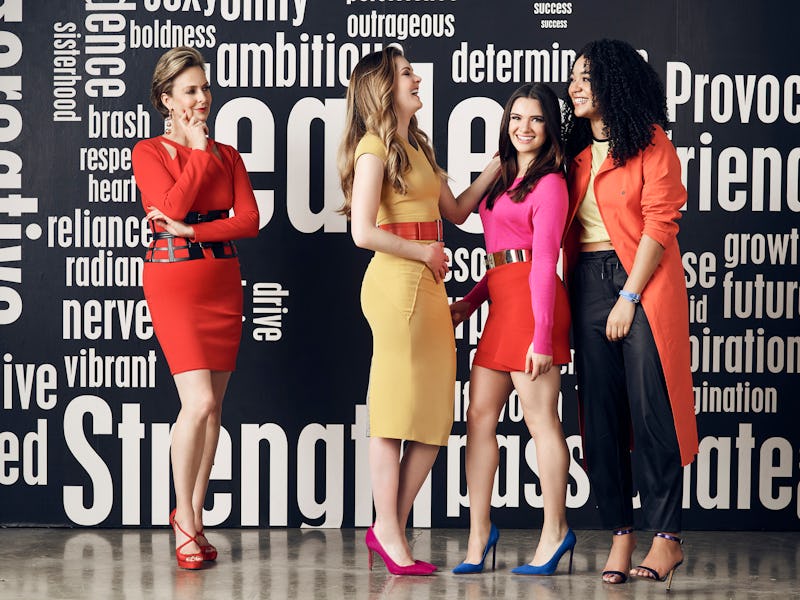 Justin Coit/Freeform
From The Devil Wears Prada to Gilmore Girls to Freeform's new show The Bold Type, the media has a lot of influence over cultural understanding of journalism, and women's magazines and media companies in particular. While serious films like Spotlight portray journalism as a deep dive into difficult reporting, The Bold Type is casting a specific image of what it's like to work in women's media — it's fun but challenging, it's feminist, and it's a place where women support each other. But is the industry any more diverse than what you see on television? Are magazine staff walking into the office decked head-to-toe in Gucci and Prada? Bustle asked women's media experts about what The Bold Type gets right, and where the show could do better.
The series follows three young staff members at the fictitious Scarlet magazine, loosely based on Cosmopolitan. Kat (Aisha Dee), Jane (Katie Stevens), and Sutton (Meghann Fahy) started at Scarlet together as assistants four years ago; now, Jane is starting a position as a staff writer, Kat is the social media director, and Sutton is still an assistant to an editor, but she dreams of working in the fashion department.
Mentorship at women's magazines varies from organization to organization and not all junior-level writers get as much one-on-one attention from the editor-in-chief as Jane does, but Erika W. Smith, the digital editorial director at Bust, says that she feels completely supported by the magazine's small staff. "Bust's managing editor, Emily Rems, has absolutely been a huge resource for me in my career," Smith tells Bustle. "She assigned me my first two cover stories."
In The Bold Type, that kind of mentorship comes directly from Scarlet's editor-in-chief, Jacqueline (Melora Hardin), who even rejects a call from Beyonce to coach Jane on her writing voice. Given how busy an editor-in-chief would be, it seems surprising that Jacqueline is so personally invested, but it does offer a fresh take on the stereotype that bosses who are women are terrifying and demanding.
"TV and films often show the editor-in-chief interacting with junior staffers in unrealistic ways," says Susanne Althoff, an assistant professor at Emerson College who teaches women's media courses, and previously worked 22 years as a magazine editor. "The top editor may line-edit a major cover story or investigative piece, but otherwise she will be too busy juggling administrative tasks, working with other departments like advertising and circulation, setting the vision for the magazine, and so on."
That's not always the case, however. Ashley, an editor at a major women's magazine, explains, "Our editor-in-chief is very available and open to on-the-fly conversations about what we're working on. You can sort of pop in and ask her a question. It's super collaborative." Still, none of the editors I spoke with had staff writer positions at their media companies, like the role Jane just started. More common entry-level positions are intern, editorial assistant, or freelance writer, and a majority of women's magazines have their editorial teams working on both writing and editing simultaneously.
The deviation from reality extends to the way that newsrooms like Scarlet's look. Audiences are constantly seeing the same picture: thin, white, straight, feminine, able-bodied women in gorgeous clothing strutting all over expensive cities like New York, London, and Los Angeles in the name of their careers. These portrayals reinforce a dangerous stereotype about working in women's media: you can't, unless you have Rory Gilmore's mysterious cash flow to fly across continents multiple times a year, or Carrie Bradshaw's wardrobe.
The main characters in The Bold Type also wear glamorous outfits into the office, with more subtlety and less pressure than The Devil Wears Prada, but looking picture-perfect all the same. They also have instant access to freebies like the vibrators Kat gives to the lesbian Muslim artist Adena. All this begs the question: How are the characters affording these outfits, and are these dress codes expected in a women's magazine office?
"People are just not as hot in publishing," Ashley says. According to her, the editorial department at her magazine can be found wearing much more casual clothing than what's shown on the show, while the advertising and marketing department have to step it up more because of their client-facing role.
While The Bold Type is careful not to make distinctions about body type and size like The Devil Wears Prada, it still has an arguably attractive, glossy cast. There's a have a character of color (who's potentially LGBTQ) in the lead, but the show is not as representative as it could be, across the board.
Then there's the mystically large salary of the early-career media professional. The Bold Type characters haven't mentioned where in New York they're living or how far it is from the office, but Jane and Sutton do live together in an apartment that doesn't scream downtown Manhattan. In Ashley's experience, it's not possible for people on an entry-level women's magazine salary to live in their own apartment in New York City, unless they're being supported financially by their family. Smith, who used to live with four other people in a three-bedroom apartment, says, "I have always had roommates, I have always had side gigs. It wasn't very glamorous." On top of two editorial roles, Smith also babysits, pet sits, and freelances to make ends meet.
But Kat, Sutton, and Jane seem fully committed to their full-time jobs at Scarlet, with the exception of Sutton, who does double duty trying to impress the fashion department in an early episode. Finances are also a central part of Sutton's plot, as she considers whether or not she should accept a job in ad sales that comes with a significant pay raise or hold out to try and work in fashion. The show doesn't dwell much on her background, but money is a factor. She mentions how she's continued to carry around a $100 bill in her wallet in case she has to move back home, and talks about how her mom couldn't afford to send her to college.
So the show's report card on class and income diversity isn't glowing, but The Bold Type does offer audiences a main character of color in Kat, who is also questioning her sexual identity. Real women's magazines struggle with diversity, but are doing better with hiring more diversely for junior staff, according to Smith. Senior Editor at Bitch Magazine Evette Dionne says, "This is the very first time that half the staff at Bitch are people of color. A lot of people of color — our entire editorial staff outside of one person are women of color."
While it's great that The Bold Type is perhaps quite accurately showing audiences how slow-going this change is, it also presents a specific type of feminism. Scarlet's feminism feels like marketing, and Kat's speech to Adena about the magazine's role in empowering women falls a little flat, particularly since there's such a focus on how Adena has been detained at an airport because of her home country's government — a country that remains unnamed.
The show banner-waving doesn't hold up, because The Bold Type is afraid to criticize Scarlet or its staff too heavily. It's a feel-good, TV feminism-lite atmosphere that doesn't ask questions about what kind of article might be assigned to Jane if she came out as asexual after admitting she's never orgasmed (would that be as acceptable a personal essay as her diatribe about learning to own her sexuality?), or whether Sutton would even get a chance to work in the fashion department if she were not thin or used a wheelchair. If Jane, Kat, and Sutton are as "bold" as the show's title assumes they are, it would be great to see them take more revolutionary action.
Where The Bold Type excels is in giving Kat a lot of freedom. She has creative control over Scarlet's social media presence, and she even presents an idea for a virtual reality app to the magazine's board of directors. How did Kat advance into a social media director role just two years after starting at Scarlet, while Sutton is still an assistant? "Social media jobs offer a lot of promise to young people: There are typically a lot of openings and opportunity for quick advancement," says Althoff.
Rachel Charlene Lewis, social media editor at Her Campus, says she does have the kind of autonomy we see in Kat's position on the show. In March, Lewis partnered with Muslimgirl.com to create social media content that supported Muslim women's voices for Her Campus, and she spearheaded a similar project with Pride in June. "I make sure we're touching on topics I'm personally interested in," she says.
The Bold Type also authentically shows the challenges of a social media career at a magazine, particularly for women and marginalized people. Early on, Kat struggles with making decisions about whether to start a hashtag to "#FreeAdena" when Adena is detained at the airport, and later deals with online harassment as a result of an article she publishes about sexism and virtual reality applications.
Rachel Sanoff, features editor at HelloGiggles, has experienced this kind of harassment firsthand. "Men have called me a 'whore,' a 'slut,' a 'murderer' for being openly pro-choice. They've tried desperately to insult my appearance," she says. "I've had co-workers talk to me about receiving rape and death threats."
Kat's address is published online, and trolls circulate nude photos of her and overwhelm her personal Twitter feed with threats and hateful messages. Jacqueline is understanding and talks to Kat about how online publishing has changed the landscape of feedback for writers in sometimes dangerous ways. While The Bold Type doesn't go into depth about the structures that might be in place to protect writers and other staff, it does acknowledge that these online interactions are unfairly aimed at women and other marginalized voices.
While The Bold Type isn't completely off-base in its depiction of an industry that's often distorted, it has the opportunity to do so much more.