Why Carly & Evan Hate The 'Bachelor In Paradise' Guys As Much As You Do
by Carly Waddell and Evan Bass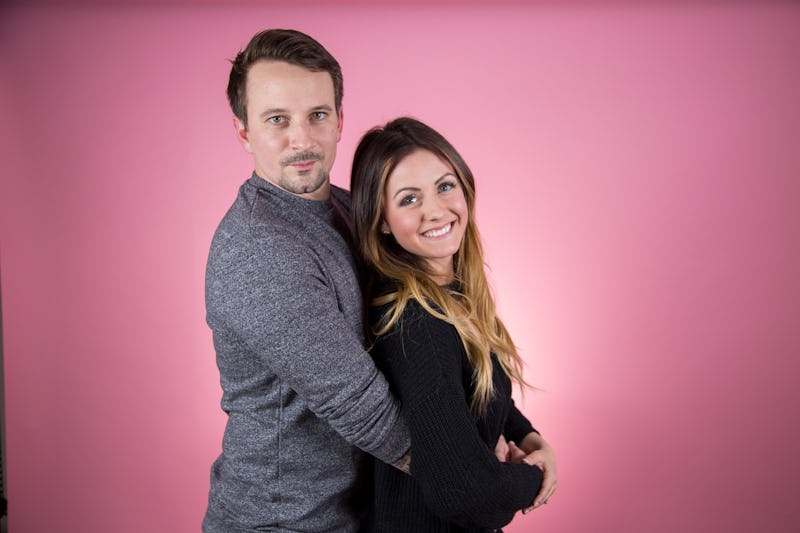 Kenny Suleimanagich/Bustle
Bachelor in Paradise Season 3 stars Evan Bass and Carly Waddell know Bachelor franchise love. (They married after meeting in Paradise and now they're expecting a daughter.) Now, read what Evan and Carly have to say about the dramatic Bachelor in Paradise Season 4 finale.
Bachelor in Paradise is now closed for the season and, wow, did it close with a Wonder Woman level of ass-kicking. In perhaps the most jam-packed drama "live" show of all time we basically saw a complete takedown of every dude this season. Luckily, Derek was able to escape by way of engagement to Taylor, and Adam was shielded by Raven's parents and a happy relationship. Otherwise, it was a sort of "women tell all" about how horribly some of our friends and nemeses acted. We're wildly disappointed in the guys' behavior this season, and, unfortunately, this has apparently become a way of life for Bachelor guys. And, it all started during the final day in Paradise...
Carly Says
On Monday night, the show started with Chris Harrison and an ultimatum. Chris is always like, "Now is the time to decide," but this time was different. He basically said that it was time to consider if love could happen outside of Paradise, and he would give them, like, 15 minutes to figure that out. Daniel and Lacey said yes, and even though Daniel is a complete idiot and he's objectified her for the entire show, Lacey somehow still liked him. Christen and Jack Stone had an incredibly awkward conversation, and I couldn't stop laughing. Jack Stone couldn't shake being referred to jokingly as a "serial killer," and Christen went into the ocean, which, for some reason, everyone decided to make jokes about. It didn't really make sense, but this whole season — except for our wedding — seemed like it was on a different planet then usual. I can't wait for next year.
Anyway, Amanda broke it off with Robby. OK. Sure. And, Raven and Adam went to the Fantasy Suite, as did Derek and Taylor, of course. Thank goodness nothing shocking with them happened. Meanwhile, Dean did what he does best and flip-flopped back to Kristina. Danielle L., who I don't think has actually spoken the entire season, seemed to just be fine with the whole thing. I would've lost my mind and thrown things at him. To each their own, I guess. Then, the Fantasy Suites happened and I guess they went well. Well, with the exception of one, but I have blocked Daniel and Lacey's from my memory. I'll let Evan handle the after show, because it was just so much.
Evan Says
There was absolutely no transition from the Fantasy Suites to the "live" (but actually pre-recorded) show, and all of a sudden DeMario and Corinne were back. Why? I have no clue. It's like the show wanted us to know EVERYTHING IS REALLY FINE, REALLY. (The investigation concluded there was no wrongdoing, so we already knew this.) So then Corinne and DeMario talked about basically nothing, and DeMario tried his best to become a GIF by making wildly extreme gestures the rest of the show. Afterward, according to TMZ, they kissed and hugged each other after being reunited. Whatever. I really like Corinne and hope she gets a clothing line.
Then, Robby and Amanda came out and apparently they gave their relationship a shot after breaking things off in Mexico. But Robby's "shot" included a mysterious photo of him allegedly cheating on Amanda by kissing another woman. (Robby called these claims false.) Gah, Amanda can't even buy a vowel around here. (Also, thank you Bachelor for reminding me that Wheel of Fortune is still on by playing it before every episode.)
When it comes to Amanda, I still get pissed when I see everyone talking about how she should be at home with her kids. Like, get a life people. People all over the country hire nannies to basically raise their kids, but Amanda can't even take a vacation once a year? Stop. It's so helpful and recharging as a parent to get away, and it's awesome that she's had these opportunities to work on herself even though she's been mind-bogglingly unlucky in Paradise love. (Side note: I think Amanda and Arie, the new Bachelor, would be fantastic together.)
Anyway, Robby denied cheating, which later spurred an all-out Twitter war between him and Amanda (and Josh Murray who jumped in for a sec too). To be honest, the only reason I got on Twitter this morning was to check in on their drama. I can't help it. I'm addicted. It's just a part of me I'm learning to accept. But, I'm friends with Robby and Amanda, so although I badly want to jump in and stir the pot, I'm just gonna sit this one out and watch.
Later, Lacey and Daniel came out, and Daniel was apparently doing this whole thing with Lacey just for TV (so says she). OH MY GOD I'M SHOCKED. Ever since Daniel poked my belly button on the first night of The Bachelorette, I've had my reservations about him. But to completely play Lacey is so utterly sad, and my heart breaks for her. I think she's amazing, though, and will be just fine. Her biggest accusation of the night was claiming Daniel only wanted to hang out with Vinny. I love Vinny, and always want to hang with him too, but, Daniel, what in the world were you thinking? The twins hate Daniel, too. And apparently just about everyone. Emily and Haley have shown a new side this season, and they must have drank some strong tea because they aren't messing around.
Then, Dean came out and he should've worn a bulletproof vest because shots were fired from everywhere. I'm done beating up on Dean for now, because everyone else is doing such a fantastic job. So, now, I'm going to sit back and wait for him to get redemption next year, because that's how these things go. Although, I'm reserving the right to tweet in ALL CAPS bemoaning the absolution when it happens. After the utter destruction of Dean, he went on to give a tepid apology blah blah blah. Fortunately it wasn't all bad on Monday night.
Adam and Raven are adorable, and it's sad that this season was so short because I really would've loved to see more of that love story. They both have talked about being like Carly and I, and it's such an honor. We love them. Double date soon? Call us.
Then Derek and Taylor got engaged, and I cried and it was beautiful. I was slightly confused because I didn't see Neil Lane at the show, so I texted him to see if he's OK. (I only wrote that sentence, because I want y'all to know I have Neil Lane's cell phone number.) I think these two couples will last. Hopefully, forever. All four of them exude goodness and seem to be wonderful for each other. See? Paradise works even if it's on a condensed timeline. Bye, haters.
Carly And Evan's Final Thoughts
We are still troubled by the aforementioned guys' supposed behavior. Again, some of these guys are our friends, but it's long been known that some of the stars let the fame get to their heads. The only thing that's changed in recent seasons is Twitter and its ravenous appetite for gossip — and cellphone cameras are higher quality. Unfortunately, there's probably no stopping this unless everyone realizes that no one is as awesome (or as terrible) as they appear on a reality show. Because of the ensemble cast of the Bachelor shows, we really only get to see a little bit of each person and we end up judging based on looks and bit appearances.
Either way, we desperately hope this behavior from the men changes, because this season was hard to watch at times. Fortunately, we have a new Bachelor and some Winter Games to look forward to until everyone hits the beach again next summer.
Goodnight, Paradise. We love you.