Here's What Robby Thinks Of Those Cheating Claims From 'Bachelor In Paradise'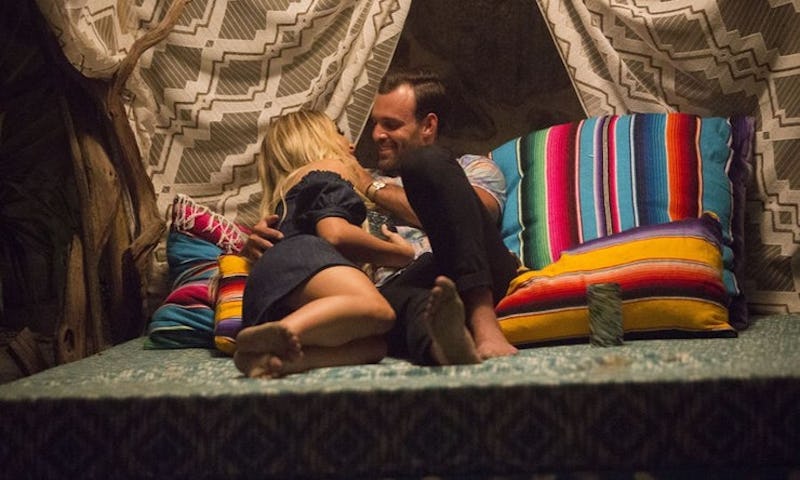 Paul Hebert/ABC
Wow, what a season. After a dramatic Bachelor in Paradise finale, the Ferguson twins, Haley and Emily, made an explosive accusation during the after show when they alleged that Robby cheated on Amanda after Bachelor in Paradise wrapped. As fans saw Monday night, Robby responded to the cheating allegations, but he didn't say a whole lot, although he did say the claims were "false." But, Monday wasn't the first time that he's talked about the matter.
Last week, both he and Amanda were present at a Bachelor stars event that benefitted the charity, Restore Dignity. The newly split pair sat down separately with Entertainment Tonight and the cheating allegations were discussed. When asked straight up if he cheated on Amanda, Robby answered, "No comment at this time." He then said that his comments would be coming soon and he had a lot to say.
His time to speak came during the BiP after show, when Haley and Emily claimed that Robby had traveled to Colorado while he and Amanda were together and that there allegedly were photos of him allegedly making out with another woman at a concert. When the twins asked him about the alleged photos, Robby responded by saying, "There were pictures of me close to a girl but I was not, by any means, being unfaithful." Amanda interjected by claiming, "The picture did look like y'all were making out. Let's be honest." Robby denied that, but Amanda again claimed, "It looked like it. I dunno ... it did look like it though, but, you know. He was there, not me." Robby agreed that she was not there, and they kind of left it at that.
In an interview with Glamour ahead of the finale, Amanda claimed that their relationship after Paradise was apparently facing some trust issues from the jump. She said that Robby allegedly has a tendency to answer all of his "fan girls" messages on Instagram and that really rubbed Amanda the wrong way. "Am I asking too much? I mean, if I have a boyfriend, I don't want him responding to all these girls," she said.
During their interview with Chris Harrison on the after show, Amanda further reiterated their disconnect by saying, "I think we were looking for different types of things. I think we had different expectations of what a relationship should be like." This was something Robby agreed on but he also added, "Oh, I know. That's why we are not together. I understand that."
Whatever happened between these two, but I hope they can move on from this. Who knows? Maybe they can be friends and laugh about this whole thing later in life. I mean, it can happen. After all, this is Bachelor In Paradise — where miracles are made.