Why The Backstreet Boys Are Cooler Now Than They Ever Were In The '90s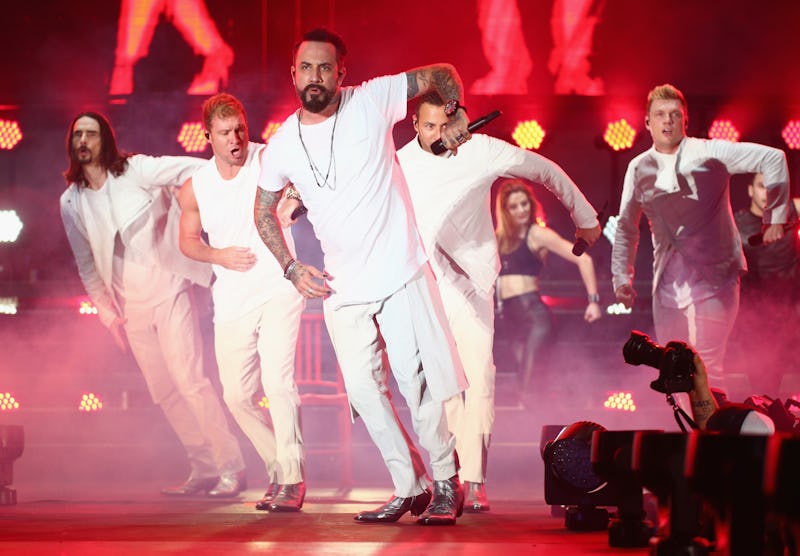 Rich Fury/Getty Images Entertainment/Getty Images
They're about to enter their 25th year, and the Backstreet Boys have been through it. Nick Carter, AJ McLean, Howie Dorough, Brian Littrell, and Kevin Richardson found fame during the heyday of Total Request Live, co-reigning with 'NSYNC as World's Dreamiest Boy Band. But a lot has happened to the group and its members since the after-school staple dissolved into the ether — a stint in rehab, a couple of solo careers, some legal issues, marriages, kids, in-fighting, and even a zombie movie. But they're still around. The Backstreet Boys have never stopped recording, promoting, and performing. And though their fame is not as monstrous as it was in the late '90s, the Backstreet Boys are a better band now than they've ever been. Maybe it's because there's an overwhelming amount of fanbase nostalgia to satisfy.
"We have the same people coming back and saying they saw our first concert... puts a little bit of pressure on us to make sure that we are up to what we used to do," Carter says, speaking to Bustle at this summer's KTUphoria concert in New York. "So that's what we're doing. That's why when we go to Vegas, we make sure our production is top notch, and that in our next music and all our albums that come out, that we're the best that we can be — the best version of the 2017 Backstreet Boys that we can be."
And those 2017 Backstreet Boys have kept themselves in tact all against overwhelming odds. Boy bands are not designed to age. The alchemy of a chart-topping guy group does not prize longevity. Trends in pop music change swiftly; the schedules can be punishing; suits usually make the majority of the decisions; and individual creativity can be stifled. Burn-out waits in the wings, as do fiery or amiable break-ups. But by the time those implosions occur, record companies and managers have made their investments back (times a few thousand) and can move on to the next flash in the pan to steer towards greatness.
But I'll tell you who doesn't go anywhere: the fans. It's a common misconception that the heads of young women (the majority of a boy band's fanbase) are easily turned. But in practice, that's not true. Trust me, I was at a New Kids On The Block concert, like, a month ago. And it was deafening. Because screaming at cute men dancing in unison is not just an activity for the young. If anything, women like me — with bills and jobs and responsibilities — we need that outlet more. (After all, if it's socially acceptable to keep a Star Wars action figure vacuum-sealed for 40 years, it's okay to hold onto your crush on Joey McIntyre too.)
Anyway, when your fanbase doesn't need their parents' permission to buy those tickets, well, it may not matter that you're not on the radio every half hour. You can still sell out arenas, and price a meet-and-greet at a pretty penny. And though the marketing machine for this genre makes a lot of maintaining the fantasy that you, yes you, could be plucked from the crowd to date The Cute One/Bad Boy/Frontman of your dreams, older boy bands and their fans don't have or need those illusions. Every last Backstreet Boy is married, but you better believe they're still grasping hands and handing out roses to a teeming mass of (mostly) femininity. "For those two hours that they're on stage," a friend said to me, "they are ours. That's the deal."
So along with NKOTB (with whom they toured as a super-group for a couple of years), the Backstreet Boys are proving that the boy band expiration date is just a myth. There is a way to age gracefully in this genre, and that is through affectionately acknowledging the past while not trying to live in it. If you go see the Backstreet Boys' Las Vegas residency, you can bet your vintage Millennium tour concert t-shirt that they'll close the set with "Everybody (Backstreet's Back)," performing the original "Thriller"-inspired choreography as enthusiastically as they did in '99. But the music they've made in the past decade or so is hardly an attempt to re-capture that gloriously nostalgic, electro-dance-pop sound perfected by Max Martin and the era's other super-producers.
And fans can look forward to more. The band put out a single with country act Florida Georgia Line already this year, and Carter confirmed in an Instagram post that they're working on a new Backstreet album as well. My finger is already poised over the pre-order button, because the band's most recent LP, In A World Like This, is a low-key pop masterpiece. Out of the 12 songs on that album, not a one is a reheated version of one of the band's TRL-charting singles. The mix is decidedly mature guitar and piano-based pop, still light in tone but mature in content and execution. "Trust Me" is a folksy campfire singalong; "Breathe" is a pulsating ode to relationships that deserve the extra work; and "Show 'Em What You're Made Of" is an anthemic tribute to the potential of the second-generation of Backstreet — the group's kids, of which there are collectively eight.
I'm telling you: whether you were a card-carrying fangirl who lost touch with the group or a boy band denier who wouldn't be caught dead humming a #1 hit, you have to give this album a shot. Even if you don't love it like I do, I guarantee you'll at least be impressed by the strides the group has made in authenticity and craft. And there's still shirtlessness. Because, come on. We've all a little older, but we're not dead.
But the Backstreet Boys haven't made these strides easily. The 2015 documentary Show 'Em What You're Made Of follows the group as they go through the creative process of making In A World Like This, a fivesome again with Richardson returning to the group after a six-year break. There are dance rehearsals and sweet family moments, but the documentary is hardly all fan-service. Richardson recounts breaking down a drunk McLean's hotel door on the day the latter agreed to enter rehab for alcoholism, postponing the band's tour. Dorough talks candidly about the disappointment of being tapped as a lead singer and then not given any solos.
There's also a tense meeting about the tracklist for the album wherein Carter and Littrell — who OG fans may know by the nickname "Frick and Frack," the brotherly double-act of the band — blow up at each other in the kind of fight you can only have with people who've known you deeply and for years. And by that I mean the kind where you bring up those resentments you've been pushing down. Littrell suffers from a condition called vocal tension dysphonia, which affects the prominent soloist's vocal chords. Mid-clash, Carter questions whether his bandmate will ever be able to sing like he used to. It's a lot.
And in another too-real sequence, the entire band visits the home of Lou Pearlman, the producer who they sued for withheld earnings and who died in federal prison in 2016 after pleading guilty and being sentenced to 25 years for conspiracy, money-laundering, and making false statements. Carter and Dorough were only 13 and 15, respectively, when the Backstreet Boys were formed. Dorough claims in the documentary that, in the early days, Pearlman would put on pornography to watch with the boys after their rehearsals were finished. The other four look uncomfortable to be back in this space, and Carter refuses to enter the house entirely.
So no, Show 'Em What You're Made Of isn't always an easy watch for a Backstreet fan, but it's evidence that the group is no longer interested in preserving the glossy, plasticine sheen of a boy band. Making art can be fraught, even if it's art that some see as being easy and mainstream. And in the case of their last few albums, I'd say a little conflict and some second-guessing produces a better product. At least it produces a more real product, when the artists themselves are in the driver's seat.
In the end, the unavoidable drama is a part of something larger (than life.) "We're going on 25 years in the industry and have a career and we're getting to do something that we love that brings people together," Richardson says before Backstreet takes the stage. And that kind of perspective can only come with age and experience.