Why The Callings On 'Manifest' Might Be Hurting People More Than They're Helping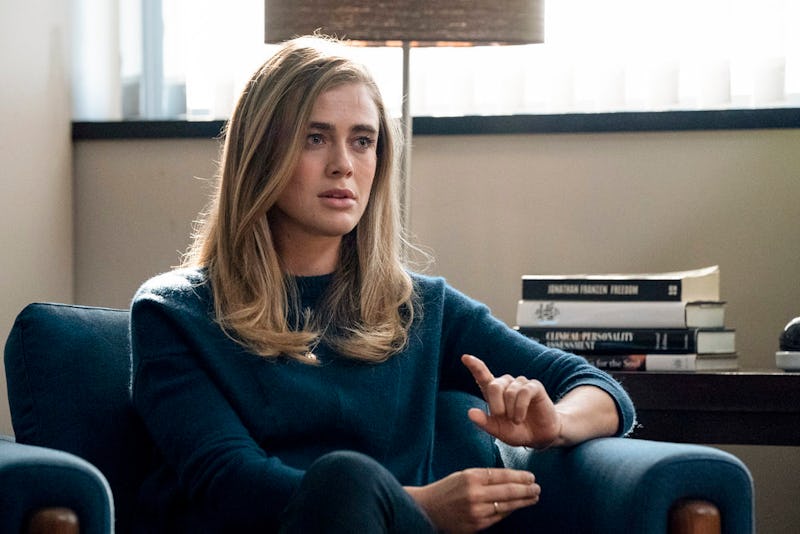 Virginia Sherwood/NBC
Spoilers for Manifest Season 1, Episode 4 ahead. Manifest viewers are learning about what happened on Flight 828 right alongside the passengers, and each episode brings just as many questions as it does answers. Following Monday night's episode, however, we do finally have a name for those voices that Michaela, Ben, and co. have begun hearing. And while following these "callings" on Manifest may be doing good for some, it's also proving to be dangerous for others.
Ever since their plane time-warped five years into the future, the Flight 828 passengers have been hearing things. Michaela was told to go "slower," she and Ben were both told to "set them free," and Kelly was told to "own your truth." But these callings haven't only come in the form of voices: Saanvi and Michaela both saw visions of a stony angel, and Ben heard music.
In all instances, these callings helped them save people. Going slower saved Michaela's bus from hitting a child. Hearing "set them free" at a certain property led Michaela to rescue two kidnapped girls. Kelly thought going on TV and talking about the plane was owning her truth, but after Michaela discovered Kelly's husband was a slumlord, it became apparent that was the truth the voice was referring to, and that it was telling her to help the people living in the buildings she and her husband owned. Ben, meanwhile, was able to get the street musician's son out of jail when the music he heard led him to the real perpetrator. And, in the fourth episode, the stony angel led Saanvi and Michaela to save Thomas, a stowaway who'd been aboard the plane.
But with each calling comes a price. Michaela and Ben narrowly avoided trouble when they were caught freeing two dogs on the property where the kidnapped girls were. Kelly got her instructions wrong. And, in Episode 4, Michaela misinterpreted who needed saving and blew an entire coverup operation — landing Jared on suspension because she acted without knowing what the calling meant. The callings don't always mean what the passengers think they do, and they're facing increasingly dangerous circumstances as they struggle to figure out what they're being told.
Melissa Roxburgh, who plays Michaela, reiterated as much during a recent interview with USA Today. "It's not always going to pan out for [Michaela]. It's not always going to support her. It's going to bite her in the [butt] sometimes," she said. "We get to see her figure out if she should trust this thing."
Josh Dallas, who plays Ben, also told USA Today that his character is conflicted about the whole thing, especially as a teacher of math and science. In the fourth episode, Ben worries that Michaela is being sucked in by the callings, but Michaela tells him she doesn't think they have any choice but to follow them. And she may be right. Not only does the voice escalate the longer the calling goes unanswered, but callings seem to transfer to another person if one can't complete it.
For example, when Kelly died, Michaela started getting the "own your truth" calling. That could make things very complicated, because a passenger could get a calling meant for someone else that makes no sense in their own context. That could lead to people falsely completing callings, like when Michaela thought she had to save the officer in the undercover mission, when it was really Thomas.
It seems that ignored callings go right to Michaela — she got Saanvi's after Saanvi couldn't figure out what the stone lady meant. She also got Ben's after Ben didn't immediately free the kidnapped girls, and she got Kelly's "own your truth." Does that mean Michaela has stronger powers than the rest of them, or is she simply the most receptive?
Roxburgh seems to think it's the former, as Michaela does appear to have a strong sense of faith, even if she'd distanced herself from it before Flight 828. "She's got this glimmer of hope in her eye. She's kind of looking at it like, 'Maybe we're being called back for a spiritual reason,'" Roxburgh continued to USA.
This could be seen in the premiere, when viewers saw Michaela admiring a pillow her mother embroidered with part of Romans verse 8:28. She later visited a church to read the full passage, which revealed another illuminating phrase:
"And we know that God causes all things to work together for good to those who love God, to those who are called according to His purpose."
And there's yet another significant passage in Romans 11:29 that reads, "For the gifts and the calling of God are irrevocable" — which is exactly what Michaela told her brother. These callings are not able to be changed or reversed; you cannot run from them.
So yes, following a calling is dangerous, but not following one seems to be just as risky, and the passengers of Flight 828 will have to get a handle on their new powers quickly if they want to prevent any further damage.