Why "Pepe The Frog" Is Officially Dead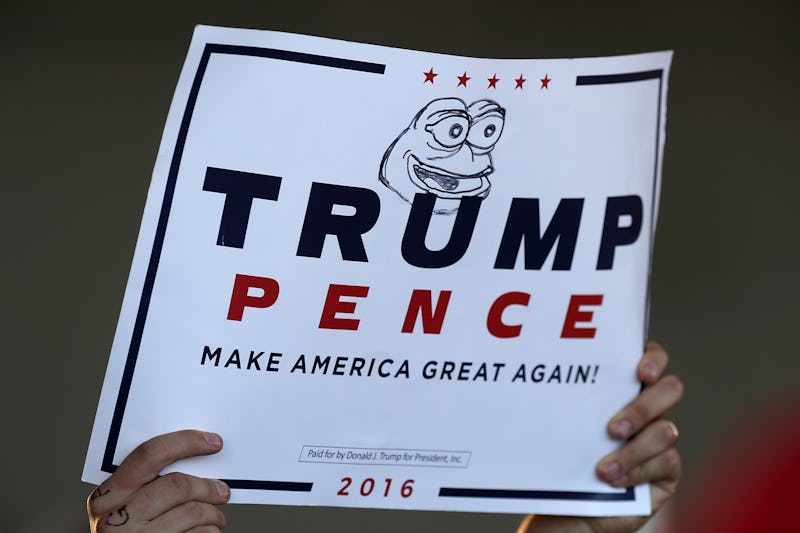 Chip Somodevilla/Getty Images News/Getty Images
You either die a lovable, stoner frog or live long enough to see yourself become an alt-right propaganda tool — at least, that's the case for the Internet's most complicated meme. Web-comic character turned 4Chan meme turned alt-right icon, Pepe the Frog, was killed off by his creator, Matt Furie, on Monday following a long-standing struggle over the character's identity. Bustle has reached out to Furie for comment.
A page from Boys Club, the comic where Pepe got his humble start, was posted to Furie's Tumblr, depicting his memorial service. Surrounded by his pals, Pepe—no longer fraught by the scandals of the living—was given a true homie's goodbye as they poured one out over his casket. And now he can finally know rest.
Originally known for representing the serene, bleary-eyed, bliss of mundane events (like peeing with your pants down) paired with the chill caption " ... feels good, man," Pepe the Frog graced the Twitters and Instagrams of celebrities and bloggers throughout his beautifully brief life. It wasn't until his image became popular with supporters of then-presidential candidate Donald Trump and various white nationalist groups that the Anti-Defamation League (ADL) added him to their database of hate symbols. That's also when his creator first saw fit to intervene.
In an essay penned for TIME in early October 2016, Furie, an artist, illustrator, and children's book author who was decidedly not down with Pepe's second life as a Neo-Nazi icon, wrote passionately about how things went so, so wrong.
... I know this: It's completely insane that Pepe has been labeled a symbol of hate, and that racists and anti-Semites are using a once peaceful frog-dude from my comic book as an icon of hate. It's a nightmare, and the only thing I can do is see this as an opportunity to speak out against hate.
However, Furie added that he still believed his character could still be reclaimed and and returned to his cuddly, anxious, stoner origins.
The problem with Pepe is that he's been stamped a hate symbol by politicians, hate groups, institutions, the media and, because of them, your mom. Before he got wrapped up in politics, Pepe was an inside-joke and a symbol for feeling sad or feeling good and many things in between. I understand that it's out of my control, but in the end, Pepe is whatever you say he is, and I, the creator, say that Pepe is love.
Optimistic as Furie seemed pre-election, Pepe remained an even more ubiquitous mainstream shorthand for the alt-right, frequently used by comedian Samantha Bee in segments about Steve Bannon.
Furie's frustrations about his creation's neo-Nazi icon-status were particularly evident earlier this year; when asked about alt-right leader Richard Spencer getting punched in the face while talking about his character, he responded via Tumblr that "once is never enough."
While it certainly can't be easy for a creator to kill his darling after fighting so valiantly to reclaim him, at the very least one can hope that Pepe can shuffle off this mortal coil with his dignity in tact — and that he might finally "...feel good, man" again.