The 2017 TCAs' Hissy Fit Nominees Shatter A Dangerous & Sexist Stereotype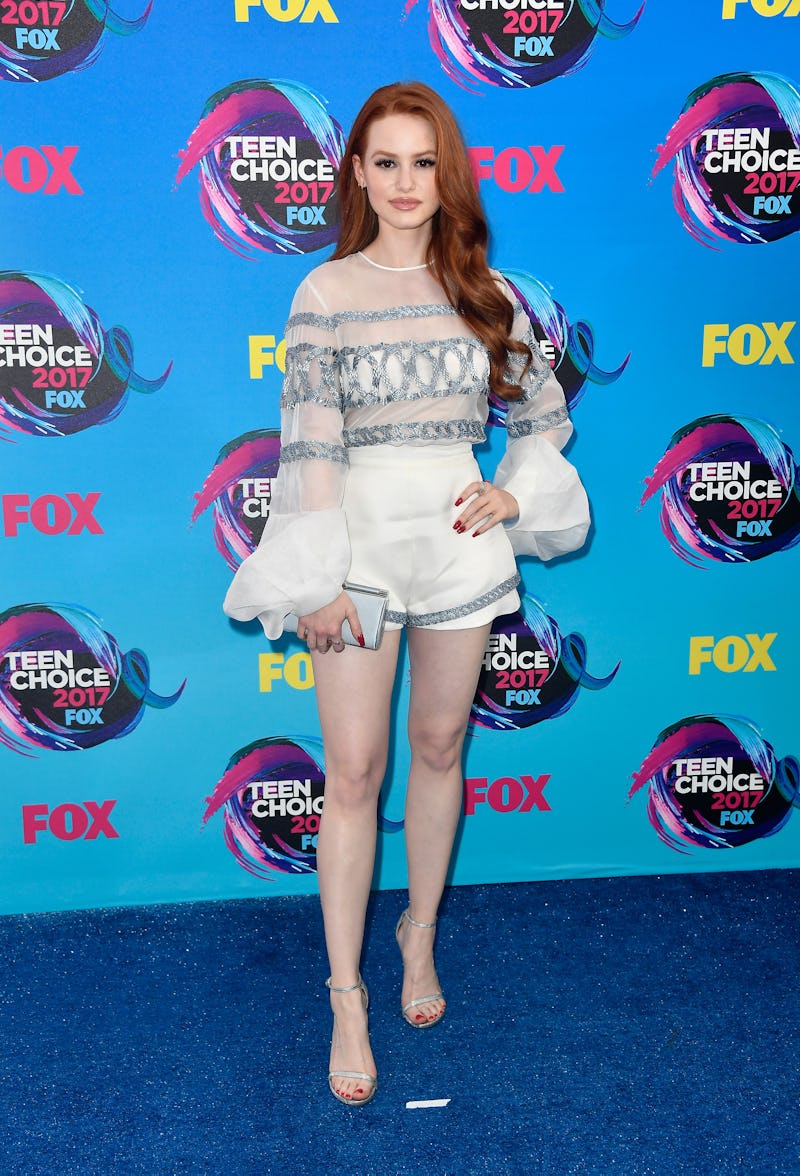 Frazer Harrison/Getty Images Entertainment/Getty Images
Unsurprisingly, Urban Dictionary defines a "hissy fit" as "a sudden outburst of temper, often used to describe female anger at something trivial." Merriam-Webster's definition stays away from gender, though the example it uses does have a female subject. The hissy fit has a terribly gendered history and is usually used to dismiss female anger or frustration. But the Teen Choice Awards might be slowly changing that accepted definition — especially with year's nominations for Choice Hissy Fit. The nominees are overwhelmingly male in 2017. In fact, only one woman was nominated in the category, Riverdale's Madelaine Petsch.
Yes, Petsch took home the award for her epic meltdown as Cheryl Blossom on The CW's breakout hit Riverdale, beating out out fellow nominees Anthony Anderson of Black-ish, Beauty and the Beast's Luke Evans and Dan Stevens, Kurt Russell of Guardians of the Galaxy Vol. 2, and Malcolm Barrett from Timeless. But the nominees for Choice Hissy Fit at the 2017 Teen Choice Award were especially striking because they included a few exceptionally macho nominees.
For example, Kurt Russell was nominated for his role in Guardians of the Galaxy Vol. 2. Fans of the movie will remember that his character, Ego, literally planted his seed all over the galaxy — an exceptionally gross male prerogative. Also nominated is Beauty and the Beast's Luke Evans, which is particularly fun considering he played the epitome of the macho stereotype, Gaston. It's cool to see such traditionally manly men be nominated for Choice Hissy Fit, because it proves that women aren't the only ones with a flair for the dramatic.
The TCA for Choice Hissy Fit has always been an equal opportunity category. Last year, all six nominees were men, and Ryan Reynolds won the coveted surfboard for Deadpool. In 2015, however, the category skewed female, with only one male nominee (Lewis Black for Inside Out) and Anna Kendrick taking home the award for Pitch Perfect 2.
This year, Choice Hissy Fit was not awarded on the telecast, so unfortunately Petsch didn't get the opportunity to give an acceptance speech or reveal the secret to what makes an epic "sudden outburst of temper" to her fans. However, just the fact that the TCAs Choice Hissy Fit — which are voted on by viewers aged 13 to 19 — skewed so male this year, and usually include so many males overall, shatters the sexism of the phrase in an interesting way. And the fact that the 2017 nominees in particular featured such toxic men in the category shows that viewers don't ascribe a gender to overdramatic behavior.