Why This Anti-Terrorism Video Is Going Viral For Ramadan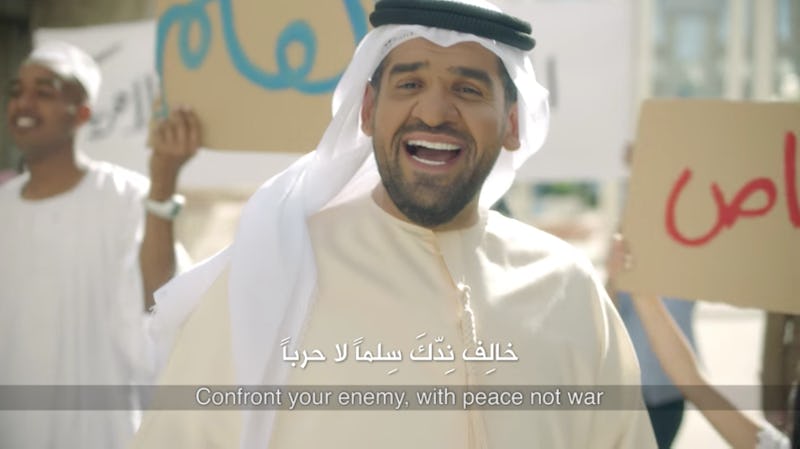 Photo courtesy of YouTube
In the wake of recent terrorist attacks in the UK, Egypt, and Iraq, a call for peace isn't unexpected, but using an advertisement as a medium to do so is an interesting twist. On May 26, the start of Ramadan, the Kuwaiti telecoms company Zain released an anti-terrorism video to promote peace that is going viral in the Middle East.
The video shows people rising up against a terrorist, and encourages people to "bomb violence with mercy." In the few days since its release, it has been viewed more than than three million times on YouTube and garnered plenty of mixed reactions.
The video opens with a man making a bomb, and a child singing that he will tell God what the bomber has done to the victims of the blast. Various shots show residents whose lives will likely be torn apart due to the violence.
The video features cameos of notable figures in the news, including a boy who looks like five-year-old Omran Daqneesh, who was photographed sitting in the back of an ambulance covered in dust after being rescued from Aleppo in 2016.
However, some people were upset with the representation of Daqneesh and other victims in the video (especially considering that Daqneesh was harmed by a military strike in Syria, rather than terrorist forces), and asked Zain to remove it. Zain declined to respond to a request for comment from Bustle. Real survivors of terrorist attacks are also shown in the ad, as well as footage from several attacks.
On his way to detonate the bomb vest, the terrorist interacts with people who stand up to his violent plot. One scene shows a busload of people caught in a blast. The terrorist tries to use religion as justification for his actions, singing "I bear witness that there is no God but Allah," and a passenger refutes him, saying: "You who comes in the name of death, He is the creator of life."
Eventually, people in the video drive away the terrorist with their exclamations of love over violence and peace over anger. Hussain Al Jassmi, a singer from United Arab Emirates, trills, "Let's bomb hatred with love, let's bomb extremism with a better life."
The video began airing in the Middle East to coincide with the beginning of Ramadan, which Muslims observe by fasting and reflecting to recognize God giving the Quran to Muhammad. Practicing Muslims do not eat from sunrise to sunset every day for a month, breaking the fast with a meal each night, and typically spending time with their families, often watching TV. Therefore, Ramadan is a big month for advertisers. Much like the Super Bowl, ads have a heightened potential to go viral, which is what is happening with Zain's anti-terrorism piece.
Some viewers have reacted positively to the message of peace and love promoted by the video, but others have alleged that the use of survivors is exploitative and in poor taste. Regardless, the ad comes at an interesting time when the world is struggling to respond and deter more terrorist attacks from occurring.