Why Trump Keeps Playing Musical Chairs With His Press Team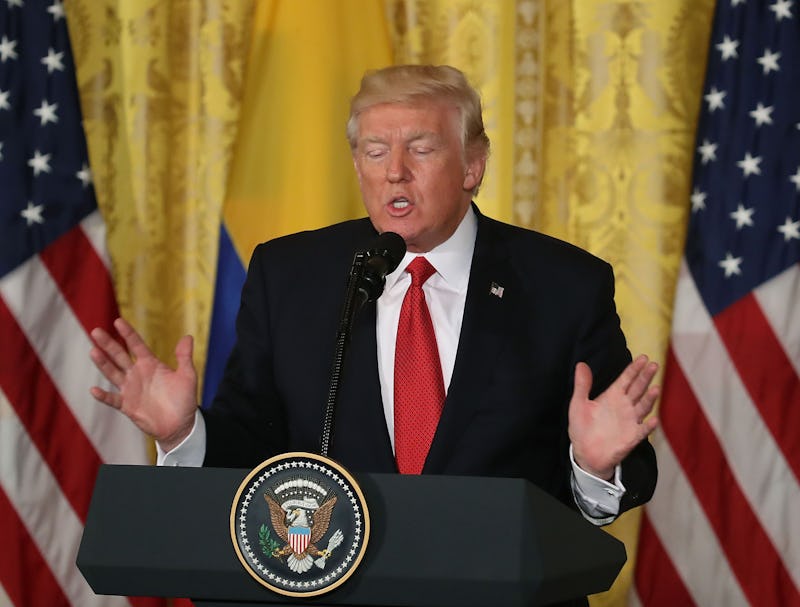 Mark Wilson/Getty Images News/Getty Images
On Tuesday, Axios' Mike Allen reported that White House communications director Mike Dubke had resigned. After weeks of reports that Donald Trump was considering a shake-up within the press staff, we are finally seeing a sign from the president that the problems in the executive branch are not "fake news," and need to be addressed head-on.
The Washington Post report on Dubke's resignation noted that his departure was the "first of what could be a series of changes to President Trump's senior staff amid the growing Russia scandal."
However, according to people who have experience with how administrations deal with similar strife, Dubke's exit, or even further staff changes coming, may not be enough to right a ship that's tilting in the water.
"How are you supposed to have a communications strategy when the president is potentially undercutting you every day?" Anita Dunn, who held Dubke's job in the Obama White House for in an interim period of a few months in 2009, tells Bustle. Dunn is quick to point out that staff changes early on are not necessarily a sign of crisis — she herself took over as communications director in April of President Obama's first year, after the administration felt their initial communications strategy wasn't working.
Dunn also points to the incredible difficulty that is facing this specific White House, and how little some of these low-level staff changes can do to fix them.
"It's always easy to say, 'Oh it's the communications operation's fault,' but often it's a much deeper problem," Dunn says. "And I think in this case, the president being in many ways his own communications director and his own spokesperson creates enormous challenges for anybody who has the job."
A parallel can be made between the early struggles of the Trump administration and the first year of the Bill Clinton presidency. In July 1994, Clinton replaced Chief of Staff Mack McLarty (who had been a childhood friend of his) with Leon Panetta, who set about reorganizing the White House. He also replaced Dee Dee Myers, his first press secretary, who had by then started to lose credibility with the press, with Mike McCurry, who earned some of it back.
In fact, Clinton's staff shake-up was much more extensive than what Trump has done so far, going all the way to the top of his administration, according to Patrick Maney, a Professor of History at Boston College and author of Bill Clinton: New Gilded Age President. "Clinton allowed Panetta to have this authority that made it work," Maney tells Bustle. "Clinton didn't go over his head or around him, and had he done so, Panetta would probably have left."
What complicates things further for the White House, though, is that the Trump administration is not only in the midst of communications chaos, but currently under investigation for a scandal that has the potential to make history. In the history of presidential administrations, handling scandal of this magnitude requires a specific communications strategy, one that goes beyond the normal policy and press communications of a White House.
"What they really need is someone who's a sort of point person for the scandal, somebody who's going to be the communications expert on this issue," says Brandon Rottinghaus of the University of Houston, a political scientist who studies scandals wrote The Institutional Effects of Executive Scandals. He sees compartmentalizing the scandal from the normal day-to-day operations of the White House as the only effective way to salvage any sort of an agenda. "They need to have one person who's job it is to be the conduit of information from the White House to the press on this issue. From the president's perspective, you want people you can trust, and you would sacrifice any number of things in order to accomplish that."
Last week, Politico reported that Trump may be considering bringing on Corey Lewandowski, his first campaign manager. Lewandowski was fired in June of 2016. A few months prior to his departure from the campaign, he was charged with battery for grabbing a female reporter; the charge was ultimately dropped.
Rottinghaus says he wouldn't be surprised if Trump tapped Lewandowski. "The sensitive nature of the kind of messaging that this will require, and the kind of information that this person will be necessarily privy to, necessitate that the president trusts them implicitly," he explains. "So, even if that person is not well-respected by the media or has some issues in their own past, that's a person who can be an effective surrogate for the president, and who the president would want to have front and center."
Whether Lewandowski ends up involved in the White House communications team or not, this administration has a big task ahead. Repairing its relationship with the press and the public will be a big factor determining whether it can weather the storm and enact an agenda.
"At the end of the day, all you have when you're working in the White House, when you're dealing with the press or the public, is your credibility," says Dunn.