Russell Crowe Was At 'BGT' And The Reason Why Is Actually Super Cute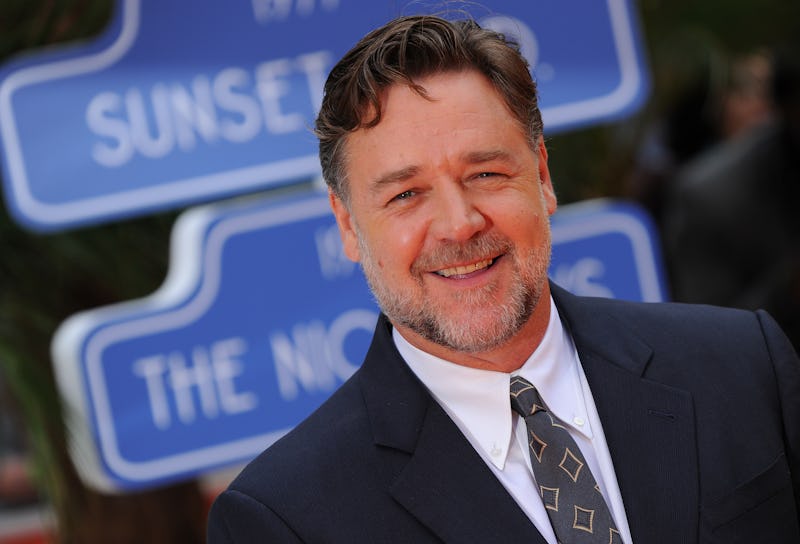 Eamonn M. McCormack/Getty Images Entertainment/Getty Images
Britain's Got Talent is is one of the biggest shows on telly. But while it has plenty of diehard fans — it's so popular the Guinness Book of Records reports that it's spawned different versions in 58 different countries around the world, from Australia to South Korea — who knew a very famous Hollywood actor was a devotee of the UK's very own series? Yep, it turns out Russell Crowe was at the Britain's Got Talent live semi-final on Tuesday night, sitting in the audience like a regular joe.
At first it was the actor's very presence that had social media abuzz with questions. Is it really him? Why would he be in the audience? Is Crowe a life-long BGT fan? If so, what did he make of Dec without Ant? Was he going to storm the stage and perform an impromptu rendition of a Les Mis song? And so on, you get the picture.
But then, attention quickly turned to Crowe's rather rugged new look, complete with new longer hair and a bushy grey-white beard. He looked so different some social media users refused to believe it was him and instead mistook the actor for Shameless star Ricky Tomlinson. And, you know what? I can kind of see it — although I'm not sure that's quite the vibe he was going for. Anyhow, while Crowe clearly looked different, what wasn't clear was why he was sitting in the audience of Britain's Got Talent in the first place. Was the man lost?
Nope. The truth is actually pretty straightforward and will probably surprise you. There are no secret performances in the works, no potential guest-judging stints, no Les Mis crossovers, nope. Crowe is genuinely just a fan of the show. And it would appear that the feeling is mutual. In fact, on this evening's episode, one of the Golden Buzzer acts Gruffydd Wyn will even be performing Andrea Bocelli's Italian classic Nelle Tue Mani aka the theme tune to Crowe's blockbuster Gladiator.
An ITV source exclusively tells Bustle UK: "Russell is a fan of BGT as much as the show is of him, as Gruffydd Wyn is performing a song from the film Gladiator tonight." Does this mean the actor will be making another surprise appearance in the audience tonight? Fans will just have to wait and see.
Crowe attended the semi-final with his Les Mis co-star Samantha Barks and comedian Jimmy Carr. The famous trio posed for a photo with judge David Walliams after the show, which he later shared on social media.
While he might be the most high-profile fan of the show, Crowe has got some competition when it comes to celebrity guest performers. The likes of Ed Sheeran and Little Mix have all graced the stage in previous years, and the Radio Times reports that this week we'll see Rita Ora and the entire cast of Magic Mike perform (albeit the musical version rather than the film, which is a shame as I'd have paid good money to see Channing Tatum bust a move to Donchez Dacres' Wiggle and Wine).
Gladiator actor Crowe's unexpected appearance in the audience wasn't the only talking point in Tuesday's instalment of the talent show. Proceedings took a turn for the dramatic when one of the acts was interrupted by a stage invader, who ran over to the judging panel and attempted to press their red buzzers, which would have ended the performance early.
Unsurprisingly, given the unpredictable nature of the BGT live shows, some of the judges thought the stage invader was all part of Magus Utopia's (who was performing at the time) act. However, as the man in question was dealt with by security, it became clear the incident was unplanned.
The team did manage to see the funny side though, with presenter Dec Donnelly joking: "Apologies for our unwanted guest, some people just want to touch our buzzers," and Simon Cowell commenting: "This is one of those nights."
Britain's Got Talent is on ITV tonight at 7.30pm.