Tatiana Maslany's Emmy Snub Has Nothing To Do With Her Talent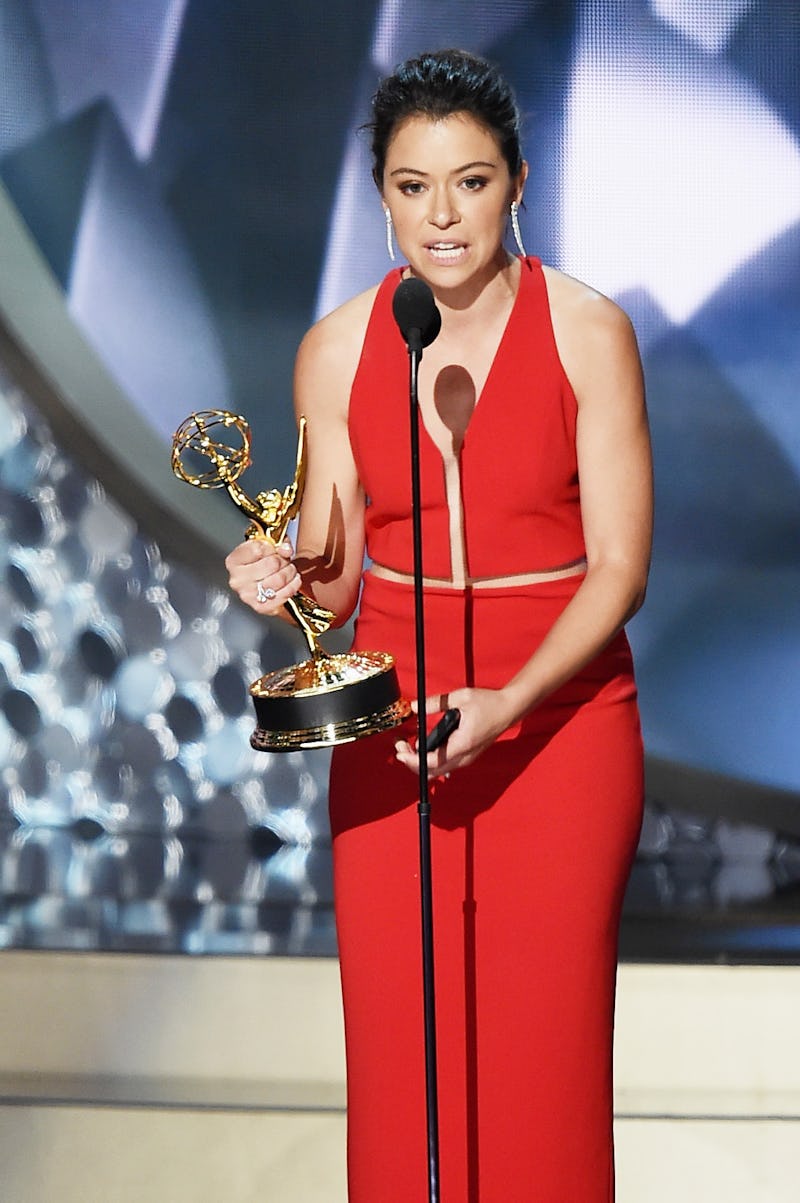 Kevin Winter/Getty Images Entertainment/Getty Images
Even people who don't watch Orphan Black can admit that Tatiana Maslany is one of the most brilliant actors on television. Not only does she play over a dozen distinct roles on one show at once, but when she plays clones pretending to be other clones, you can actually tell the difference. But despite all that, somehow she doesn't completely dominate the Emmy Awards every year — and unfortunately, she's definitely not getting one this year. So why isn't Tatiana Maslany nominated for an Emmy in 2017?
Don't worry, Orphan Black fans. A lack of nomination has nothing to do with a snub of Maslany's immense talent — at least this time around. True, she was passed over during the first few seasons of her groundbreaking BBC America drama, as the performers in science-fiction series so often are (Battlestar Galactica only ever won in technical categories, and never for the writing or directing categories in which it was sometimes nominated). But after she finally won Best Actress in a Drama Series in 2016, fans were excited to see Maslany get some recognition.
This year, however, a nomination is simply not in the cards for Maslany. The final season of Orphan Black first aired on June 10 instead of its usual April season premiere date; this puts it outside the eligibility period for the 2016-2017 TV season, which according to the official Emmy Award rules is from June 1, 2016 to May 31, 2017. Bummer.
True, a few episodes of Orphan Black's fourth season aired during that time, but they aren't eligible either, because the Academy's "hanging episode" rule says if a majority of a show's season falls outside the eligibility period, the episodes that do air during that period don't count. Orphan Black isn't the only show to fall victim to this particular rule; Game Of Thrones also will not be featured in nominations this year, as its seventh season won't premiere until July 16.
There's hope that Maslany will be considered for next year's ceremony, but at the risk of being too pessimistic, I wouldn't hold your breath too much. The Emmy Awards tend to have a short memory, especially when it comes to shows that miss out on the right airing time. Eva Green regularly killed it (pun intended!) on Penny Dreadful, for example, and yet the show was only eligible once in its entire three season run. Not that I'm still bitter about that or anything.
Still, awards aren't everything, and knowing that Maslany might have missed a shot at another Emmy isn't going to make her performance in Orphan Black any less stunning. So enjoy this last season with her while you can, Clone Club!