Why Were 17 People Arrested For The Kim K Robbery?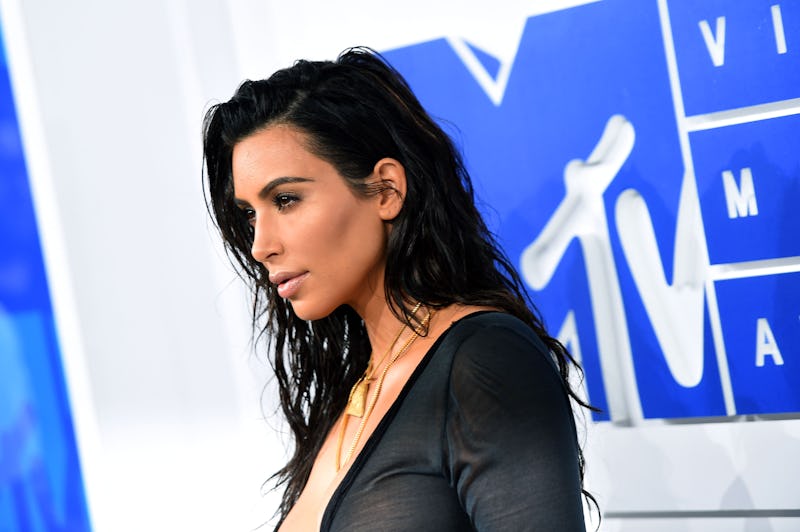 Larry Busacca/Getty Images Entertainment/Getty Images
It's shocking that months have passed since Kim Kardashian's robbery at gunpoint in Paris, and even more shocking that there have been few new developments in the case. That all changed as of this weekend, so why were 17 suspects arrested regarding the Kim Kardashian robbery? Early in the morning of Oct. 3, masked men burst into Kardashian's room, allegedly tying her up, threatening her life, and locking her in the bathroom while they stole various pieces of jewelry and electronics worth millions of dollars. While, according to reports, only two men made it as far as Kardashian's room to commit the bulk of the crime, and five are believed to have threatened the concierge downstairs, many more than that have been detained for questioning. Bustle has reached out to Kardashian's rep for comment, but did not receive an immediate response.
Kardashian and her family have been unusually — and understandably — tight-lipped about the experience, so, for once, we're finding out details from the news cycle. It seems that the French police believe this is a wider conspiracy, and this bust has been in the works for a while.
No details are yet forthcoming on what each of the suspects might actually be charged with. But, with a crime this brazen committed against a celebrity as high profile as Kim Kardashian, it makes sense that it would have comprised a lot of moving parts and required the involvement of a large number of individuals, potentially even more behind-the-scenes than were actually present for the commission of the crime.
According to CNN and the French prosecutor presiding over the arrests, the detained suspects range in age from 23 to 73, and were picked up variously in Paris, its suburbs Raincy and Vincenne, and the southern city of Grasse in the Alpes-Maritimes.
The coordinated arrests began taking place across France on Monday, beginning at 6 a.m. local time, and according to TMZ, French law allows for these detainees to be held for up to 96 hours before they must be either officially charged with a crime or released. That translates out to four days, which means we should have more information as to the police's interest in each of these individuals by the end of the week.
In the meantime, send good thoughts to the whole Kardashian-Jenner clan, because they're probably going through a lot right now.