If Your Partner Has Difficulties Sharing Their Emotions, Experts Say These 7 Hacks Can Help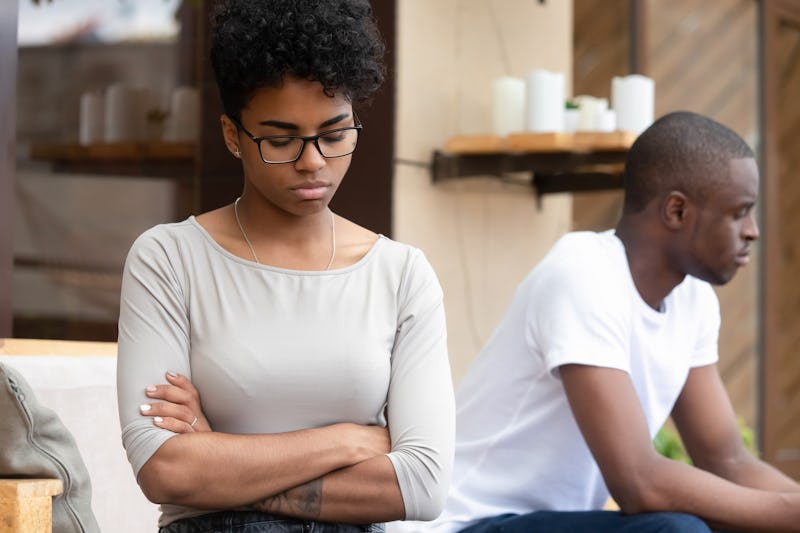 Shutterstock
Going through a period when you and your partner can't quite seem to connect emotionally can be difficult for any relationship. But if your partner is emotionally repressed, the disconnect can be even greater.
"Being emotionally repressed means that you have difficulty connecting to both your feelings and the feelings of others," Kat Vollono, LMSW, a licensed psychotherapist and breath work facilitator specializing in holistic mental health approaches, tells Bustle. "It is common aftermath of childhood traumas such as bullying, abusive caretakers, mismatched environment, or even just being more sensitive than others and being regularly told that they are being 'too sensitive,'" she says. Many people stop connecting as deeply to their emotions as a way to protect themselves from the world.
Emotional repression can manifest in your partner in a number of different ways. For example, they might have a hard time sharing strong emotions or making themself vulnerable, Vollono says. They could also get angry when you ask them how they are feeling, or have a hard time determining what emotion is truly behind their anger, such as sadness, shame, fear, or jealousy. It can be hard to know how to help a partner who's going through this, but having a better understanding of what emotional repression is and how to support someone who's experiencing it can give you some peace of mind.
Here's how to support a partner who is emotionally repressed, according to experts.