The Creator Of 'Famous In Love' Won't Underestimate Her Young Female Fans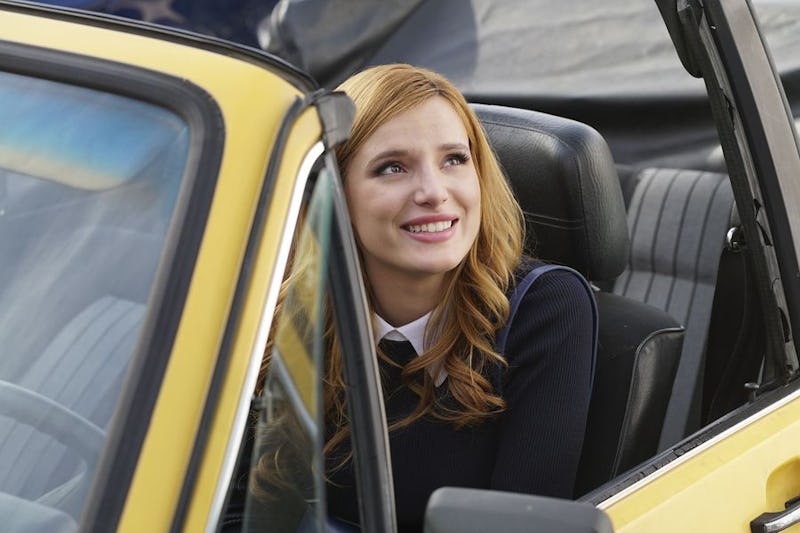 Eric McCandless/Freeform
Young women are unfortunately used to being shamed for things they enjoy, even if that shaming is hidden behind a smile. Famous In Love creator Rebecca Serle is pushing back against the notion anyone — especially her teenage fans — needs to apologize for their interests. "I hate the term 'guilty pleasure,'" Serle tells Bustle. "It should just be a pleasure."
The show debuts on Freeform on April 18 and is an adaptation of Serle's Famous In Love books. She's shepherding the adaptation herself, co-showrunning with Pretty Little Liars creator I. Marlene King. The new show stars Bella Thorne as Paige, a student who miraculously lands the lead in a huge movie (imagine your next-door neighbor being cast as Katniss Everdeen) and has to balance her new career with everyday people problems, such as crushes and parents. It also promises to carry the YA banner of shocking cliffhangers, backstabbing rivals, and steamy hookups. But the creator of this fish-out-of-water tale isn't talking down to young, female viewers.
"When I started my career as a novelist, I was 24," Serle tells Bustle. "I was really close to being a teenager. And those experiences, they still felt really fresh to me."
Pay attention, because the rollout of the book series is a little confusing. It began with Locked, the 96-page novella that serves as the story-within-a-story of Famous In Love. The female lead in the film version is the part that Paige scores in the first full-length novel, which tracks her transition from high school to red carpet. A follow-up novel called Truly, Madly, Famously came out a year later.
Famous In Love is a dishy read, and the series adaptation isn't likely to pass up any opportunity to send viewers straight to Twitter to freak out — Serle promises plenty of "OMG moments." Yes, Famous In Love is going to be decadent and scandalous, but whatever you do, don't feel guilty about enjoying.
Paige's journey is definitely a fantasy for the vast majority of the show's audience, but Serle still hopes that they'll identify with her characters — and not just teens. Plenty of YA novels and their adaptations have crossed over to incorporate an adult audience too, thanks to the universality of certain themes.
"[YA authors] deal with issues that we all continue to explore and struggle with; they're just perhaps more magnified in those early years," Serle says.
As an author whose fanbase is overwhelmingly young and female, Serle is used to her work and similar writing being branded in less than complimentary ways.
"This is such a complex issue because I feel like there are male and female authors in YA who are publishing in a variety of different spheres," the author says. "There does seem to be more weight placed particularly on YA novels that are not necessarily female-driven."
Serle says that she wishes this double standard were not the case, but hopes that the landscape is changing. In 2014, Slate published an op-ed by Ruth Graham lamenting the popularity of YA among adults, specifically calling out series such as Twilight and Divergent, both written by women and featuring female protagonists, while lauding John Green's The Fault In Our Stars.
At The Atlantic, Mary Ann Badavi challenged the notion that Green's book "saved" the genre. "But by choosing him to be the crown prince of YA, the entertainment industry has continued its cycle of promoting the work of white men as "real" work, and the work of women as "simple" or, in Graham's words, "uniformly satisfying,'" she wrote. "It's a triple blow, being a (1) woman who writes primarily for (2) girls who are (3) teenagers. Three strikes, and you're out of the mainstream narrative."
Serle makes the case for juicy, female-driven YA by paraphrasing a quote she attributes to Ally Carter, the author of the Heist Society series. "It takes a lot of work to write something that's fun and delicious," she says. "It takes a lot of work to hide the strings. Sometimes when we're talking about something that's maybe quote girly or fun ... we think it's trash, we think it's fluff. But it takes an inordinate amount of work to write something that reads seamlessly."
While there are elitists who'll brush off her novels and her readership, Serle values fans' enthusiasm. Interacting with them in person and on social media is "a real treat," according to the author.
"Social media gets a bad rap this day and age and there's much to be frightened of, I guess, but one of the best things is getting to talk to readers and talk to fans," she says. "It's remarkable, the level of discourse you can have. It certainly wasn't available when I was a teen, and I would have given anything to talk to Julie Plec and Kevin Williamson." (Serle has since met one of The Vampire Diaries creators and says Plec is "the coolest." Childhood dreams do come true.)
Serle adds that she "in no way" compares herself to the showrunners she just named, but she recognizes that she too is in a position to influence fans. She does not take the responsibility lightly.
"I still feel like I'm in the very beginning of my career in some ways," the author says. "And I hope that I can speak to young women and encourage them in some capacity, and it's certainly something that I aspire to do, because I was so inspired by the women who came before me."
With creators like Rebecca Serle cheering them on, Famous In Love fans could be the next generation in that awesome tradition.