'PLL' Fans Should Totally Tune In For 'Famous In Love'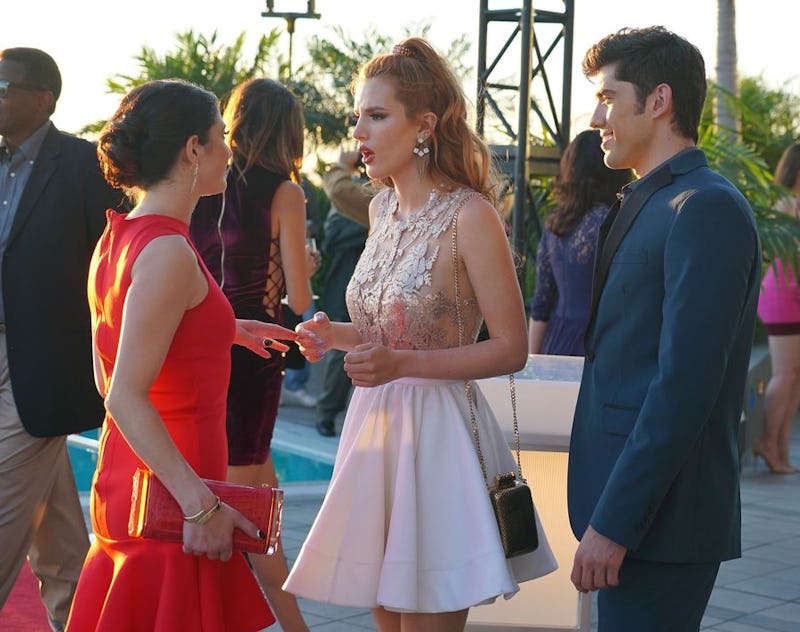 Byron Cohen/Freeform
As a TV writer, I watch a lot of television for work. But when I'm watching television in my own spare time, I have my favorites — among them, basically everything on Freeform. Ever since ABC Family rebranded the channel to be the more Millennial-friendly Freeform, I find it's where most of my favorite shows (Pretty Little Liars) and have-to-watch-again movies (Hi, 10 Things I Hate About You) live. The network's newest original series, Famous In Love, premieres April 18 and stars Bella Thorne as a rising actress who doesn't know exactly what she's getting into when she lands her first big role. As someone who has watched Pretty Little Liars for eight years (yikes) now, I wonder how Famous In Love will compare to that drama. Will fans of Pretty Little Liars like Famous In Love?
Well, the production team indicates that Famous In Love definitely has potential to be a new favorite. Along with author Rebecca Serle (who wrote the Famous In Love book series), I. Marlene King — aka the creative force behind Pretty Little Liars — is helping to run the show. What this means (I hope) is that her wild, twisty, leave-a-note-in-a-drilled-tooth Pretty Little Liars brand will leak into this new series. Thorne's character, Paige, isn't being chased by an evil entity called "Uber A," I know, but Hollywood is a weird place and hey — I've seen Showgirls. I know there are fame-hungry individuals always ready to push someone down the stairs.
Serle also thinks that Famous In Love will be appealing to the fans mourning the end of Pretty Little Liars. When asked whether PLL fanatics will take to her series, Serle tells Bustle she's optimistic. "Our show is very different, but I do think it has that Marlene signature on it," the author says. "It's very fast-paced, it's very plot-driven, it's sexy. There's a lot of 'OMG moments,' as we like to call them. So, I do think it will really appeal to [fans]."
The shows don't just share a co-showrunner either. Famous In Love carries some Pretty Little Liars DNA thanks to where and when the series was filmed. "We actually shot at the same time that Pretty Little Liars was shooting their final season," Serle says. "And we shot on soundstages that were next door to each other and shared a crew. Everybody who works on that show is amazing and they've all been together for 8 years, so that was really fun."
I love good Hollywood intrigue as much as the next gal, so I'm all in for Famous In Love. That being said, I need to know ahead of time how weird and creepy it's going to be, because Pretty Little Liars has gotten dark, okay? We started out with weird texts and then at one point, the Liars were all locked in an underground lair and tortured with cattle prods. It's a lot. Serle says that's not quite where Famous In Love is yet, but you never know where it could go.
"Give us time. [Pretty Little Liars] has explored a lot of story, and those characters have gotten older, and the relationships have gotten more complicated," Serle says. "And I do think our show really goes there. One of our goals was to show the underbelly of fame, stuff that people don't always talk about and how kind of scary and disorienting it can be." Since she's cast in the movie adaptation of a major YA book series, Paige goes from being a student to being a star basically overnight. The author says, "Over the course of our first season, Paige is still really new. In subsequent seasons, we'll have the ability to get into what it really means to be that famous and what that tidal wave really feels like ... there's a lot of story here."
So… that's not a no on the cattle prod thing, then? And the tooth drilling? After eight years of watching Pretty Little Liars, I can certainly handle whatever it is that Famous In Love has to throw at me.