Stop Calling Corinne A 'Bachelor' Villain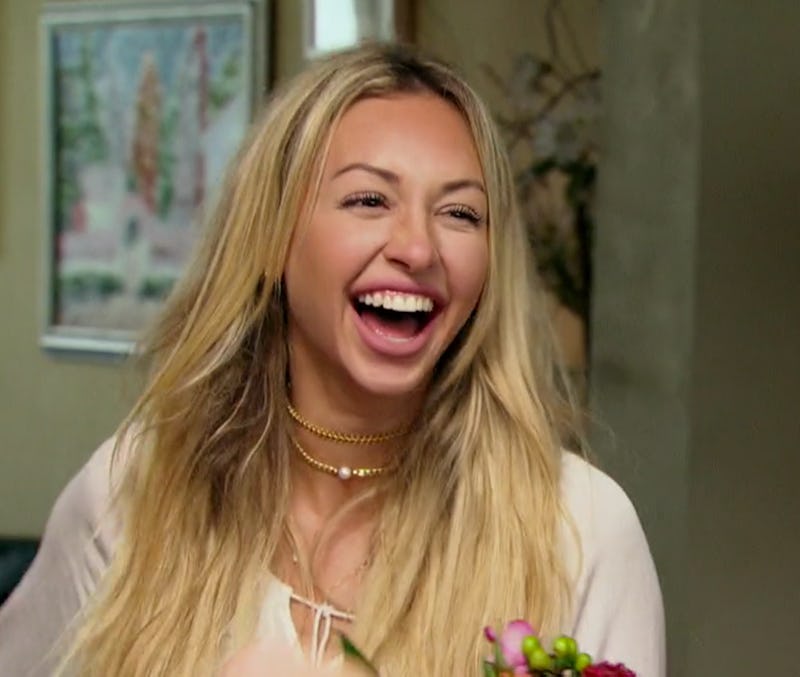 ABC
Nick Viall is now eight weeks into his search for the "one," so Monday was officially time for The Bachelor hometown dates. Nick traveled to meet the families of the remaining four women and got a taste of what his potential future in-laws are like. This episode also solidified an important message for viewers, that it's time to stop calling Corinne a villain, according to the hosts of Bustle's Bachelor podcast.
On this week's episode of Will You Accept This Podcast? (which you can listen to here), Bustle's Senior Entertainment Editor Kelsea Stahler and Romper's Senior News and Entertainment Editor Allison Piwowarski decided this name calling has gone too far. Both Kelsea and Allison agree that there's nothing wrong with Corinne's lightheartedness, or the fact that she isn't afraid to be confident. They also pointed out that she should be praised for her work ethic and progressive attitude towards being the breadwinner in her relationship with Nick.
As a viewer, I know that Corinne can be a lot to handle at times and that she's had the tendency to rub people the wrong way in the past, but I feel like she's definitely changed since the week one. She's become more vulnerable and relatable as the season progresses and continues to prove to viewers that she's really here for the right reasons. I agree with Kelsea and Allison that her confidence should not make her a villain. It's 2017, a woman should be able to be confident, especially if she's competing against three other women for one guy.
Her confidence is definitely something that Nick finds attractive and has helped her get closer to the final rose. As for her work ethic, that is also something that should be applauded. She works hard for her money and isn't afraid to make more than her boyfriend. We need someone like her, especially in today's world — and none of this makes her a villain. Not to mention her rules for shopping are foolproof and are amazing. She's just trying to help us out, so I think it's time we all return the favor and be a little nicer to Corinne.