Wilbur Ross' Nomination Has Been Confirmed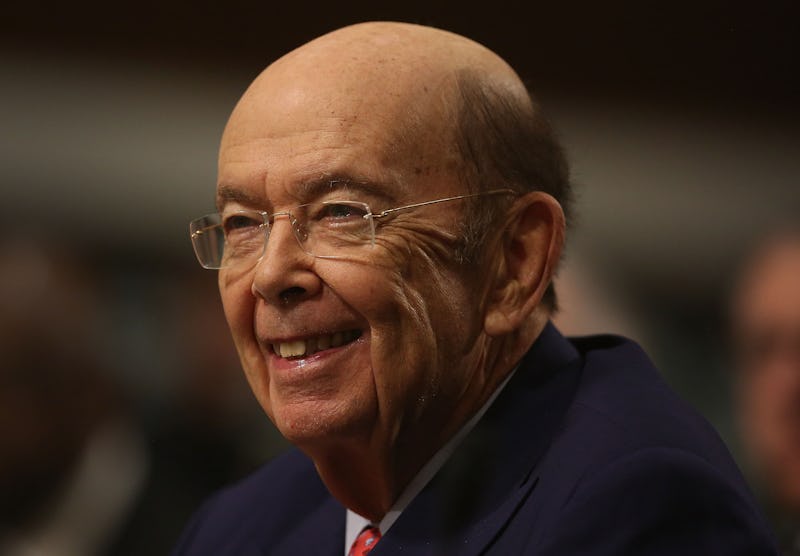 Joe Raedle/Getty Images News/Getty Images
On Monday evening, billionaire banker Wilbur Ross was confirmed as President Trump's Commerce secretary in his Senate hearing. Ross is considered an influential figure in Trump's revamped North Atlantic Free Trade Agreement, and was known for flipping bankrupt companies into billion-dollar businesses. Ross is remembered (and heavily criticized) for the Sago Mine disaster in 2006, when 12 coal miners died at a factory he owned in West Virginia that was riddled with safety violations. Ross admitted to knowing about the violations, and said that he was haunted by the deaths of the miners. However, he also said that "what I can tell you is we have never scrimped on safety expenditures" and that mine management assured him it was a "safe situation."
Outside of his work in investment banking and flipping bankrupt businesses, Ross has worked in politics before. In the 1990s, he worked with President Bill Clinton on the U.S.-Russia Investment Fund and with former NYC mayor and Trump supporter Rudy Giuliani as a "privatization adviser." In 2012, he was appointed to the board of Exco Resources, an oil company based out of Dallas. As commerce secretary, Ross's ties to privatization and the oil industry could mean pro-oil and pro-corporate decisions on his part. Given the president's seemingly pro-oil stances, Ross was a natural Trump pick for the Commerce position.
Ross acted as Trump's chief economic adviser on the campaign trail, and was influential in drafting and promoting Trump's economic plan, which aims to impose higher tariffs and taxes on imports from foreign countries. A leaked audio recording purported to be of a conversation between Trump and Ross seems to be in line with the import tax portion of the president's economic plan.
As Cabinet members go, Ross is far from the most terrifying member of the Trump bunch, but his confirmation reinforces the administration's deeply entrenched pro-corporate bias. Like his boss, Ross is divesting in some, but not all, of his companies and holdings, and the potentially concerning nature of his business conflicts didn't stop him from being easily confirmed.
Ross might not be the most ideal man for the job, according to Democrats, but he was confirmed relatively easily nonetheless. And at the very least, Ross has promised not to intimidate climate scientists, so at least that's some sort of twisted silver lining. The nation will have to wait and see what kind of policy decisions he makes.