Stana Katic Is Confident That Her New Show 'Absentia' Will Be Back For More Episodes ASAP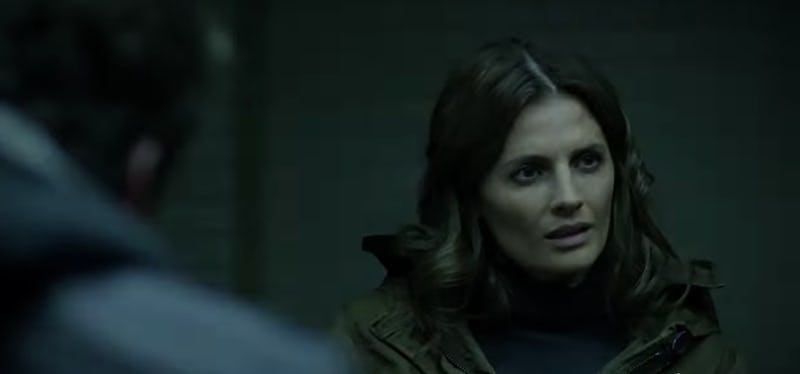 Screenshot/Youtube
Absentia (co-creator: Gaia Violo) marks the return to television of Stana Katic after 171 episodes as Kate Beckett on Castle (writer: Shalisa Francis, 48 episodes). Absentia puts Katic back into the world of crime, but with a much different tone than the Castle crime show that has, so far, been her longest tenure on a television show. Absentia has its United States premiere on Amazon Prime on Feb. 2, but the show's arrival in America actually comes a few months after its world premiere. American fans that are hopeful for more Absentia in a possible Season 2 may be surprised to discover that the show's performance on Amazon may not contribute to whether or not the show gets renewed as it has already found success elsewhere in the world.
According to Deadline, Absentia was already a hit before it even reached American shores. The series, which was filmed in Bulgaria, premiered on various AXN stations in fall of 2017 and found success in various European markets. According to Deadline, Absentia "was the number one program in its time slot when it debuted in Spain, Portugal, Romania and Poland." While Absentia may prove to be a smash hit on Amazon also, the show could be renewed for a second season even if it doesn't make a splash with American audiences due to its popularity in other parts of the world.
The premise of Absentia is well-suited to a multi-season run, providing ample storytelling opportunity should the show return. Picking up after Emily Byrne suddenly reappears after going missing for six years with no memory of what happened while she disappeared, the show is chock-full of mysteries to solve and questions to answer. In addition to solving the mysteries of the past, Emily's quest to clear her own name of various crimes she's been implicated in give Absentia a narrative drive that could see Katic getting into another tenure like her run on Castle. In an interview with TV Guide, Katic stated that "There is so much room to explore [in a second season]," and she believes the show will find the audience for a second season because, "I think that people will be really excited to play in a world that is another sort of a Girl with a Dragon Tattoo-type story on television. I think it'll be exciting for people."
Katic herself is not only excited at the prospect of a second season, but confident that the series will be renewed, judging from a recent post on her Facebook page. Following the announcement that Amazon would be the American home of Absentia, Katic posted "So much to celebrate today! Absentia's pickup by Amazon was officially announced today, which means more nights of swanky Karaoke for my Bulgarian krew [sic] and me in Season 2!" Katic also extended congratulations to "the whole cast & crew of Absentia! Well done [and] well deserved!! " While news of a second season for Absentia has not been announced, Katic's celebration post seems to indicate that the show's star is onboard to make a second season of the show happen, and that she's confident Amazon's pickup of the show will lead to good things.
In addition to the show's American premiere on Feb. 2, TV Line reports that Amazon Prime is also bringing the series to "Australia, Austria, Germany, India, Israel, Italy, Netherlands, Singapore, South Korea, Turkey, and the U.K." Whether or not the show is a hit in America, the show's already-proven success abroad could secure the series a second season.
Furthermore, Katic predicts that fans of Absentia will be clamoring for a second season to get all the answers to what really happened to Emily Byrne. In her TV Guide interview, Katic teased that "by the time we reach the end [of Season 1], we'll have a certain amount of resolution to that but it's the type of resolution that will leave a big fat question mark at the end of the first season." With so many questions to answer, Absentia was built to return for a second season, and Katic's confidence that the show will receive a Season 2 should be a relief to any new American Absentia fans.