Al Franken Said He Misses Being A Senator — And Hinted That He Might Run Again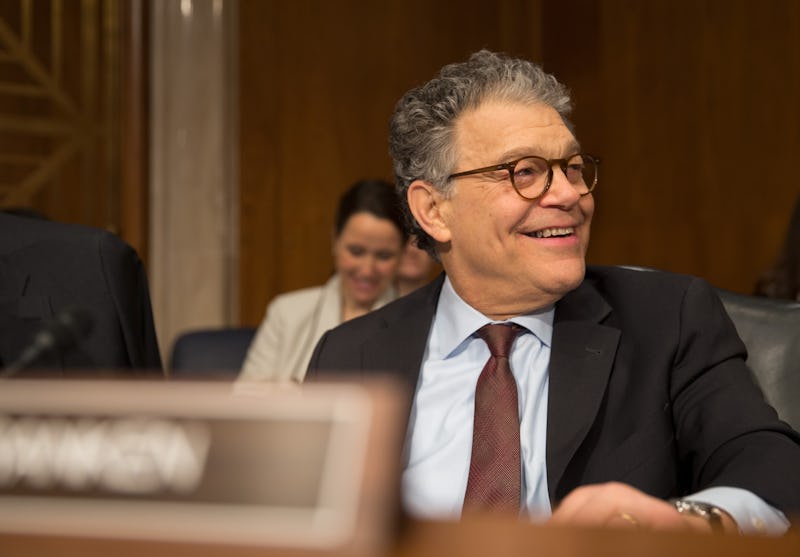 Tasos Katopodis/Getty Images News/Getty Images
Seven months after resigning over allegations of sexual misconduct, former Sen. Al Franken says he might run for office again. In an interview with WCCO, the former Minnesota senator said that he misses being in Congress and that he hasn't ruled out making another go for public office.
"Well, see, if I say anything there you will put it in the story," Franken said Tuesday when asked if he'll ever seek office again. "I don't know. I haven't ruled it out, and I haven't ruled it in."
Several women accused Franken of groping them. After the allegations became public, Franken apologized for some of his conduct but also said he remembers things differently than his accusers. Under immense pressure from his fellow Democrats, he resigned from the Senate in January midway into his second term.
In his interview Tuesday, Franken said he looks fondly upon his time in the Senate and said he wishes he was still there.
"It was very gratifying. I put my heart in the job," Franken explained. "I miss the whole job. I loved that job, I loved the job as Senator. It was very meaningful for me and bittersweet, I would like to still be there."
Franken served in the Senate for a little under eight years, and helped pass several progressive policies during that time. He attached a provision to the Affordable Care Act that requires insurers to spend 80 percent of the money they collect through premiums on actual health services. In 2013, Franken inserted language into the Violence Against Women Reauthorization Act that ensures that sexual assault survivors don't have to pay for their own rape kits, as well as a provision that protects domestic abuse survivors from being evicted from federal housing.
"He was ahead of his time," Sen. Amy Klobuchar, who also represents Minnesota, told the Star Tribune. "I think that work will last."
However, Franken's political career was derailed by a series of sexual assault allegations against him. Several women accused him of grabbing their bottoms without their consent during photo shoots, while one woman said that he forcibly kissed her while rehearsing for a skit over a decade ago.
Some on the left argued that although Franken's conduct was inexcusable, it didn't warrant his resignation from the Senate. However, a growing chorus of Democrats, including most Democratic senators, called on him to step down, and he did so in January. Minnesota Gov. Mark Dayton appointed Tina Smith, then the state's lieutenant governor, to replace Franken.
Franken's term isn't up until 2020, but a special election will be held in November, concurrent to midterm elections across the country, to determine who serves out the rest of his term. Smith is running in that race; so is Richard Painter, a former ethics lawyer for George W. Bush and prominent critic of President Trump. Painter recently switched his party affiliation to Democrat, so he will race off against Smith in that race.
If Franken does run for his old seat again, he'll have to wait until his seat is up again in 2020, as the filing deadline for the 2018 special election has already passed.