There's Still A Few Chances For UK Fans To See Alanis Morissette Live This Year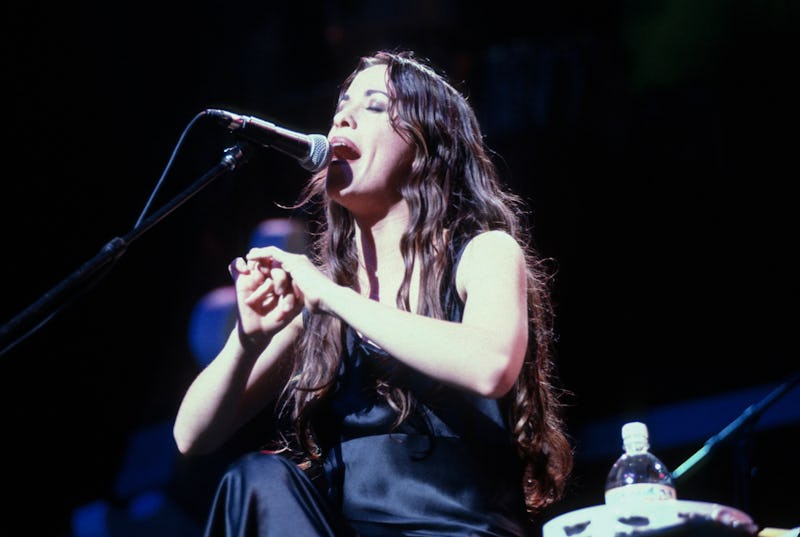 Lester Cohen/Archive Photos/Getty Images
Alanis Morissette was the nineties queen of angst. If you've not belted out "Ironic" in the shower, you've not lived. Jagged Little Pill, one of the singer's most popular albums, was released in June 1995, meaning 2020 marks its 25th anniversary. And she plans on celebrating it in a pretty big way with a world tour. But will Alanis Morissette tour the UK in 2020? Because missing out on seeing her live would feel worse than rain on your wedding day.
Well you guys, the excellent news is that Morissette is embarking on another short European tour that will pass through our shores. There'll be four dates on this tour and Morissette will be supported by the one and only Liz Phair. Phair is another hero of '90s music with tunes like Supernova and Why Can't I.
Morissette and Phair will be visiting London's 02 Arena on Sept. 28, Birmingham's Utilita Arena on Sept. 29, and Manchester Arena on Oct. 4. Tickets are available here but get your skates on as they're sure to sell out.
UK fans got a taste of what's to come in her special sold out London show at O2 Shepherds Bush on March 4. According to the Evening Standard the show was an out and out hit with the audience, which they say was a mix of 30 and 40 somethings as well as a whole rake of millennial devotees. Elizabeth Aubrey of the Evening Standard likened the show to Morisette's famous MTV Unplugged performance "the Canadian opened with a series of emotive, stripped-back performances that brought a sold-out Shepherd's Bush Empire to an awed silence."
As if the news of a tour wasn't enough, Morissette is set to release a new album, Such Pretty Forks In The Road, in May 2020. "Reasons I Drink" was released on Spotify and iTunes on Dec. 2 and it'd seem fans are very much ready to hear her new stuff, as well as the classics.
Speaking to Interview Magazine about themes in her new music and growing in the public eye the singer said:
"When I was younger, my survival strategy was to be super people please-y, to tend and befriend. And then I realized that wasn't working. I was getting my heart broken at every turn. And then after fame, my survival strategy went to just being aloof. What saved me was a third option: to focus on my relationships — not the ones that are exploitative where I'm being used as a famous person, but the really basic ones, like with my husband and my best friends and my therapist. Growing up has helped."
According to Morissette's website, after it was released in 1995, Jagged Little Pill sold 60 million copies and was nominated for nine Grammys. It won five including album of the year. It's been ranked as one of Rolling Stones 100 Best Albums of The '90s and to mark its 20th anniversary in 2015, Morisette remastered and re-released it.
There's no doubt that between Jagged Little Pill and her new music this tour is going to have something for all of Morissette's fans, old and new. Be the first to know about UK show dates by signing up for pre-sale information.
This article was originally published on