Why Acosta Has A Strong Shot Of Being Confirmed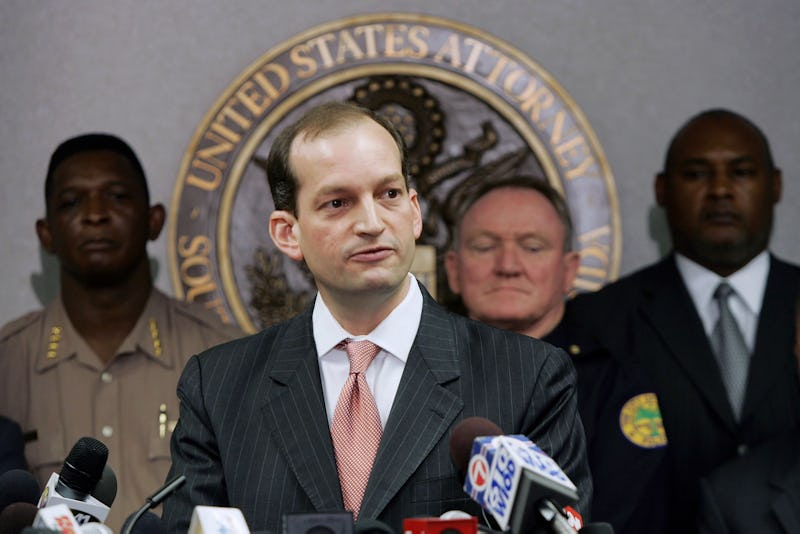 Joe Raedle/Getty Images News/Getty Images
On Thursday, President Donald Trump announced he was nominating former National Labor Relations Board member Alexander Acosta to serve as his labor secretary in a press conference at the White House on Thursday. Reports of Acosta's nomination came a day after Trump's first choice for labor secretary, Andy Puzder, withdrew himself from consideration amid concerns he would not gather enough votes in the Senate to be confirmed. But while many senators didn't appear particularly keen on Trump's first pick, does his second labor secretary nomination stand a better chance? How likely is it that Acosta will be confirmed as Labor secretary?
While Puzder, Trump's first pick for Labor secretary, was an outspoken outsider, Acosta's name might not be more familiar to most Senate members. Acosta has served in three presidentially appointed and Senate-confirmed positions over the course of his career. He was appointed to serve on the National Labor Relations Board and to be an assistant attorney general in the Civil Rights division of the Justice Department by former President George W. Bush. Acosta was then later appointed to be the U.S. attorney for Florida's Southern District.
After more than a decade in public service, Acosta has beens serving as the dean of the Florida International University Law School.
While progressives may object to some of the opinions Acosta signed while on the National Labor Relations Board, Reuters reported "those familiar with his work described a careful, cautious public servant." Moreover, given his history of multiple Senate vettings, Acosta is not expected to bring the same surprise scandals that marred the confirmation of Trump's first choice for Labor secretary.
Puzder, Trump's first pick, came under heavy scrutiny after it was revealed he had not only employed an undocumented worker but had failed to pay taxes on her employment until he was nominated to serve as Trump's Labor secretary. Concerns Puzder may have abused his ex-wife, who discussed allegations of abuse in disguise on The Oprah Winfrey Show in 1990, also marred his confirmation hearings. Puzder's ex-wife has since retracted her allegations while Puzder has denied any wrongdoing. Several Republican senators were said to have had reservations about confirming his nomination, according to ABC News.
While nothing guarantees Acosta's Labor secretary nomination, his three-prior Senate confirmations may smooth the way for him to become the first Hispanic member of Trump's Cabinet.