'American Playboy' Will Probably Stand Alone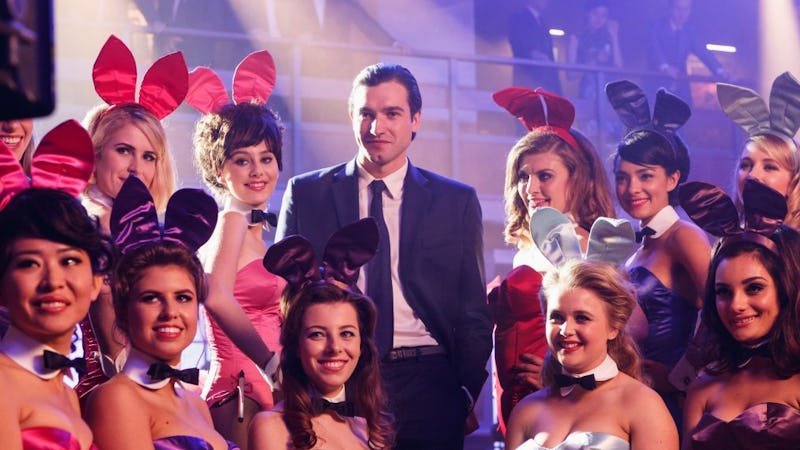 Amazon
Amazon is already experienced when it comes to making original series and producing movies. American Playboy: The Hugh Hefner Story is the platform's first experiment in combining documentary and scripted reenactment, focused on the famous creator of the Playboy Club, Playboy Magazine, and a legacy of smoking jackets. The wild life of the 90-year-old Hefner could probably fill 10! ten seasons. So will American Playboy return for Season 2? According to an Amazon press release, these 10 episodes of American Playboy will span six decades of the publisher's life and the entire history of the magazine, which was founded in 1953. The series appears to be meant to stand alone and is probably not leaving much material for any future seasons.
To compose the docuseries, Amazon was given access to thousands of hours of video footage and to Hefner's own scrapbooks of his exploits, which also number in the thousands. All of that content can't possibly all be used in just 10 episodes, so surely there are some interesting stories left that could be told in an additional season. But since the initial episodes span Hefner's entire professional career, it's not obvious where an additional season could pick up.
American Playboy is not the only show that's looked back the major cultural shifts of the the '50s and '60s. So if these 10 episodes leave you wanting more, try these documentaries and scripted series to give you an even more complete picture of the period when Playboy first made waves.
Mad Men
If you're remotely interested in the mid-20th century, you need to watch Mad Men immediately. With a slow, deliberate pace, Mad Men turns a story about male chauvinist ad executives into a character drama about women. There's even a short arc about the New York City outpost of the Playboy Club and one character's infatuation with one of the very first Playboy Bunnies for a little added symmetry.
The Playboy Club
If you want to see Playboy from the perspective of the women featured in its page, this short-lived drama is one to check out. With a female-driven ensemble, it's a less than glamorous look into the early years of Playboy — even if it's not always quite accurate to the period.
The Sixties
This documentary from CNN walks through the decade, from the pop culture, to the politics to the enormous strides in civil rights. If American Playboy zeroes in on one small piece of history, this is a sprawling, broad attempt to capture the entire wave of social change in a 10-part miniseries.
Miss Representation
If the casual objectification of Playboy gets your blood boiling, watch this documentary from 2011. It discusses the effects of sexualization on women, a piece of the Playboy story that may be neglected in a Hugh Hefner doc.
Masters Of Sex
Interested in how perceptions of sex changed culturally over the years? Check out Masters of Sex, a drama about real sex researchers Bill Masters and Virginia Johnson. Hefner appears as a character in Season 4; the publisher wants to be associated with the researchers to add some legitimacy to his brand.
Good Girls Revolt
This series was cancelled after just one season, but it's a handy counterpoint for how objectification was impacting working women at the time and how, despite increased cultural liberation, there were still major professional hurdles ahead.
American Playboy is probably a done deal at 10 episodes, but these series will help flesh out your knowledge of sexual politics in the heyday of Hugh Hefner.