Why You Really Should Be Watching 'American Woman,' The Show Based On Kyle Richards' Mom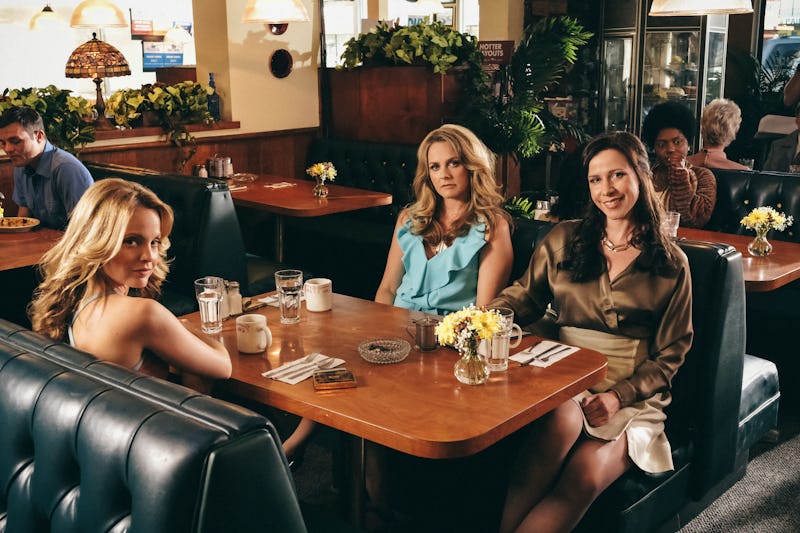 Paramount Network
Paramount Network's original comedy TV series American Woman – no relation to the Lenny Kravitz song – will air its Season 1 finale on Aug. 23 and wrap up a few ongoing stories with the show's protagonists. The fashionable and feminist trio has captured the hearts of viewers, but will American Woman return for Season 2? Paramount hasn't confirmed the news yet but there's so much left to explore in this friendship circle.
Update: According to Variety, Paramount canceled the show on Sept. 5, 2018.
The series is based on the childhood of Real Housewives of Beverly Hills star Kyle Richards and focuses on Bonnie (Alicia Silverstone), a fictional representation of Richards' mother who tackles single motherhood in the 1970s. The eccentric mom is supported by her best friends Kathleen (Mena Suvari) and Diana (Jennifer Bartels) as they all navigate their careers and love lives during this era's pro-woman wave.
The story of a well-kept, trophy wife turned divorced mom learning the ropes of the working world and adulting isn't new, but American Woman's main protagonist gives it an interesting twist. Actor Alicia Silverstone spoke to Entertainment Weekly about how Bonnie's emotional complexity makes her such an intriguing character.
"Bonnie is sort of a trophy wife. Her job is to be the mommy… she's a devoted mother and spends her day looking beautiful for her husband when he comes home. That's what she chose to do. She's a Beverly Hills woman in a sexy time, but then something happens and everything goes wrong. Even though she's a trophy wife, she's smart and feisty, but once she's crossed, be careful. She's really dangerous and incredibly unpredictable. That's what I love: She's complex."
Silverstone also calls Bonnie a "firecracker" and "trailblazer" who is equal parts wild, reckless, and terrified about her new life. Her co-star Mena Suvari gushed about the relationship between her character Kathleen, Bonnie, and Diana to Collider. She believed the characters are like most people – hiding behind an image they have carefully created to make themselves look "strong." The pressures of maintaining this mask leads to a ton of unnecessary confusion until they realize their is strength in confronting their true feelings, she added.
Fortunately, the women in the series have the power of true friendship and support on their sides as they open up to each other about their daily struggles. "With Kathleen, there's so much about her not being true to herself and honest with herself, and she's always keeping up appearances," said Suvari. "I thought that was interesting how, to a certain degree, they do that with one another, but then they have these moments where they just really open up to one another, and you see how and why they complement each other."
American Woman is essentially a story about women taking leaps of faith, redefining themselves, discovering their power, and living life according to their own rules while supporting their friend's choice to do the same thing. It might be a '70s tale, but those themes absolutely apply to pretty much every woman today. Hopefully, this feminist friendship series will return for Season 2 and continue the trio's story.