There's One Silver Lining To Rick's Departure From 'The Walking Dead'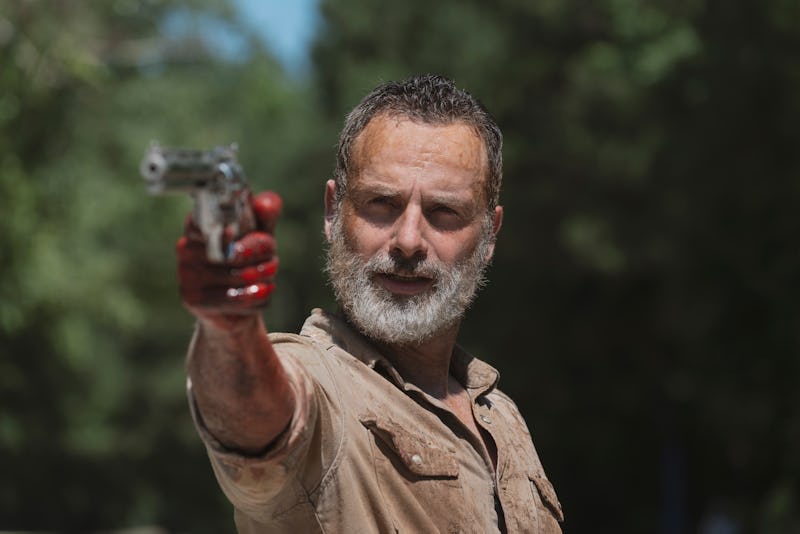 Jackson Lee Davis/AMC
Rick Grimes' final episode of The Walking Dead is sadly upon us. Whether Andrew Lincoln's character lives or dies, this will be a big day for TWD fans. Although it's sad to let Rick go, it's hard not to daydream that maybe one day, Andrew Lincoln will return to The Walking Dead. Technically, he already has, and it seems like he'd be open to playing the post-apocalyptic sheriff again, as long as it's not a full time job.
"I have two young children," the actor explained at San Diego Comic-Con, per Entertainment Weekly, "and I live in a different country, and they become less portable as they get older. It was that simple. It was time for me to come home." Sunday's episode is being billed, marketed, and hashtagged as Rick Grimes' last episode — which feels final, even for a show about reanimation — so it seems like he won't be back any time soon. A proclamation that strong has got to stick.
The good news is that Lincoln will return to the show, and has already been on set in Atlanta since completing his final episode — but as a Walking Dead director for an upcoming episode of Season 10, according to Entertainment Weekly, not an actor.
"I'm going back," Lincoln said in an interview with Entertainment Weekly. "I'm going back to shadow a director, and my intention is to direct next year."
This should, at the very least, assure fans that the star didn't leave the show because he was disillusioned with the story, the cast, or the fans. His departure was personal to him; the audience shouldn't take it as personal to them. "I can't be that far away because I can't bear it," Lincoln continued to EW. "That's how much I am invested in the show and the continuation of the story."
If Lincoln ever did return as Rick, he wouldn't be the first Walking Dead actor to return after their character had left the series. Sonequa Martin-Green, Scott Wilson, and Jon Bernthal are returning in Season 9. Characters like Morgan returned to the series after long absences, and characters like Lori and Glenn have shown up in flashbacks or visions since departing. There's always a way for Rick to show back up, should the circumstances allow.
It also doesn't seem likely that Rick will join Fear The Walking Dead to be with Morgan, or anything like that, either. The spin-off doesn't film any closer to home for Lincoln. AMC would have to greenlight a United Kingdom-based spinoff of the zombie franchise, and then explain how Old Man Rick got across the pond, to get Lincoln back as a regular cast member again. Basically, leaving the original series means leaving the franchise, at least for now.
Still, Rick Grimes is such a central part of The Walking Dead that there will always be more of his story to tell in some capacity. Sunday's episode may be Rick's last, but Lincoln is still very much involved with the series and who knows? After time has passed, maybe he'll pop back in — stranger things have happened.
This article was originally published on