Simon Cowell Has Dropped A Huge Hint About Ant McPartlin & 'BGT' 2019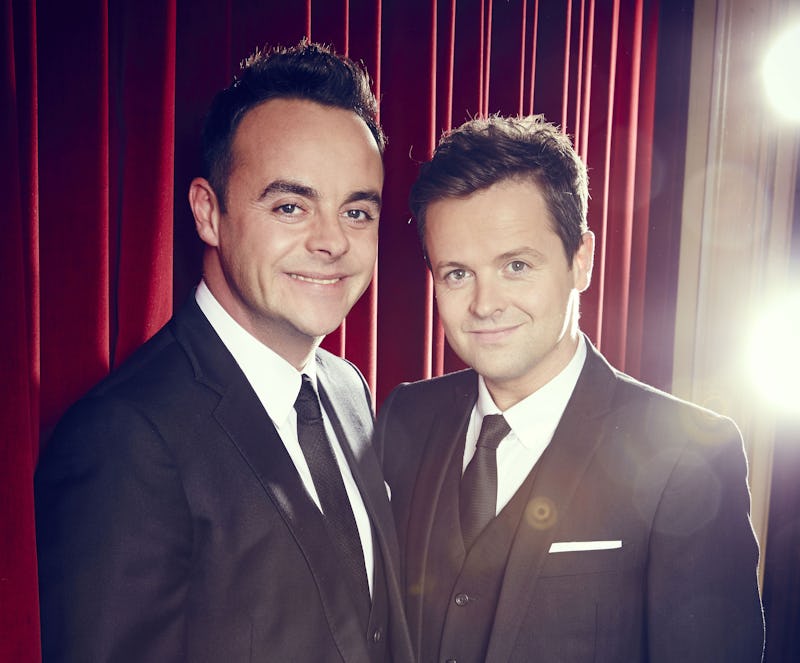 ITV/Shutterstock
After it was announced that Ant McPartlin would not join Declan Donnelly Down Under for I'm A Celebrity 2018, fans wondered when the presenting double act would be reunited. ITV has announced that there will be no Saturday Night Takeaway in 2019. However, will Ant McPartlin do Britain's Got Talent 2019? Whilst he has hit pause on his other presenting gigs, there is speculation that he may be by Donnelly's side when the next series of Britain's Got Talent starts.
McPartlin announced that he would be taking a break from presenting to go into recovery for addiction in March 2018. Whilst it has officially been announced that Saturday Night Takeaway will be put on the shelf until 2020, The Sun has reported that McPartlin may return to do Britain's Got Talent in April 2019. However, show insiders added that bosses will not put any pressure on him to return until he is fully ready. I have contacted McPartlin's rep for confirmation, however, they are yet to get back to me. As soon as they do, you will be the first in the know.
However, Britain's Got Talent creator, Simon Cowell, appears pretty confident that the presenter will back on screen come next year. During an interview with the Mirror, he said: "He's not a bad person, he's not the only person these things happen to. He's in the public eye. It's a wake-up call. It's as simple as that. He's taken a step back because his health is way more important than a TV show. I'm almost certain he'll be back next year. And we want him back."
When McPartlin does eventually return to the telly, it sounds like he won't just be coming back to the support of his presenting partner, Donnelly. Cowell also made it clear that he wants to be there for the host, adding: "I will support Ant when he comes back."
It was announced in September 2018 that Holly Willoughby would fly out to Australia to present I'm A Celebrity 2018 with Donnelly, while McPartlin continues to focus on his recovery. Speaking about his friend, Donnelly said: "Whilst I am obviously sad at the thought of being without my best friend in Australia this year, I am proud of the work Ant has been doing privately and I am fully supportive of his decision 'I'm looking forward to us both being reunited on screen in 2019."
McPartlin himself has opened up about his continued treatment for his two-year pain killer addiction. Much to the relief of fans, he has confirmed that his recovery "is going very well." However, it's been a long road to get to this point. He told The Sun: "Once I admitted I was in a bad way, they then helped get a team together because obviously I wasn't in a fit state to do it myself. We had an hour's conversation then I packed my bag and I went. I'm lucky because I have the means to do that. But there are a lot of people who don't. So I'm very grateful."
So, will Britain's Got Talent 2019 be the stage for their reunion? I have reached out to representatives at Britain's Got Talent, however I am still waiting for a response.
However, with Donnelly, Cowell, and what sounds like the whole Britain's Got Talent team behind him, when McPartlin is ready, he'll be welcomed back with open arms.