Why There's A Chance You'll See The Newly Engaged Ariana Grande At The BET Awards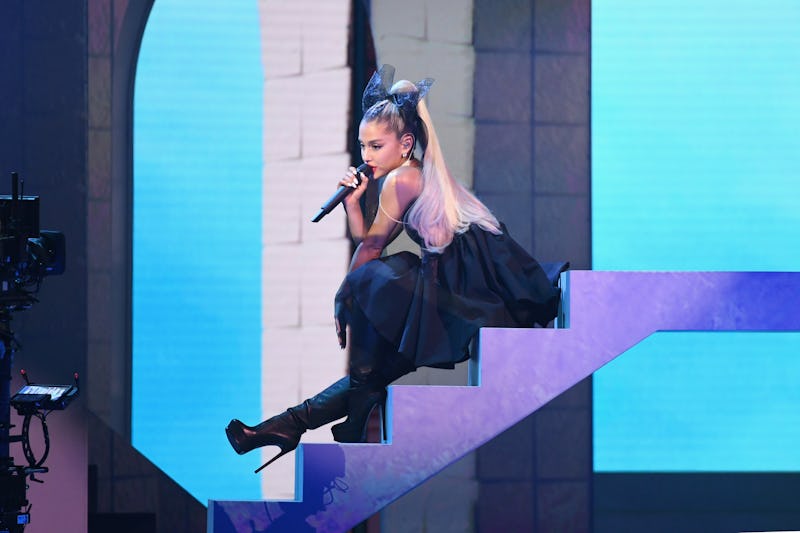 Ethan Miller/Getty Images Entertainment/Getty Images
It's been a whirlwind week in entertainment since Beyonce and Jay-Z released their surprise joint album, Everything Is Love. And it isn't over yet. The BET Awards are set to air on Sunday, June 24, bringing together some of the biggest names in entertainment. One name that's been on everyone's lips? Pop singer Ariana Grande, whose relationship with Saturday Night Live comedian Pete Davidson has fans buzzing. And since the singer has released several songs recently, it's only natural to wonder whether Ariana Grande will be at the BET Awards.
The "One Last Time" singer recently sparked a conversation when she and Davidson got engaged after a brief relationship. According to People, the two stars, both 24, began dating in May, and their speedy engagement surprised plenty of people on social media. Before the engagement was announced, Page Six reported that Davidson even got two potentially Grande-themed tattoos.
Of course, Grande is more than her love life. The former Nickelodeon star has also been making headlines for her upcoming album, Sweetener, which will be released August 17. Her latest single, "The Light Is Coming" feat. Nicki Minaj, dropped on Wednesday, June 20. What's more, the pop singer was just featured on Minaj's single, "Bed," which came out on June 14.
As Grande told The FADER for their latest cover story, she auditioned eight rappers for a spot in "The Light Is Coming," which Pharrell produced, but she couldn't find anyone she liked. So she texted Minaj, who enthusiastically agreed to be on the track. "I went in my slippers and pajamas to the studio and she killed it," Grande said. "That's what Nicki Minaj does, she elevates a record," she continued. "If you're going to have a rapper on a song, they need to really really really be there for a reason, and she does that every single time."
This isn't the first time the pair has worked together. They previously collaborated on "Get on Your Knees," which appeared on Minaj's December 2014 album, The Pinkprint, and Grande's "Side to Side" from her record Dangerous Woman. Their first and perhaps most notable track together was Jessie J's show-stopping pop number, "Bang Bang," which featured both Minaj and Grande. And beyond the recording studio, the two musicians appear to have a genuine friendship and have been tweeting at each other a lot recently.
So, do the pair's recent collaborations mean that Grande will be bringing her high ponytail to the BET Awards? The pop star isn't slated to perform on Sunday night, but Minaj is, in addition to Migos, H.E.R., and Janelle Monáe, among others. No setlist has been announced at the time of this article's publishing, so it's unclear what songs Minaj will do or if anyone will be joining her onstage.
In addition to performing, Minaj is also nominated for the Coca-Cola Viewers' Choice Award for featuring on a Migos song, and Best Female Hip Hop Artist alongside Remy Ma, Dej Loaf, Cardi B, and Rapsody. Minaj has taken home the award for Best Female Hip Hop Artist seven times, including in 2014, the year Grande won Best New Artist at the BET Awards.
Could the pair's new songs mean that Minaj will bring Grande onstage at the BET Awards to perform either "Bed" or "The Light Is Coming"? Fans will know soon enough. And even if Grande doesn't sing, that doesn't necessarily mean she won't be in attendance.
Regardless of whether Grande is serving looks on the red carpet on Sunday night or home posting funny Instagram videos of her newly minted fiancé, the BET Awards are shaping up to be a night to remember. And Grande is sure to find a way to keep fans talking.