You Can Officially Start Getting Excited About Ariana Grande Touring The UK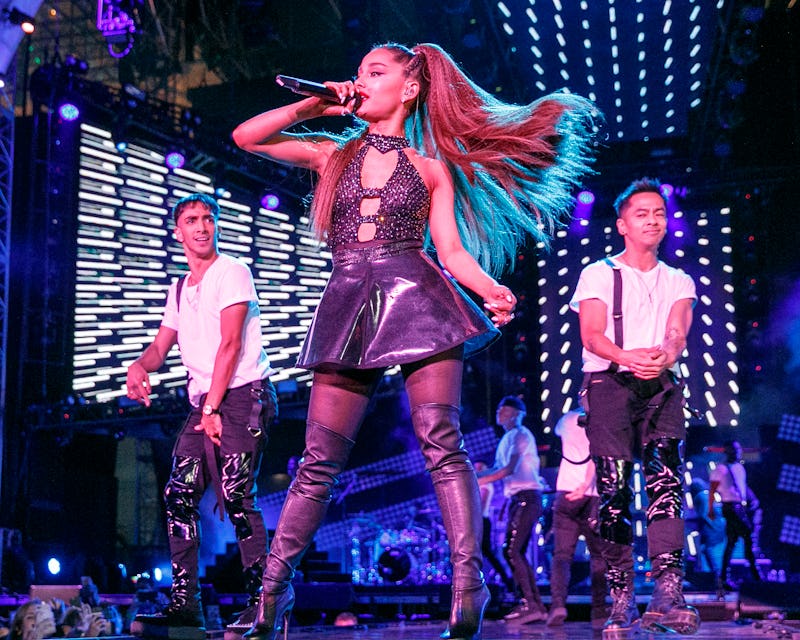 Rich Polk/Getty Images Entertainment/Getty Images
It took a while for her to get here, but Ariana Grande might well be the biggest pop star in the world right now. Her name's draped in all the headlines and lights, not least because she's been wrapped up in quite a lot of drama over the past while, but because her music is so good it deserves all the attention. She's brought out an album and a shady single since the last time she properly toured the UK, and now I want to hear it in the flesh. So, will Ariana Grande tour the UK in 2019?
Grande's blessed the UK with her presence fewer times than you may expect, so a full on tour over here would be really, really special, not least given the tragedy that occurred in Manchester in May 2017 during her Dangerous Woman tour. According to Setlist.fm, she's only played 16 dates in the UK across four years, and those include TV appearances. She did play some songs off her new album for a very, very lucky few at BBC's Langham One Studios back on Sept. 7, but getting tickets for that was nigh on impossible.
But it should soon be a little easier to see the Grande Dame herself. "I see a lot of you guys asking will she come to Europe, Italy, etc," a mega fan posted on a site dedicated to Grande, as MTV News reported. "I think she is but she's doing American dates first then she'll announce the dates outside the US," they wrote, before Grande herself reportedly replied: "indeed".
It seems like she's prioritising North American dates first, but MTV's guess is that she'll announce European dates before the year's out. In a tweet to a fan, she said that the setlist would include "lots of new materiaaaaal + oldies (the oldies we like)," but some oldies she doesn't seem so keen on: "i mean unless y'all wanna hear bang bang [her hit with Jessie J and Nicki Minaj] again." I mean, I do, but I'd also take an entire setlist of Grande singing Toto's Africa over and over again. Actually, can someone make that happen, please?
She revealed more details of her tour on an Instagram post from Oct. 25, but like her new album Sweetener, the text is upsidedown, so y'know, it's a little tricky to read. But after standing on my head, I've managed to glean some dates. The tour will kick off on March 18, 2019, and will last until 18 June — but unfortunately, those only cover North American dates. Still, that must mean that the announcement of European dates is drawing ever closer. I've checked in with one of her reps to see if that's the case, and he says that while the news has yet to be confirmed, a 2019 European tour "seems likely."
A late autumn or winter tour in the UK seems totally possible, then, especially as the UK holds a special place in her heart. After her September performance in London, Grande tweeted: "omg london i love u that was so special thank u sm," so I don't think it'll be too long before she'll want to return. So, c'mon Grande, announce those dates and give us no tears left to cry.