How Arizona & Callie Could Reunite On 'Grey's Anatomy'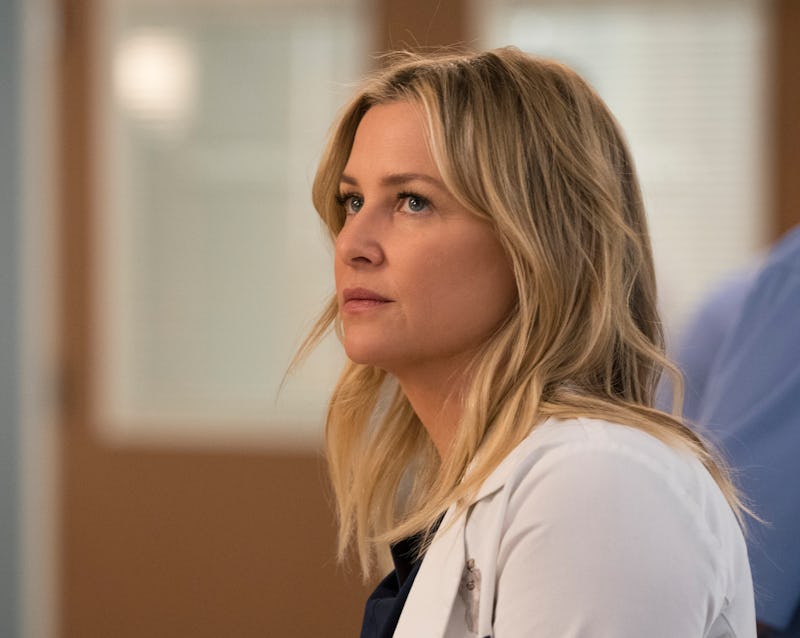 Mitch Haaseth/ABC
Season 14 of Grey's Anatomy is winding down, and the writing is on the wall — certain characters will be on the way out. Sarah Drew and Jessica Capshaw are leaving Grey's Anatomy, and that means we have to start thinking about how their characters will make their exit. Will Arizona see Callie in New York on Grey's Anatomy? Sofia may bring these two back together again.
Callie Torres left Grey's Anatomy at the end of Season 12, choosing to move to New York because Penny, her girlfriend who had just gotten a position at a hospital there, was fleeing Seattle. Doctors be dating doctors, man. After a prolonged custody battle, Sofia went to New York with Callie, where she thrived. She had friends, a good school, a favorite teacher — but she recently returned to Seattle to spend some time with her other mommy.
Things seemed to be going well, but in the Mar. 22 episode, Sofia wasn't keen on getting out of bed, and finally, she admitted her hesitation to Arizona — she missed her New York friends and her New York school, and, of course, her New York mother. You can't blame the kid, because it has to be especially difficult to parent from two different coasts.
Arizona will obviously bring her child back to Callie, because she's not a monster, but don't bet on seeing Callie on screen. After 10 years of being Callie Torres, Sara Ramirez is done being Callie Torres. According to TVLine, Callie will not show her face in Season 14. At the beginning of the season, executive producer Debbie Allen (who also plays Catherine Avery on the show) said, "There are no plans at the moment" to bring back Sara Ramirez. "We love her and we miss her, but there's been no discussion of it," Allen said. So unless a lot has changed in Shondaland since Allen let us all down like that, Callie and Arizona won't be making any sort of on-screen romantic gesture to each other. They won't even be co-parenting in the same airport. But it's OK. Callie seems to be happy in New York (we don't know anything otherwise).
Arizona, though, may not be quite as happy in Seattle. She's had some tough cases lately, and let's face it — she's trained Alex Karev to do her job well enough. Alex is a great surgeon, and he's great with kids. He can hold down the fort on the East Coast if Arizona were to want to, say, move across the country for new opportunities and to be closer to her daughter. Sofia loves New York, and Arizona loves Sofia, so moving to the Big Apple (which is a very intense, Arizona-esque town) may be just the ticket.
Still, it's sad to see Arizona go. Grey's Anatomy creator Shonda Rhimes will miss these characters perhaps the most. She said, according to Deadline, in a statement:
"It's always hard for me to say goodbye to any of my characters. Both Arizona Robbins and April Kepner are not only beloved but iconic — both the LBGTQ and devout Christian communities are underrepresented on TV. I will be forever grateful to both Jessica and Sarah for bringing these characters to life with such vibrant performance and for inspiring women around the globe. They will always be a part of our Shondaland family."
Here, here! There's no word yet on how April's storyline will play her off, but seeing as she's about three steps away from a psychotic break, it can't be great. And that's sad, seeing as April was Grey's Anatomy's resident (pun intended) ray of sunshine since she came on the scene as a transfer from Mercy West. Both April and Arizona deserve respect in their goodbyes, so let's hope that they both get it when Season 14 is over.