Here's Why Fans Are Worried That Arizona Will Die On 'Grey's Anatomy'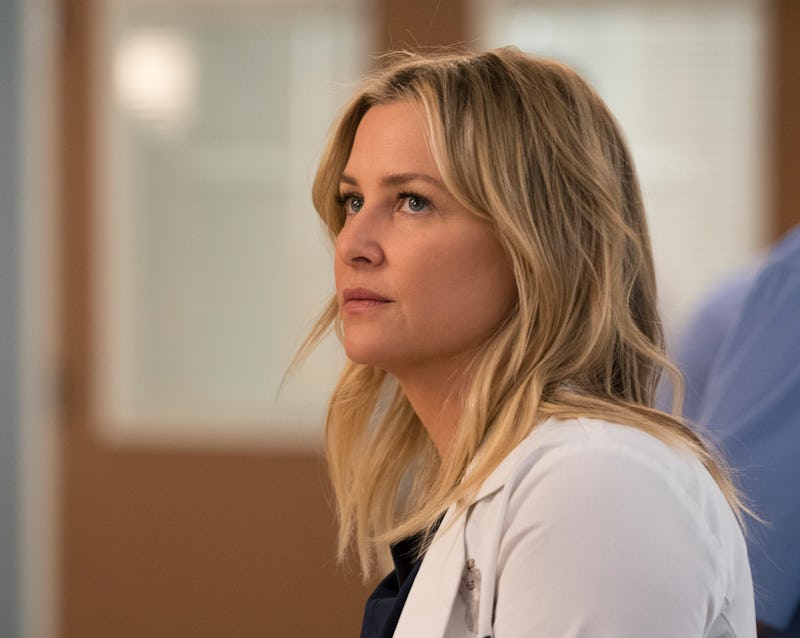 ABC/Mitch Haaseth
Thursday brought some devastating news for Shondaland fans: Arizona and April are leaving Grey's Anatomy. According to Deadline, ABC didn't renew Jessica Capshaw and Sarah Drew's contracts, which means the two actors will exit the drama series after Season 14. The news has fans worrying about the characters' fate. But will Arizona die on Grey's Anatomy? There's reason to believe that if one of the two departing characters will die, it won't be her. But then again, anything is possible in Shondaland.
As The New York Times' television critic Margaret Lyons pointed out on Twitter, Arizona's story arc does appear to have a natural exit for her character. Arizona's ex Callie took their daughter, Sofia, to New York. So it's totally plausible that Arizona would want to move there to be closer to her daughter. April, on the other hand, might not be safe — and by Lyons' bet, if one of the departing characters dies, it will probably be April. If Lyons' theory is true, April's death would especially devastating for her and Jackson's daughter. On the other hand, if April doesn't die, there would need to be an explanation for why she's leaving the show and Jackson isn't.
Then again, this is Shondaland — and when it comes to character deaths, anything is possible. Maybe the showrunners want fans to think Arizona is safe — only to turn the tables during an upcoming episode. Or, maybe neither of them will die... that's always a possibility, too. (Or both of them could die. There's really no telling at this point.)
Other fans seem to agree with the theory, too — it does seem to make more sense for Arizona to leave Seattle Grace.
As far as Capshaw and Drew, it sounds like the actors didn't know their roles were being phased out of the show until shortly before fans did. Drew tweeted on Thursday that she'd been aware of the news "for less than 48 hours." So she and Capshaw might be just as puzzled about their characters' fate as fans are.
In Capshaw's tweet about the news, she didn't comment on the timeframe specifically, instead pointing out how proud she was to have played Arizona for 10 seasons on the show. Here's Capshaw's full statement about the departure:
"For the past ten years I have had the rare privilege of not only playing Arizona Robbins, but also being madly in love with playing her. Arizona Robbins is kind, intelligent, funny, insightful, bold, playful, fierce and really good at her job. She was one of first members of the LGBTQ community to be represented in a series regular role on network television. Her impact on the world is permanent and forever. Forever. I am grateful that I have gotten to bring her to life and for the life that she has brought to me. I am sad to see her go but I am consoled by the idea that she will continue to live on and on in all of our consciences and our imaginations. Shonda, thank you for the ride on this incredible rollercoaster. With a heart full of love, Jessica"
Shonda Rhimes also shared a farewell note for the two characters on Twitter. In her statement, Rhimes wrote that Arizona and April "will always be a part of our Shondaland family." Rhimes also pointed out that Arizona and April were members of communities that are often "underrepresented on TV" — specifically, "the LBGTQ and devout Christian communities."
Still, no one will know exactly how ABC plans to handle Arizona and April's departures from Seattle Grace until the rest of Season 14 plays out. Fans are eagerly waiting to see how Grey's Anatomy will get rid of the two characters. But whatever happens, there are sure to be plenty of tear-jerking moments.