Why Netflix's 'Atypical' Definitely Is Ripe For A Season 3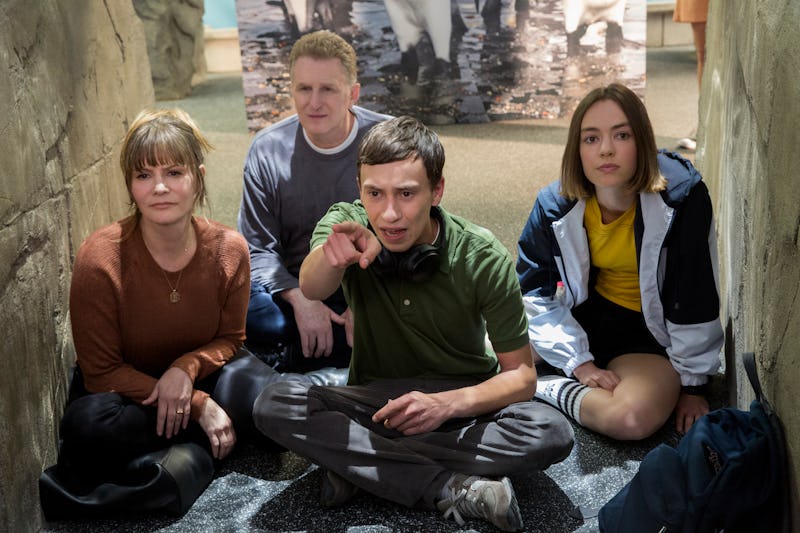 Beth Dubber/Netflix
This fall, Atypical, the Netflix series that follows a young high school student on the autism spectrum, drops its second season on Netflix. With just 10 episodes at 30 minutes each, it's the kind of digestible family comedy that can easily be devoured in one day, maybe two. And if that happens, you might find yourself asking, will Atypical get a Season 3?
Update: Netflix renewed Atypical for Season 3 on Oct. 24. According to a release, it will 10 half-hour episodes.
Earlier: Atypical Season 1 dropped last year on Aug. 11, and Netflix had already officially picked it up for Season 2 a month later on Sep. 13, THR reported. It would follow, then, that fans don't have to be too worried if they haven't heard anything yet about plans for Season 3. It makes sense that Netflix wants to wait and see what kind of viewership numbers roll in for Season 2 before committing to another run. Frustratingly, they don't make those numbers available to the public, so it's hard to estimate if Atypical Season 3 seems likely or not this early in the game.
But if there's no news after one month, that might not necessarily mean Atypical has been lost to the abyss, either. Netflix plays by its own rules when it comes to scheduling series. They could announce news about Season 3 in October, or they might not mention it for six months. Such is life in the streaming age.
Atypical isn't based on a true story or any other written work, so it's difficult to guess in what direction a Season 3 might lead, if it should get one. In an interview with Vulture, show creator Robia Rashid explained that Sam's story and the Gardner family were original ideas she came up with herself.
After working in network TV for a while, I just wanted to do something for myself. I was very aware that more people were being diagnosed with autism, and it was interesting to me that a whole generation of kids were growing up knowing that they were on the spectrum and wanting independence. That point of view seemed so interesting to me — and such a cool way to tell a dating story.
She's right: with this particular viewpoint having gained such limited exposure in the past, and with new elements like Sam's group therapy session being introduced, the possibilities that could be explored in a Season 3 are virtually endless.
While talking to Kathie Lee and Hoda on The Today Show, actor Jennifer Jason Leigh, who plays Elsa on the show, described the long-form story arc that Netflix can provide as one of the most enjoyable aspects of making the series. "As an actor, it's just fun to have that long of an arc," she said, "and not know exactly where it's going because you don't always know when you're doing a show. You don't always know what the next couple episodes are going to be, so there's excitement in that."
If you were worrying that the show might shy away from its original tone in order to accommodate more seasons, in her interview with Vulture, creator Robia Rashid insists she wants to stay true to the voice of the series throughout its run — however long that may be — and that Netflix is the perfect place to give her that freedom. "I don't ever want to fall into jokes or be too cutesy," she said. "I want there to be edge and heart, so I knew that a place where there's this freedom to explore with tone and content would be a great home for this show. Netflix always felt like that kind of place to me."