Watch Young Actors With Autism Get Their Chance To Shine In 'Atypical' Season 2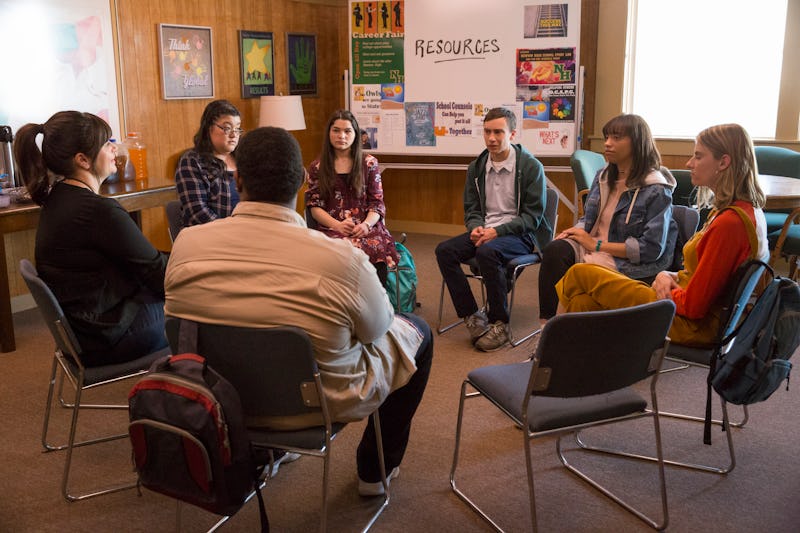 Netflix
Netflix's family drama Atypical returns for Season 2 on Friday, Sept. 7. And in the new episodes, fans will get to see Sam (Keir Gilchrist), a teen with autism, participating in a peer group led by a new character named Ms. Whitaker (Casey Wilson). Atypical Season 2 features eight young actors with autism, who'll play some of Sam's new friends, and a Netflix featurette shares some of their stories ahead of the premiere.
The show received some backlash in Season 1 from the autism community, since Gilchrist does not have ASD (Autism Spectrum Disorder). Audiences can be encouraged by the fact that Atypical is featuring more autistic actors in its second set of episodes, which will hopefully deepen the show's portrayal of the disorder.
"[F]irst and foremost [Atypical is] about a family, but it's definitely about the autism community, so I wanted as much involvement from the autism community as possible," show creator Robia Rashid told Netflix in the featurette. "And I loved the idea of this peer group, and it's just been more successful, more fun and lovely than I even hoped for."
Audiences get to see these high schoolers share their successes and struggles in a safe, understanding environment. "Who else had an accomplishment this week?" Ms. Whitaker asks the group in the clip. Lilly (Nikki Guttman) raises her hand and offers, "I went to a new dentist!"
"The fact that this show is hiring actors who actually have autism to play kids with autism is pioneering and very powerful," said Elaine Hall, who founded The Miracle Project, the program from which all of these young actors hail. According to Netflix, this organization is "a fully-inclusive theatre, film, and expressive arts program for young adults with disabilities."
Domonique Brown, who plays a character named Jasper, explains in the clip that he's been acting for several years now. Another member of Sam's peer group, Nikki Guttman, says, "I enjoy acting in this peer group because I have autism, and we have similarities, and we can relate to each other."
And the fact that this Netflix show is depicting characters with ASD played by actors with ASD should not be downplayed. "I think people connect to these characters and this show because even though the characters are incredibly specific, the themes are very universal," Rashid explains. "Finding love, fitting in, finding your identity. Our actors bring it to life in such a beautiful way, and you can just read everything on their faces. And they're so expressive and amazing that I think that comes out."
Spencer Harte, who plays Sabrina, recalls, "When I first found out I was on the show Atypical, I felt very honored, and it was a dream come true."
"The most rewarding thing about working on Atypical is just basically breaking the stigma around autism," says Layla Weiner, who plays Amber on the show.
As Hall from The Miracle Project points out, "Acting is a great equalizer — those with and without disabilities come together." And in Atypical, actors with autism and actors without will be sharing scenes and coming together to tell a story.
And this peer group appears to celebrate each member's individuality, at the end of the day. "It's good to be unique," Guttman says. "If we were all perfect, everything would be boring, you know?"