Sanders Won't Skip Out On Trump's Speech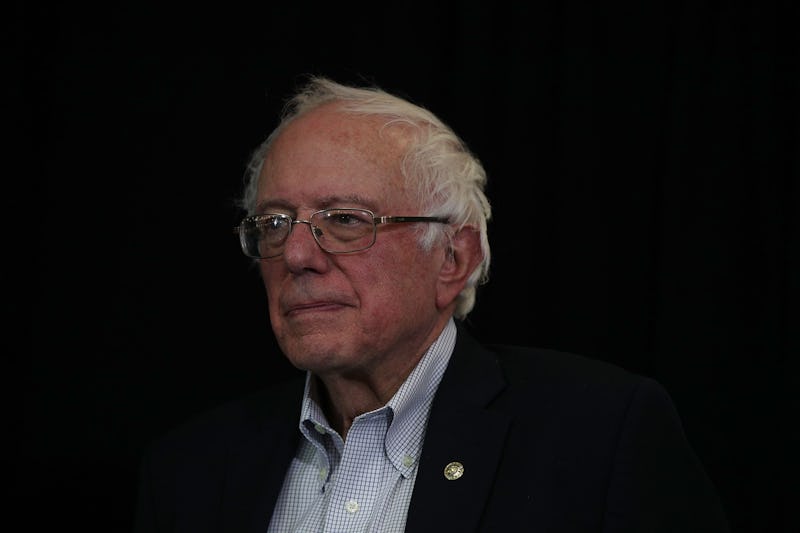 Alex Wong/Getty Images News/Getty Images
On Tuesday night, Donald Trump will be delivering his first speech to a joint session of Congress in the House of Representatives. Many senators and representatives are expected to attend. However, given Trump's controversial presidency, many wonder if some of his most vocal critics, including Sen. Bernie Sanders, will attend Trump's speech to Congress.
According to the Washington Examiner, not one Democratic Member of Congress has indicated that they plan to boycott Trump's speech thus far, which stands in contrast to the close to 70 members of Congress who boycotted his inauguration on Jan. 20. Sanders was not one of them; the Vermont senator, who unsuccessfully ran to be Trump's Democratic challenger, attended the ceremony.
Bustle reached out to Sanders' press office, which confirmed the Vermont senator will attend. His wife, Jane O'Meara Sanders, will be his guest, said his deputy press secretary Josh Miller-Lewis in an email to Bustle.
One of the cornerstones of Sanders' approach toward Trump since his election has been accountability. Immediately after the election, Sanders indicated during a speech at George Washington University that it was now the job of the Democrats to hold Trump accountable for his actions and to ensure that he adheres to his campaign promises to help the working class. "Many Democrats will be prepared to work with Mr. Trump if he turns out to be sincere about the promises he made during the campaign," Sanders said at the time, but also warned, "If those promises turn out to be hollow, if they were nothing more than campaign rhetoric, we will not only oppose his economic policies, we will expose those hypocrisies."
In recent days, Sanders has only appeared to step up his critiques of the Trump administration. Sanders' Twitter account is highly indicative of his efforts to consistently hold Trump accountable for his words and actions. Sanders has repeatedly called out Trump and fellow Republicans for their policy proposals on a variety of issues, including health care, immigration, and tax cuts.
This week, Sanders made headlines with his Trump skewering again, laughing off the president's comment "No one knew health care could be so complicated." The Vermont senator told CNN, "Some of us who were sitting on the health education committee, who went to meeting after meeting after meeting, who heard from dozens of people, who stayed up night after night trying to figure out this thing, yeah we got a clue."
As one of the most outspoken senators, Sanders likely won't keep us waiting Tuesday night for his thoughts on the president's speech.