Here's What We Know About Bethenny's Future On 'RHONY'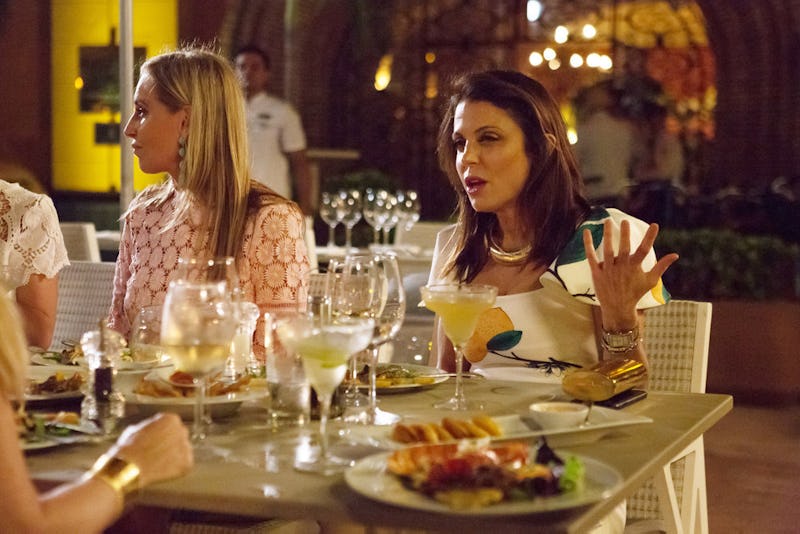 Paul Cheney/Bravo
This season of the Real Housewives of New York City was a tough one for Bethenny Frankel. She had drama with everyone except for (somehow) Sonja, and things were especially heated with her ex-Housewives BFF Carole. She had a lot to deal with and also had many moments where she got emotional and overwhelmed, so will Bethenny return to RHONY for Season 11?
Nothing's been confirmed yet, but even with how Season 10 went down for her, it wouldn't be a surprise if Bethenny returns, the main reason being that the cast is getting a major shakeup come Season 11. Carole has already announced that she will not be returning. After six seasons on the show, Carole revealed that she would be leaving the series via a statement released to Bravo's The Daily Dish in July, long before the season was even finished airing. Carole said that she "decided to return to what I do best — journalism and producing" and that her "original curiosity about reality television has waned over the years."
If Bethenny does return, Carole's departure means she can do so knowing that her storyline in the next season will be totally different. She can't have repetitive conversations with Carole about their falling out or complain about Carole hanging out with Tinsley if Carole isn't there. New drama will have to replace Carole vs. Bethenny, and regardless of what the new drama is, it will surely involve a shift in where allegiances lie. It always does.
That said, Bethenny has a ton going on outside of the show and maybe, like Carole, she'll decide to focus on her other work instead. As shown in Season 10, Bethenny has been heavily involved with her charity, B Strong. She also has her constantly expanding Skinnygirl brand. And, in very sad news, she also just lost her friend Dennis Shields when he passed away in August. With so much happening aside from RHONY, no one would blame her if she wanted to take a break.
Bethenny hasn't commented on whether she'll be returning yet, but Us Weekly did report in August that she hadn't yet signed her contract even though filming was set to begin around Labor Day. A source told the publication, "Bethenny's contract is much more complex than the other Housewives' contracts. She's usually late to the game when it comes to signing on but she doesn't hold up production and she usually confirms just in time." Bustle reached out to Bravo for comment on whether Bethenny will be returning, but did not yet receive a response.
If Bethenny leaves, it won't be the first time. The entrepreneur was a Housewife for the first three seasons of the show, then left for three seasons, returning in Season 7. She's one of the best known Housewives out there and one of the most outspoken, so if she decided to take some time off, she would almost certainly be welcomed back with open arms in the future.
Will Bethenny patch things up with the other ladies? Will she become good friends with Tinsley? Or will the Skinnygirl product placement be leaving our screens for a while? Season 10 is barely over, but the next one can't come soon enough.