Bethenny & Carol's Friendship On 'RHONY' Might Be Over For Good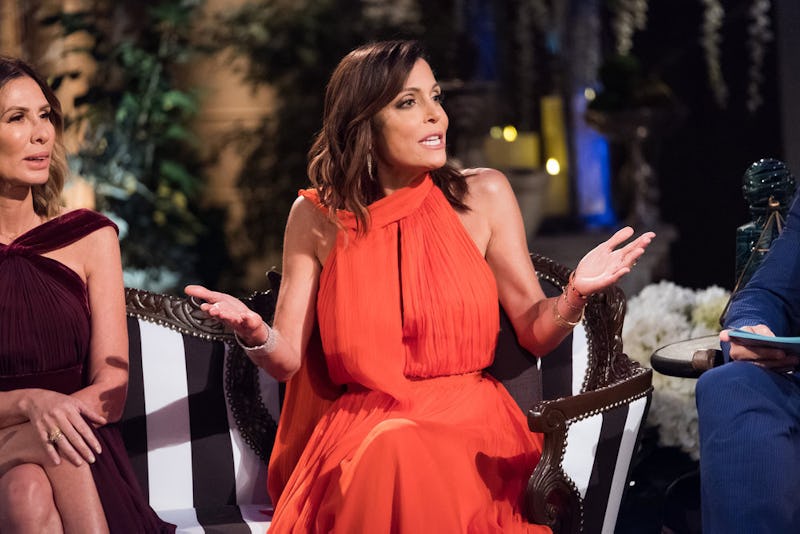 Charles Sykes/Bravo
Carole and Bethenny were one of the best parts of Bethenny's return to Real Housewives Of New York, and it's been very sad to watch the tension that now exists between these two friends. We've gone from giggles to gripes, besties to biting remarks. It's sad, and, worse, this disintegrating relationship is having an effect on the group dynamic Actually, Bethenny and Carole's fight on Real Housewives Of New York is getting really out of hand on their Colombian vacation and it seems like it might make or break them. It's happened to Real Housewives, coast to coast, before. These two might not weather the proverbial storm (or their disastrous boat ride coming next week).
Tinsley's insistence that the group should go on a producer-paid vacation to Colombia was a good one in theory. Group trips usually encourage fun and a little more levity, but that's when the cast actually likes each other. Bethenny and Carole are feuding; Bethenny doesn't like Tinsley because she's Carole's new BFF; Bethenny is mad at Dorinda because Dorinda keeps telling Bethenny's secrets… and Sonja is just there, living her best life as always. Well, Ramona, maybe, too, since she makes people put her shoes away for her. Tinsley is, as Dorinda likes to say, trying to make the whole trip nice, but these women — especially Bethenny and Carole — may just be too far gone to come back from the edge.
The first fight of the trip was about Brian, the guy with the scarf from the speed dating mess the women had done a few weeks prior. Brian liked Bethenny and Ramona, and now he won't stop talking to Bethenny and trying to hang out. But he's also been on a date or two with Carole, unbeknownst to any of the women. Is this guy the new Tom? The new Harry Dubin, there to date everyone in the cast? The funny thing about this situation is that it wouldn't be enough to derail an entire evening.
These two women are not the type to fight over a man, but with all of the other underlying tensions with Bethenny and Carole, it's just the match to light a fire. The June 25 episode will show their eventual conversation about their relationship, with Carole asking Bethenny to lay it all out on the proverbial table. Yeeps. How that conversation will go remains to be seen, but since Carole is still writing nasty blog posts about Bethenny on her Bravo blog, I have to imagine that these two have not rekindled the flame. And we still don't really know why they're fighting!
Is it jealousy? The thing where Adam wanted to be paid for Puerto Rico and Bethenny thought that was tacky? Carole's new friendship with Tinsley? Of course, these women are pros, and they're not revealing too much about what's going on with them — that's what the show is for. On Twitter, Carole did hint at the turbulence coming from Bethenny talking behind her back.
"I'm an idealistic kind of person. I look at the world that way, I look at people that way, and I think I looked at her that way," Carole told E! News of Bethenny and their friendship. "And I feel like now I see her a little bit more realistically and less idealistically. There were just some things that were said and done that I just felt like weren't completely consistent with the girl I knew." Meanwhile, Bethenny even denied there were any problems between her and Carole in an interview Australia's The Fix! Oy. Sounds like someone is in denial.
Even Andy Cohen is stuck in the middle of this drama. "It is a little awkward, but the good news is that both of them understand my role and they understand that I am friendly with the other person," Andy Cohen told E! News of the women's newly frosty relationship. "And so, the last thing that I would want to be is in the middle of this feud, but of course, by nature of what I do, it's kind of where I find myself in a weird way. It's ambiguous as to why they're feuding and that kind of continues to reveal itself as the season goes on?"
Let's hope that this reveal happens soon — Real Housewives Of New York is much less fun to watch when the best friendship on the show has disintegrated. Hopefully these two will make up soon, because watching them fight is starting to become a real drag.