'Better Call Saul' Season 4 Could Be One Of The Show's Last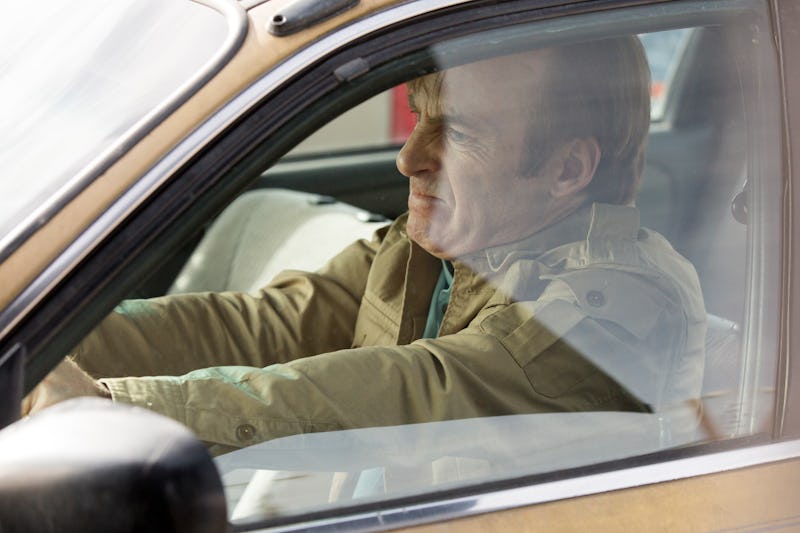 Michele K. Short/AMC
Better Call Saul's third season finale airs on June 19 on AMC, capping a set of episodes that have inched the action closer to the events of Breaking Bad. Presumably, Better Call Saul Season 4 will debut sometime in the late winter or early spring, since Seasons 1 and 2 premiered in February and Season 3 bowed in April. But estimating the timing of the premiere may be jumping the gun; AMC hasn't announced yet that the show has been renewed.
UPDATE: On June 27, Entertainment Weekly reported that AMC renewed Better Call Saul for a 10-episode Season 4.
EARLIER: Better Call Saul is an Emmy-nominated drama and a spinoff of one of the most beloved cable dramas of all time, so it shouldn't take much more for the network to justify more seasons. However, the series' ratings have been less than stellar. According to TVBytheNumbers, the third episode of the current season was Better Call Saul's lowest-rated episode ever, with just 0.5 million viewers in the 18-49 demo. The series' ratings recover as more fans watch over seven days — when it isn't directly competing with basketball — but ratings remained at a modest 1.7 million.
But there's little indication that Better Call Saul is facing imminent cancellation. First of all, the third season was just as well-plotted and received as the first two, and reintroduced Breaking Bad villain Gus Fring. In a mid-Season 3 interview, co-creator Peter Gould told Uproxx he isn't too worried about Better Call Saul's Season 4 renewal. "AMC and Sony have been very good to us. I believe they will continue to be, but it's show business," he said. "There's nothing that's certain. You asked me how many seasons we have left; hopefully, it's a creative decision to end the show, and not an economic one." He also said that the writers have met up to discuss how much story is left in the show. In Gould's eyes, "This show has a definitely limit to it. It's a story with a beginning and a middle and a definite end. I have to say, I would rather have it end too soon than go on too long."
Star Bob Odenkirk told GoldDerby that he believes there are "one or two more seasons" left in Better Call Saul before the series calls it quits. "I hope the pacing of the story will pace up as it gets towards the end. I think that's going to happen. We see some fundamental movement in Season 3. Then in Seasons 4 and 5, and I'm saying maybe 5, the dominoes are gonna fall faster," he said. While Odenkirk also seems confident that Better Call Saul will return, he suggests the series could easily wrap up in just twenty more episodes.
Despite its modest ratings, no one behind the scenes at Better Call Saul seems too worried about the show's Season 4 renewal. If the series does return, a premiere sometime in mid-2018 seems likely. However, based on some comments from the series' co-creator and star, it's possible that if AMC announces more Better Call Saul, they could come in the form of a finite renewal of one or two more seasons to finish up the story of how Jimmy McGill ultimately becomes Saul Goodman.