'Big Little Lies' Season 2 Is A Long Shot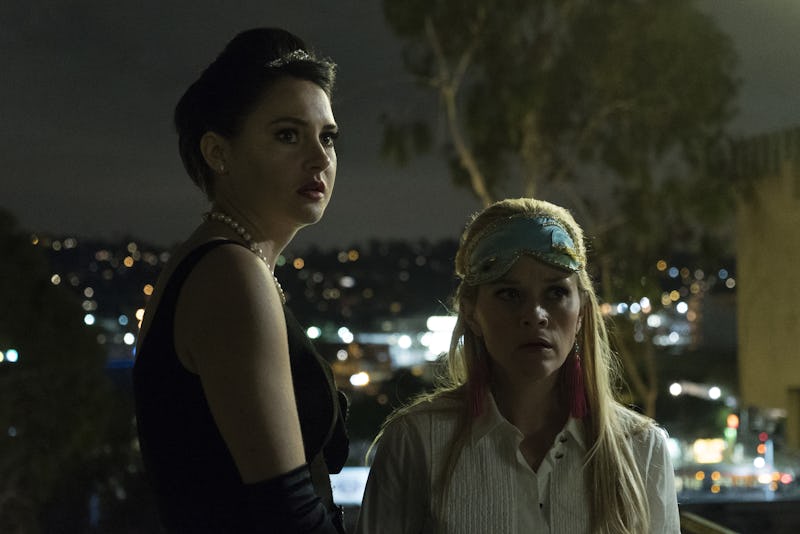 Hilary Bronwyn Gayle/courtesy of HBO
Big Little Lies has transcended from a miniseries to a full-blown event. Madeline, Celeste, Jane, and even Renata are currently in a four-way tie for my favorite characters on TV right now. Will Big Little Lies return for Season 2? Unfortunately, the show was created as a limited series and is so close to wrapping up the rest of its story, which is based on Lynne Moriarty's book of the same name. Moriarty's novel wraps up basically every hanging thread in the story, and she's never returned to the same universe to write a sequel, so if the TV show is adapting it faithfully, there wouldn't be much to write about in a followup.
UPDATE: BLL executive producer and director Jean-Marc Vallée confirmed to Vulture that there will not be a Season 2 and that the show was "meant to be a one-time deal."
EARLIER: So it's probably unlikely that there will be a Big Little Lies Season 2 (though if somehow there is, I, along with the rest of the Internet, would be all over it). So what's the next best thing? Well, the series was produced by Reese Witherspoon, who's also giving one of the show's many outstanding performances. And Witherspoon, along with the rest of the cast, is working hard on developing more and more projects, so even after Big Little Lies goes off the air, there will be plenty of places to see them again soon.
Reese Witherspoon
Reese Witherspoon will star in the comedy Home Again, likely sometime in 2017, and has a role in Ava DuVernay's A Wrinkle in Time adaptation, but her most interesting work lately comes from the projects she produces. And the most exciting title she's producing now is Luckiest Girl Alive, another popular lit adaptation about a complicated female protagonist.
Nicole Kidman
Kidman will appear in the second season of Jane Campion's Top of the Lake, another beloved miniseries. The new episodes will premiere in the US in 2017, but Sundance TV has yet to reveal the release date. And Kidman was also reportedly cast as Aquaman's mom, albeit before her Oscar nomination for Lion and her excellent Big Little Lies performance premiered. Maybe she'll stick around in the DCEU, maybe not.
Shailene Woodley
Can I just say that I'm incredibly impressed that with half the experience of the rest of the cast that Woodley is doing so well? I'm now excited to see her star in survivalist drama Adrift, though according to Deadline, it's still in the early stages of casting and production. Until then, you can watch the documentary she produced about the Standing Rock water protectors, Awake, A Dream from Standing Rock.
Laura Dern
She's going to be in Star Wars: The Last Jedi and the Twin Peaks revival this year. She's also in Craig Johnson's indie comedy Wilson with Woody Harrelson, which is out now. But really, the hat trick of iconic sci-fi franchise, cult hit revival, and HBO miniseries? That is the acting Triple Crown.
Iain Armitage
This kid's career is about to be straight fire. He's starring as the young Sheldon Cooper in his own CBS sitcom, has a role in the Robert Redford and Jane Fonda drama Our Souls at Night, and was even on Law & Order: SVU this year.
Alexander Skarsgard
He's so terrifying on the show, I don't blame you if you specifically want to avoid him. But he'll be in Duncan Jones' Netflix film Mute, a science fiction tale about a mute man (Skarsgard) searching for a missing person in the year 2052.
Zoe Kravitz
The trailer for Rough Night, an ensemble comedy that will be out this summer, recently dropped. She's also in Kin, a sci-fi film with James Franco, that should be arriving this year as well. Her role on Big Little Lies wasn't huge, but she works frequently.
So, even if Big Little Lies can't return, these stars aren't going anywhere.