The Bill Cosby Trial Could Have Been One Of Dozens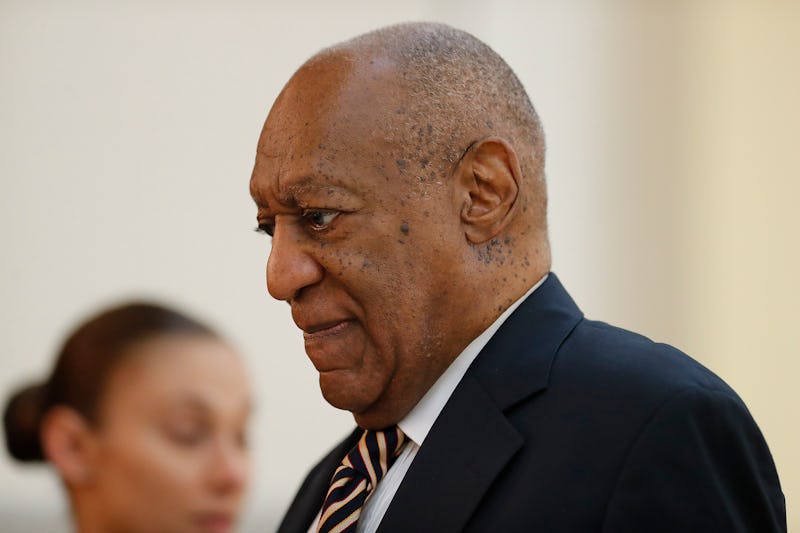 Pool/Getty Images News/Getty Images
The first — and, so far, only — criminal trial addressing allegations that Bill Cosby committed sexual assault began on June 12, once again bringing the 79-year-old actor's fraught history to public attention. But this trial is also a reminder of the dozens of other women who have accused Cosby of sexual assault who have not had their day in court, largely due to statute of limitations rules. Cosby has denied all of the allegations.
The trial comes 12 years after complainant Andrea Constand, a former basketball star and employee at Temple University, first alleged that she had been drugged and assaulted by Cosby, and 11 years since she and Cosby settled in civil court. It's been more than four years since comedian Hannibal Buress' bit about Cosby brought the allegations to mainstream attention in a way that (finally) couldn't be ignored. It's also been nearly two years since New York Magazine's evocative cover story featuring 35 women who accused Cosby of sexual assault alongside the now-iconic empty chair representing accusers who were unable or unwilling to come forward.
And, again, this is just one trial for just one accusation.
Women are reminded of the unfortunate realities surrounding sexual assault time and again as heartbreaking viral stories drift in and out of the fickle cultural conversations. And it's important to remember that not every survivor reports his or her assault, few see arrests made, and fewer still get to have their day in court. This trial is just one of what easily could've been more — and it's certainly time to remember those other women.
The statistics from the Rape, Abuse, Incest National Network (RAINN) approximate that there are nearly 321,500 people who become victims and survivors of assault in America each year. The even more devastating illustration of "one person assaulted every 98 seconds" becomes less of an abstraction when you really consider the people (the models, journalists, waitresses, assistants, friends-of-friends, and more) that make up the alleged victims.
Further, RAINN noted that "the vast majority of perpetrators will not go to jail or prison" citing that out of 1,000 assaults, roughly 994 perpetrators will walk free. Considering those odds plus the quotes and testimonies and the legacy of the powerful man they were accusing, Cosby facing only one single trial despite his crowd of accusers isn't an outlier. It's commonplace.
Despite admitting to using Quaaludes (and having seven prescriptions over the course of two years in the 1970s) in pursuit of sex with women during a 2005 deposition, Cosby has consistently denied all accusations of sexual assault.
Regardless of the pervasive myths that regularly cast doubt on their experiences, as the Cosby trial continues to unfold, it's essential that America continues to acknowledge the challenges faced by victims and survivors of sexual assault.