There's Another Actor Who Could Play Captain America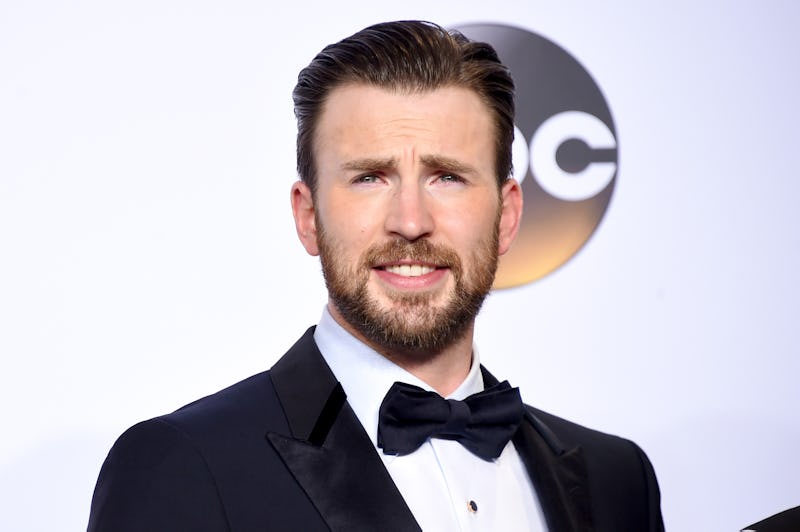 Jason Merritt/Getty Images Entertainment/Getty Images
I've grown attached to Chris Evans as Steve Rogers, and I think many of you agree with me. But on Monday, when he stopped by The Ellen DeGeneres Show, the actor reminded us all that Evans won't play Captain America forever. He has a contract, you see, and that contract is going to run out eventually. The nervous fan in me already wants to know if they'll recast the role of Captain America when Evans is done. All signs point to yes, and sooner than you might think.
The actor couldn't be more perfect for the role, but all good things must come to an end. That was the tone of the conversation that Evans had with DeGeneres on Monday when he stopped by her show to talk about his work with the whole Avengers franchise. Apparently, while we fans were sitting back, relaxing, blissfully unaware that our time with the 35-year old hunk was limited, we were actually cruising through Evans' six-film contract so quickly that he only has two movies remaining.
As he told DeGeneres:
My contract is up. I have Avengers three and four. We do three now and four in the latter part of the year and then after that, that is the end of my contract.
Now I may be reading too much into things, but I can't help but notice that Evans didn't say his contract was up, and he declined a renewal. That suggests to me that the third and fourth Avengers movies are Evans' final movies not by coincidence, but by design. After all, this is Marvel we're talking about, and they don't do things by accident. My suspicion is that Captain America will be recast after Avengers 4 — sort of. And there's already a very likely suspect: Sebastian Stan.
Stan was introduced as James Buchanan "Bucky" Barnes in Captain America: The First Avenger, all the way back in 2011. He's been beside Cap for all the Captain America movies since — in spirit if not physically — although their relationship has changed significantly. He's gone on to be brainwashed into becoming the Winter Soldier, and the title changes may not stop there. In the comics, Bucky actually does take over as Captain America.
That would already be compelling evidence that the role would go to Stan after Evans wrapped, without even looking at the two actors' contracts. But the fact that Stan was signed to a nine picture deal while Evans was signed to only six is pretty interesting.
We won't know for sure until the movies come out or someone comments on it officially, but this is my best guess for what will happen once Evans' contract is out. It'll be a bummer to lose Chris Evans, but replacing him with a talent like Sebastian Stan is about the best we could hope for.