Why Hugh Laurie Fans Are Worried About The Fate Of Hulu's 'Chance'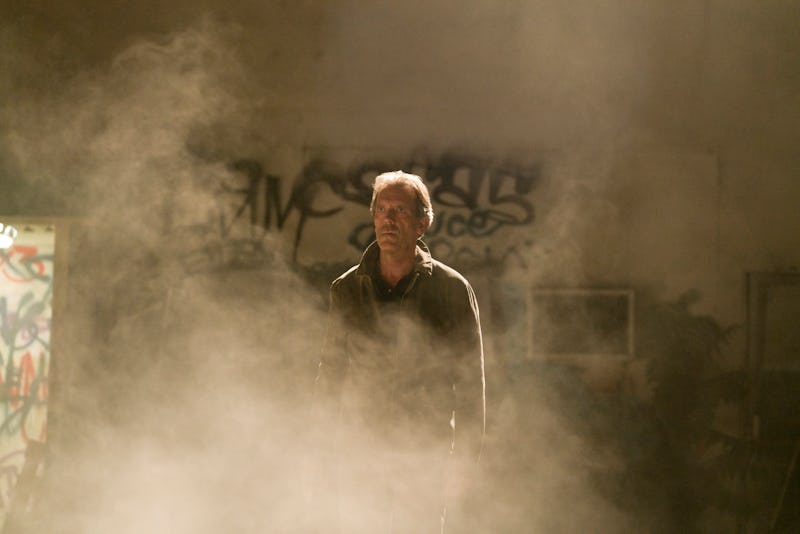 Greg Lewis/Hulu
After 20 episodes, Dr. Eldon Chance has fully embraced his darker impulses, leaving his privileged life behind on Hulu's drama Chance. Unfortunately, it's still unclear if Chance will return for Season 3. Per Deadline, the show's first two seasons were greenlit at the same time in 2016, so this is the first time fans are waiting for an announcement about the show's future. But in Hulu's growing library of original series, Chance has received largely positive reviews and features an ensemble anchored by Hugh Laurie, who's obviously experienced at bringing complicated, complex doctors to the screen after a decade of playing Dr. Gregory House on FOX.
Hulu has yet to make an announcement about the future of the series, but that's no reason to worry. When it comes to streaming services and the new television landscape, predicting when or if a series will be renewed is a lot harder than it used to be. Without regular premiere and finale dates (Chance Season 2 is ending right in the middle of the typical network TV season), not every series' fate is decided in the spring.
But even so, the series' pedigree makes it an easy bet for renewal. However, there is a chance (pun intended) that the drama could meet a surprising cancellation. The streaming service recently announced the cancellation of Difficult People and Casual, two series which had made it to their third seasons. The latter has been given a final season to wrap things up, just like The Mindy Project, one of the service's biggest shows, which recently had its series finale. These cancellations could show that the network's looking to change directions, though it's worth noting that all of the aforementioned series are half-hour comedies and Chance is a crime drama.
But beyond simply whether or not the series is likely to be renewed, there's also the question of what will happen in the show's third season. After all, the first season spent lots of time setting up Dr. Chance's descent into the underworld and his growing obsession with his patient, Jaclyn. But the show's second season has revolved around Chance and Darius "D" Pringle, a man he meets along the way. The series has ably moved away from the source material, Kem Nunn's book Chance, in order to explore how Dr. Chance is adapting to his new, darker life outside of his relationship and obsession with Jaclyn. And D, as played by Ethan Suplee, has become one of the show's most compelling characters, a principled person who, at the same time, is accustomed to dealing with his problems by using violence.
In an interview with Fansided, Suplee said, "I am so impressed by this guy, because I'm constantly questioning myself and... This guy knows exactly what he's doing, doesn't ever doubt himself, makes a decision and goes with it." But for a guy who is one half of a vigilante duo beating up and seriously injuring abusers as a sort of half-baked revenge scheme, D has spent most of the second season realizing that it's Dr. Chance who is the one who probably needs to think more clearly before he acts.
In a future season, the pair could continue to swap concepts of morality, like the central relationship of Walter White and Jesse Pinkman in Breaking Bad. That show managed to wring five seasons out of a mild-mannered chemistry teacher turning to drug dealing — surely, Chance could do the same as a hired thug becomes enlightened about the circular nature of violence.
Of course, with no word from Hulu yet and no more source material to mine, it's also possible that the streaming network could choose to end Chance here.