If You LOVED 'A Christmas Prince,' Netflix Has A New Festive Romance For You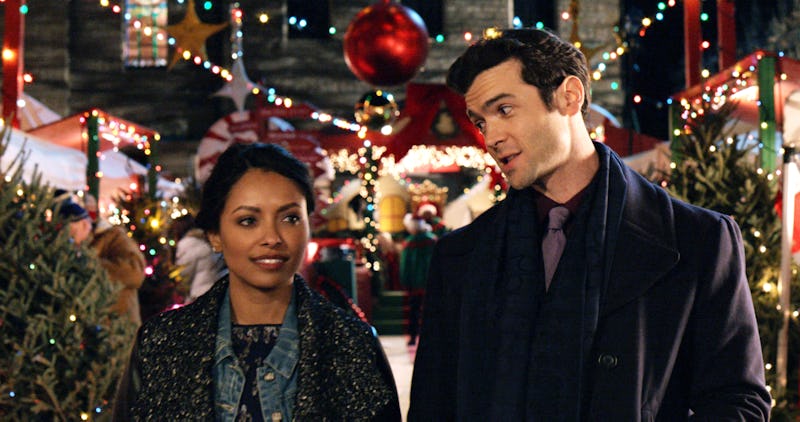 Netflix
This November ushers in a new era for Netflix, as the streaming service unleashes four new original Christmas movies — the sort that you may be more used to finding on The Hallmark Channel or Freeform. Technically, this era began in 2017 when the smash hit, A Christmas Prince, took the Internet by storm. On Nov. 2, Netflix is releasing its first holiday romance of the season, and if you loved last year's smash hit, you'll want to tune in. Fans of A Christmas Prince will definitely like The Holiday Calendar, as they both balance a cheesy love story and holiday cheer in flawless harmony.
The greatest difference between A Christmas Prince and The Holiday Calendar might just prove a deal-breaker for some fans of the former, which is that the new movie has a much more realistic plot. Well, The Holiday Calendar does involve a magical advent calendar that guides the heroine to her dreams, but it somehow doesn't compare to all of the many logical hurdles that A Christmas Prince leaped over to produce one of the most unfathomable love stories ever. But even without the royalty and palace in the fictional land of Aldovia, The Holiday Calendar still requires viewers to withhold their rational thinking to appreciate the heartwarming plot. So, if you can get over the fact that The Holiday Calendar doesn't include fictional royalty, you're in for a treat.
The Holiday Calendar doesn't retell the story of a journalist who sneaks into a palace and then disguises herself as a nanny without the family taking even a glimpse at her I.D., but it still has a lot of intrigue due to its love triangle. Each day, the antique calendar that Abby's (Kat Graham) grandpa (Ron Cephas Jones) gives her reveals a new little present that seems to guide her to her dream man, Ty (Ethan Peck). All the while, Abby and her old friend, Josh (Quincy Brown), have undeniable chemistry, and she starts doubting the magical calendar's plan for her life.
Besides the romance and fantasy, both The Holiday Calendar and A Christmas Prince feature leading female characters who have career aspirations and passion for their work, and that's a necessary detail that sets the Netflix holiday movies apart from lots of other made-for-TV holiday movies. Sure, Abby and A Christmas Prince's Amber (Rose McIver) get caught up in a tricky romantic situations in the movies, but they don't purely exist as women seeking out romantic partners.
As great as it is that both Abby and Amber have career passions though, neither of these Christmas movies are necessarily exemplary models for how Hollywood should create complex female characters. You're probably not watchingA Christmas Prince or The Holiday Calendar for much more than a fun and feel-good holiday movie, though, and maybe even to appreciate the silliness and suspension of disbelief.
Fortunately, both of these movies deliver exactly what you want from them, and further prove that Netflix is the gift that keeps on giving when it comes to seasonal viewing — especially since the streaming platform will also release a sequel to A Christmas Prince on Nov. 30. It looks like this November will be a great month to stay in, watch movies, and mentally prepare for Christmas.